Without association, beekeepers of Idlib countryside are stuck in troubles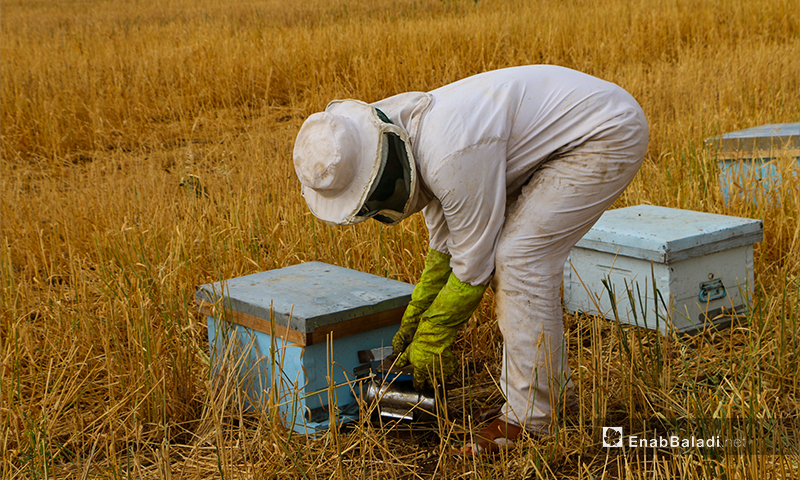 Enab Baladi – Idlib
Bees fly thousands of miles to collect nectar from flowers and plants and make honey, but in Idlib's countryside, the bees suffer because of pesticides used by farmers to protect their crops. 
Beekeepers in Idlib suggest forming a Beekeepers Association to alleviate their difficulties in practicing their profession in the densely populated governorate. However, each time their meetings come to a dead end, they do not agree despite their common problems.
Too many beekeepers have gathered in Idlib, which was one of the main obstacles to beekeeping this year.
Nearly one million people have been displaced by conflict to shelter in northern Syria at the beginning of this year, which caused a decline in areas used by the increasing number of beekeepers.  
Even though there are numerous beekeepers in the region, the idea of establishing an association has not been implemented successfully yet.
Beekeeper Hamdo al-Sallat said, "Gathering a large number of beekeepers and declaring the formation of a union are a difficult mission."
Beekeepers always try to meet the best conditions possible for hives, including finding open sunny pastures, where bees can collect the nectar of varied flowers and plants. However, lack of pastures caused a dispute among beekeepers in northern Syria, some of whom accused others of stealing, while others claimed the right to expel those who trespassed on their pastures.
"What stands in the way of beekeepers is the lack of awareness and ignorance among some," said Hamdo. Hamdo tried to raise the idea of establishing a Beekeeping Association repeatedly and communicated with" many" beekeepers, but the disputes among beekeepers are not their only problem.
Adverse impacts of pesticides on honey bees
40-year-old Hamdo opened his eyes to life to find the bees around him, describing himself as "a descendant of a family of beekeepers." Hamdo loves and admires everything about this small insect. He did his best to keep honey beehives in good condition year after year until half of his bees died due to spraying the pesticides on the flowers and plants in the current year.
According to beekeepers who saw their negative effect on their beehives, the percentage of spraying pesticides increased without any exercise of monitoring or care, "even though the bee is regarded as a friend of the farmer and increases the crop production." Still, the farmers used their pesticides carelessly, according to Hamdo.
Hamdo, an employee in Idlib's health directorate, estimated that the pesticides used in the current year are "highly toxic," causing the death of birds, bees, and pests alike. Hamdo believes that the beekeepers' first big problem is "pesticide application."
Nur ad-Din Shaaban wished that these pesticides had been of rapid effect. He felt sad because he witnessed his bees suffering severely for ten days before they died."The main problem is the absence of control over pesticide ingredients," Shaaban told Enab Baladi.
The 30-year-old beekeeper, displaced from Daraa governorate, believes that government authorities' task is to bring all beekeepers together and form a reliable union for them. This union should earn the beekeepers' trust and be the party protecting beehives and saving them from death because the beekeeper alone does not have the mandate nor the ability to face all the problems on his own.
High costs of beekeeping
The individuals who have dedicated their lives for the group's sake is what drew Shaaban's attention in the life of the beehive. Although he inherited the profession of beekeeping from his father, he considers it a "hobby" rather than a source of income; Shaaban told Enab Baladi, "Whenever we open the hives, we discover new things in the life of bees."
Nur ad-Din Shaaban added that beehives need medicines, wood, and special molds, all of which are subject to "exploitation" by merchants, who sell them at double prices to the beekeepers in northern Syria. 
The beekeeper, Hamdo al-Sallat, said that antibiotics, sterilizers, and some supplies are all priced in US dollars, and some cannot be found in the market, indicating that the desired role of the Beekeepers' Association is to help beekeepers to secure what they need to take care of their beehives.
Beekeeping also needs sufficient experience and care. Beekeeping took Mahmoud Hallaq, aged 53, years of practice before he mastered it twenty years ago. Currently, Hallaq describes beekeeping as "a source of joy." 
What is interesting about beekeeping is that this creature is wonderful," Hallaq said, pointing to the bees. He added, "It helps you to deal with nature and clear your mind." Not to mention that bee products are natural.
The absence of the exchange market and the population's poor purchasing power also constitute additional obstacles to beekeepers, who have had to search for new jobs besides their profession. "People cannot afford to buy bee products, so we have to reduce prices," as highlighted by Hallaq.
This was the first year in the 18 years that Hallaq spent in beekeeping, in which he was forced to leave all the honey in the hive.
Hallaq, a displaced person from the city of al-Kiswah in Rif Dimashq, tried to present the idea of forming the Beekeepers' Association to his fellow beekeepers, and despite his attempt to make contact with "the Syrian Interim Government" previously, the beekeepers' division prevented the possibility to implement this idea. Hallaq concluded, "What stands in the way of the association is us, but its creation is a simple matter."
if you think the article contain wrong information or you have additional details Send Correction