Foreign bees dominate honey market in Idlib; quality declines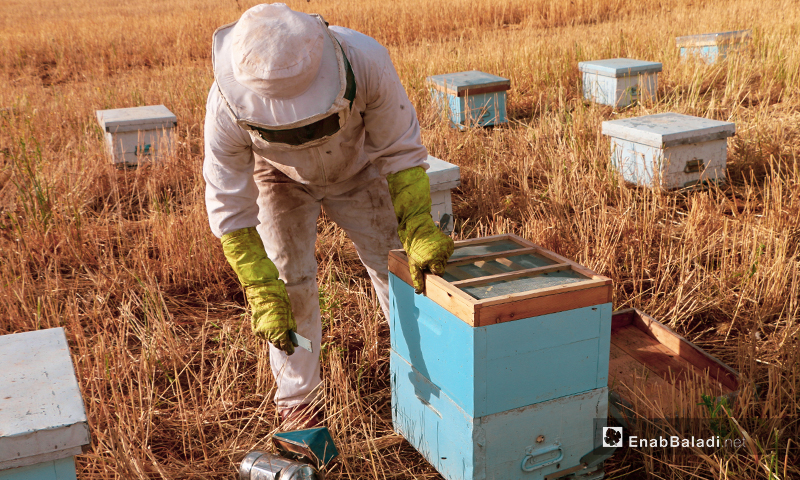 Enab Baladi – Anas al-Khouli
Mahmoud Hallaq, 55, sold his last beehives, preferring to work on his previously purchased car for honey production and beehive transfer in northern Idlib governorate, he told Enab Baladi.
Hallaq, one of the displaced people residing in Idlib and a former beekeeper, explained that many beekeeping conditions differed after he was forcibly displaced to the city, which made him decide to abandon the profession.
According to the beekeeper, the forced displacement of a large number of beekeepers to Idlib, the difficult living conditions, the decline of pastures, the high costs of transportation, and the high prices of medicines have driven many beekeepers to leave the profession due to the material losses they incurred on the one hand and the futility of beekeeping businesses on the other.
In Hallaq's view, beekeepers today are far more interested in producing new hives than honey. This led to a shift in beekeepers' production culture, a lack of interest in honey quality, and a shift to excessive feeding of bees with sugar, whether in the seasons of production and nectar or during the rest of the seasons resulting in the unreliability of produced honey.
Foreign bee breeds reduce honey quality
For his part, Khaled Ghanoum, 59, an Idlib-based beekeeper, went from being interested in honey production and quality to being preoccupied with producing beehives, he told Enab Baladi.
Ghanoum explained that the absence of suitable pastures pushed beekeepers to the feeding process, which in turn led to the decline of beehives, the spread of diseases, and significant weakness in honey production. Beekeepers moved to import foreign bee breeds with a high ability to extract nectar from flowers and rapid breeding compared to national bees. The prices of said breeds are very high compared to those of national bees.
Ghanoum added that these species need high nutrition in order to reproduce, and the absence of suitable pastures prompted beekeepers to feed bees in all seasons, which was negatively reflected on the quality of honey production and positively on the production of a large number of these breeds.
National beehives have become rare in Idlib, and the trade of foreign beehives has replaced the honey trade, Ghanoum said.
Key threats to bee breeds in Idlib
Iyad al-Shami, 48, a veterinarian and a beekeeper in Idlib, told Enab Baladi that "Syrian bees are among the finest bees in the world" and are highly adaptable to different environments and far more resistant to pests and bee diseases than others.
According to al-Shami, it is also characterized by the "replacement" process, which is when a strong queen replaces the weak queen without the intervention of the beekeeper, in addition to flying strength and a better sense of direction in pastures in comparison to other bee breeds. It is divided into two categories: al-Siyafi and al-Ghannami.
The veterinarian stated that there are significant difficulties facing the production of Syrian bees in Idlib, the most important of which is the failure to improve its breeds due to the high costs of care, beekeepers' financial hardships, and the lack of control over farmers' use of pesticides, as only certain types who are bee-friendly must be used, in addition to the scarcity of pastures, as Syrian bees need varied pastures and wide areas.
Pasture scarcity threatens honey quality
Honey quality is highly associated with the quality of food that bees get from pastures. 
Beekeepers in Idlib are forced to feed bees with sugar due to the absence of varied pastures, resulting in the production of low-quality honey that does not match the standard for the quality of Syrian honey.
Kinan Lutfi, 41, a honey merchant in Idlib, told Enab Baladi that bee food in Syria is diverse, leading to the production of various types of honey, such as citrus honey, eucalyptus honey, anise, nigella sativa, geranium honey, and cotton honey that has the highest nutritional value, and thyme honey as well.
Lutfi considered that the quality of Syrian honey decreased significantly due to the feeding process and beekeepers' lack of interest in quality.
At least 25 bee pastures in Syria
Akram Daaboul, 59, an Idlib-based displaced beekeeper, told Enab Baladi that keepers used to move their hives between more than 25 pastures, including the areas of the Syrian coast in the winter, anise pastures in the Homs plains and Idlib countryside, Nigella sativa pastures in the plains of Idlib countryside, Aleppo countryside, and the plains of Houran.
Bees are transported in summer to relatively cold areas, such as Mount Hermon in Quneitra and the As-Suwayda Mountains, and cotton-season pastures in Syria's northeastern regions, which are not available to beekeepers today.
Idlib countryside not geographically favorable
Samer Mansour, a 41-year-old beekeeper, residing in Idlib, told Enab Baladi that the nature of the geographical area in the countryside of Idlib is not suitable for beekeepers, as the plain areas are narrow and farmers spray them with insecticides harmful to bees.
Although the mountainous areas are considered vast, beehives cannot be placed there because of the many wasp nests, which are considered to be the first and most dangerous enemy of bees. 
if you think the article contain wrong information or you have additional details Send Correction