Challenges facing schools of Idlib amid COVID-19 outbreak
Enab Baladi – Khawla Hefzy
With the start of the new school year in Syria, specifically in northern Syria, amid the outbreak of the novel coronavirus (COVID-19), the responsibility shared by students' parents and school management have been doubled. They are co-working to protect students from the coronavirus infection, in terms of ensuring ways to prevent the spread of the infection including the stoppage of traditional face to face education and resumption of distance education.
Education directorate is stepping up
Mustafa Haj Ali, the head of the media office of the education directorate in Idlib governorate, explained to Enab Baladi the measures taken by the directorate for the return of students, based on a meeting held by the directorate with school principals, mentors and education staff to discuss the plans that were drawn up for the new academic year.
According to Mustafa Haj Ali, two options are available for school attendance: Either the students in one classroom are divided into two groups; some attend morning classes, and others attend evening classes, or a two-group system is adopted, each group attends school for three days a week.
Schools of Idlib manage a child safety seat distribution; one student will be distributed in one seat-desk. Regular breaks, lessons, and morning meetings are conducted while maintaining social distancing rules throughout their movements. 
Disinfection procedures in Schools of Idlib as a precaution
Since 22 September, the Syrian Civil Defence (SCD) volunteers have continued to clean and disinfect schools, especially frequently touched surfaces such as school desks, classes, door handles, and sink.  
Firas al-Khalifa, a member of the media office of the SCD directorate in Idlib, told Enab Baladi about the disinfection campaign and that it is taking place in coordination with the opposition's education directorate to complete the work, noting that some schools have been disinfected more than once ensure student safety and school security.
Organizations provide free masks
Mustafa Haj Ali, the head of the media office of the education directorate in the city of Idlib, explained that the task of providing COVID-19 prevention means such as face masks, personal protection means, and alcohol-based hand sanitizers is the responsibility of organizations operating in northern Syria, explaining that it is not required of parents to buy masks for their children.
Hajj Ali added that water would be available in schools to enhance personal hygiene and avoid the risk of infection with the virus.
Absence of educational process in rural displacement camps
The educational process is absent in dozens of displacement camps in rural Idlib, prompting teachers to bring students together and teach them voluntarily.
Since late last August, several teachers began teaching children in the camps by gathering them in a tent without coordination with anyone.
Teacher Muhammad Medhat al-Amouri told Enab Baladi that he and several volunteer teachers gathered dozens of displaced students in al-Kusaybiyya camp.
 And since 1 September, they have started giving them lessons without coordinating with any official party.
Basem Haytham al-Muhaimid, a teacher in Tell Touqan camp, explained in a previous interview with Enab Baladi that the teachers started an academic year with displaced students, being far from organized areas that contain schools, referring to the difficulties they face in terms of classroom equipment and stationery.
The start of the new school year in Idlib
The education directorate in the opposition-held Idlib governorate, in northwestern Syria, decided to resume face to face classes on 26 September.
In a circular, the directorate said that schools are ready to re-open and receive students of all grade levels in the education directorate in Idlib.
The supervisor of the Idlib education complex, Abdullah al-Absi, highlighted to  Enab Baladi that the complex is trying to ensure the largest number of classrooms and desks to accommodate students at the beginning of the school year.
The education directorate in the opposition-controlled areas defines itself as an independent body and is not affiliated with any party through a statement; it issues every year to affirm its independence, according to Mustafa Haj Ali.
Parents prefer face to face education
Basem Muhammad al-Razouq, a father of two students, talked about his suffering with distance learning, saying, "I wanted to protect my two sons by not sending them to schools. However, due to the absence of coordination between the education directorate, teachers, and parents, I believe that sending my children back to traditional classrooms is better than sending them to virtual schools. 
Students and parents faced many problems in distance education, such as poor network performance and the absence of modern technological devices.
Besides, teachers are not well prepared to switch over to distance learning along with the absence of assistive factors such as lack of Internet access, electricity supply, and necessary infrastructure that contributes to the establishment of educational platforms and websites.
In a previous interview with Enab Baladi, Abdullah al-Absi, the director of Idlib's educational complex, said many challenges teachers and students face, adding that most of them are technical and related to the use, availability, and cost of devices and the Internet.
According to figures from the United Nations Children's Fund (UNICEF), half of the schools in Idlib are destroyed, damaged, or used to shelter the internally displaced persons.
UNICEF estimates that more than 300,000 children are affected in the governorate.
Millions of children in Syria were out of school or at risk of dropping out, as they entered the tenth year of the conflict.
The suspension of classes in mid-March as a precautionary measure has created further uncertainty for millions more children.
771 Coronavirus confirmed cases were recorded in northern Syria, 369 patients were recovered. Simultaneously, the number of deaths reached six by the date of preparing the report, according to the "Support Coordination Unit" operating in northern Syria.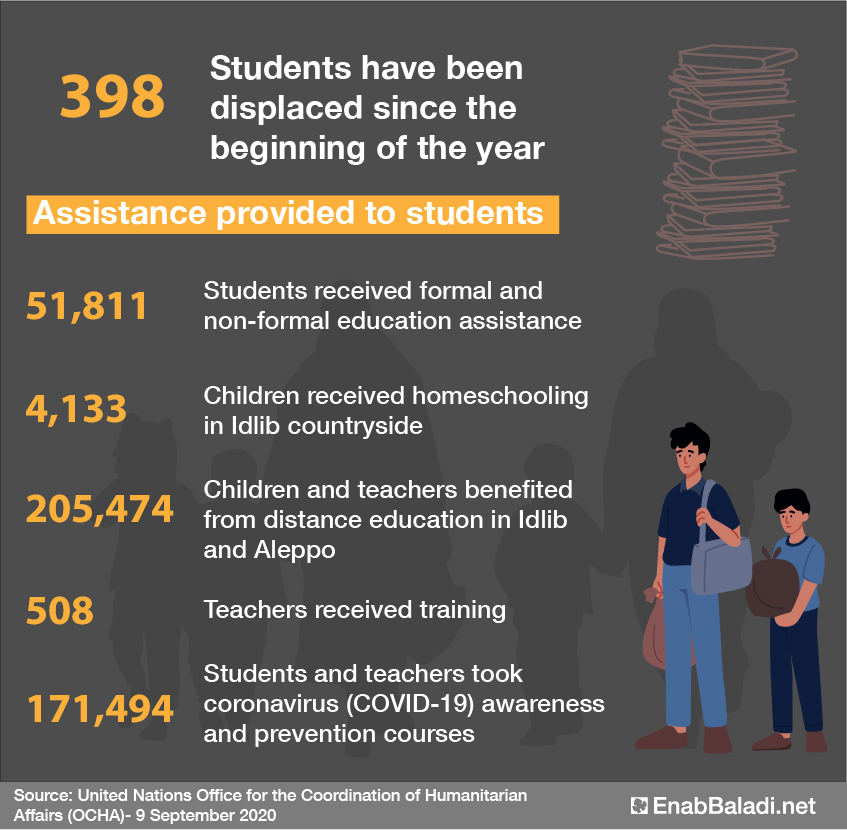 if you think the article contain wrong information or you have additional details Send Correction