By mutual consent or exploitation… Day laborers of Idlib earn unfair minimum wages in Idlib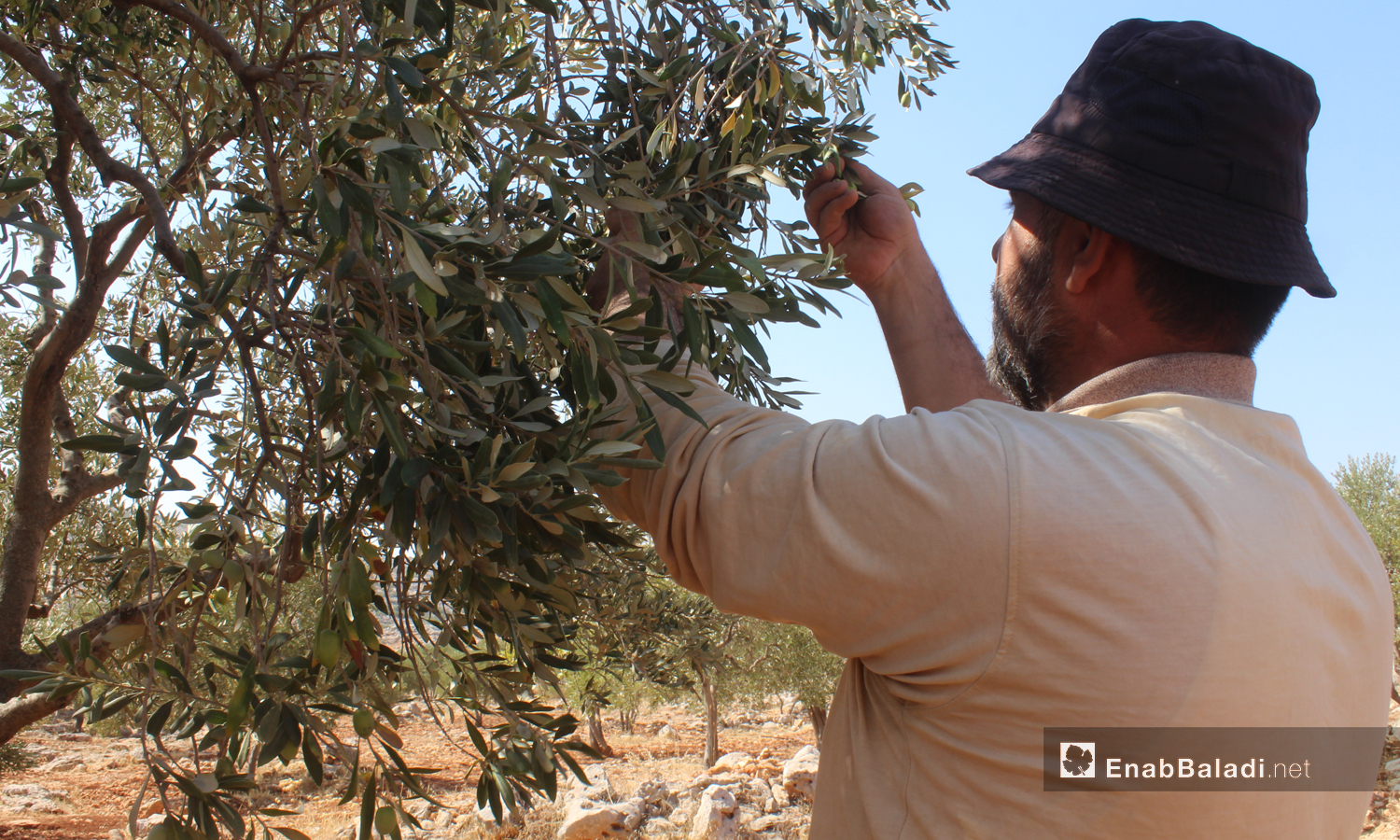 Idlib – Iyad Abdel Jawad
Umm Khaled wiped sweat from her forehead with her chapped, green-stained hands while sitting in her only room in front of her four children after a long tiring day of harvesting olives. 
The forty-something-year-old widow spends nine hours a day at work for only almost ten Turkish Liras (TL) a day, "I have no other choice," Um Khaled told Enab Baladi, noting that she does not have job experience or certification that qualifies her to get another job with a better income.
Long working hours are common in northwestern Syria. Besides, low wages, which are not sufficient to provide for a family or even an individual, are not regulated by laws or authorities.
Working hours and wages without oversight
Farmer Yahya Zakour hires temporary workers for the olive harvest and sets the wages for them "by mutual consent," according to his description.
Each worker whose yield of olive reaches 50 kilograms a day is paid ten to 15 TL. "We pay daily workers low wages because the costs of transporting and pressing olives are expensive,"  Zakour told Enab Baladi.
Umm Khaled describes the wage she is earning as "unsatisfactory," but she considers it better than what she got previously when working in nylon factories;  she only received five TL per day. She added, "If we complained about paying us low wages,  the owner of the land tells us that we are free to quit if we don't like the situation."
Wages are determined by production
The owner of a sweet shop in Kafr Aruq, northern countryside of Idlib, Mahmoud Qataf, pointed out that he does not hire married people or those responsible for providing for their families.
Six people, whose age does not exceed 15 or 16 years, work in his shop and only earn 15 Turkish liras per week. 
He told Enab Baladi, " I know I am not paying my employees fairly; they deserve far better salaries, but because we do not make much profit due to rising prices of everything."
According to the assessment by the Office for the Coordination of Humanitarian Affairs (OCHA), one-third of families in northwestern Syria depend mainly on daily labor as a source of income, and 71 percent of the people of villages and cities send their children to work, while this percentage increased to 83 percent among the displaced, according to a survey conducted by the "REACH" initiative in the region last August.
Only five to six working hours in "al-Jabal automatic bakery" are set per day because "production is low," said its manager, Hassan Dallu, who was busy maintaining machines, and his hands were stained with black grease instead of white flour.
Dallu feels "resentful" about the working conditions in the area, pointing out that the bakeries usually pay their workers only five or six TL per day, "If the worker buys two additional bundles of bread, his wage is over." 
The 40-year-old Hassan Dallu told Enab Baladi that he has 12 workers in his bakery, and  wages do not exceed 10 TL, noting that "We pay them more than we produce per day."
Dallu highlighted that following the decline of the Syrian Pound (SYP) against the US dollar; the SYP was replaced with the Turkish lira for trading operations, which "made the economic situation worse." Dallu said that this was supposed to contribute to price stabilization, but what happens is that the employers pay their workers based on the SYP value, converting their wages to TL. And as a result of the decrease in the TL value, wages have dropped more. 
Dallu stressed that "The worker's right is neglected while the employer is the only one who can control wages."
Limited job options with a lack of legal oversight
Ayham Ahmad Yassin, aged 20, tried to work in different fields before he started working in the bakery three months ago. 
Yassin said, "Working in the bakery suits me well because I do not have a bachelor's degree and could not find a stable job. "
The 20-year-old young man worked in sewing, blacksmithing, and selling secondhand- furniture before dealing with dough and flour. Still, the wage his manager Dallu gives him "is barely enough to buy cigarettes," he told Enab Baladi.
Mohammed Daboul, the director of public relations at the ministry of economy and resources of the so-called Syrian Salvation Government (SSG) in Idlib, told Enab Baladi that the enactment of work laws is not the mandate of the SSG-linked ministry of economy and resources.
The ( daily-weekly and monthly) minimum wage is not determined yet, pending " the issuance of law for establishing Labour Union," indicating that the future union will have to protect workers' rights and implement effective control over employers.
The average monthly wage for day laborers is less than 55 USD, according to an assessment by the Office for the Coordination of Humanitarian Affairs (OCHA), which is lower than the overall average in Syria of 63 USD.
Families are forced to work for low wages because most of their members do not find alternative work. Besides, despite the difficulties in obtaining work, 81 percent of men between the ages of 17 and 64 years work, while only 6 percent of women of the same group age work.  Yet, most families need to borrow money to meet their needs because 71 percent of families earn insufficient income.
According to a "REACH" initiative, most workers' daily wage does not exceed 3,200 SYP, less than one US dollar and a half.
if you think the article contain wrong information or you have additional details Send Correction