Breast cancer patients have determination and patience amid limited medical services in rebel-held Idlib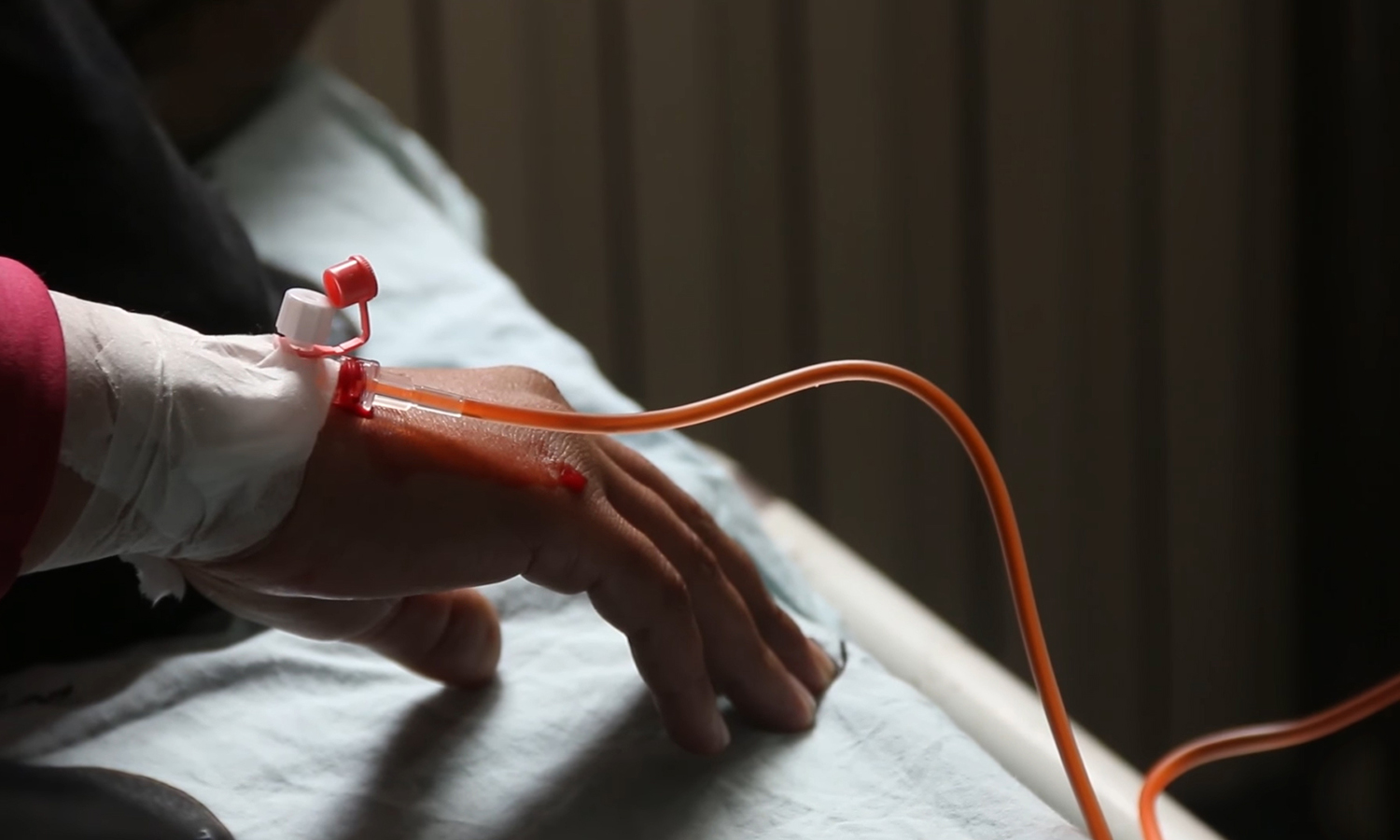 Enab Baladi – Yamen Moghrabi 
"Cancer is not an ordinary disease. But, this does not mean that we have to become weak and succumb to this disease," a woman diagnosed with breast cancer in the city of Idlib, northwestern Syria, told Enab Baladi. These words reflect this woman's strong determination to defeat this dire disease. 
 Female cancer patients in Idlib suffer from several difficulties, most prominently the lack of health care services, which are limited in one center affiliated with the Syrian-American Medical Society (SAMS). Besides, the patients experience difficult living and security conditions in the governorate.
Despite the difficulties encountered, women diagnosed with breast cancer show resilience to cope with this deadly disease, and this is the case of Ms. Najah Sarhan.
Sarhan is 44 years old, a mother of four children, and originally from Aleppo, northern Syria.
Sarhan was diagnosed with breast cancer two years ago and knew about her disease after recognizing a lump in her left breast. Unfortunately, this lump began to grow rapidly, as mentioned by Sarhan. 
Sarhan told Enab Baladi, "After lab and imaging tests were conducted, a biopsy of the mass was taken, and the doctor asked me to directly undergo surgery because of the rapid spread of the disease. Indeed, I underwent a total mastectomy, having the lymph nodes removed. After the surgery, I was referred to chemotherapy."
Women usually feel anxious about dealing with this disease, facing numerous difficulties in obtaining medical treatment. However, Sarhan's case was different; Sarhan receives treatment in a place far from her children residing in Jabal al-Zawiya. Besides, even though she experienced the highest level of pain, which was becoming "unbearably severe" at times as described by Sarhan, she is still optimistic and determined to keep on living. 
Sarhan was subjected to more than 30 radiotherapy sessions, which caused her severe pain but did not undermine her resolve.
Northern Syria with only one cancer treatment center
There is only one center for treating breast cancer patients in northern Syria, which is outside the control of the Syrian regime. It is the oncology center in the Idlib Central Hospital (also known as the Governorate Hospital- the Syrian-American Medical Society "SAMS"). The center faces many challenges, the most serious of which is the shortages of medications and the high prices of medicines sold in the area. 
The director of projects and the direct official in charge of the center, Yahya Rahal, told Enab Baladi that, in addition to the absence of some medicines in northern Syria (including Trastuzumab\Herceptin, basic treatment for breast cancer patients), the patients in the area do not have free access to pathology or radiotherapy, suffering the high cost of pathological analyzes, despite the SAMS's attempt to bear these expenses, which drives some patients to seek treatment in other governorates controlled by the Syrian regime.
One of the most serious difficulties is having a single center to treat cancer patients, especially those living in remote areas.
Amna al-Ahmad, a displaced woman from the governorate of Aleppo, told Enab Baladi that she lives in the city of Atareb, very far from the cancer treatment centers. Yet, she prefers to receive her treatment there rather than going to the Syrian regime held-areas.
According to Yahya Rahal, eight new breast cancer patients are recorded every month, while the center has treated 150 cases since its opening.
The center consists of ten beds, and the patient leaves for his home immediately after receiving treatment.
Owing to the difficult roads and long distances involved, Rahal pointed out that the SAMS will launch a second project in the city of al-Bab, which is affiliated with the northern countryside of Aleppo governorate.
According to Rahal, the center offers medical treatment services to breast cancer patients, children with leukemia, and lymphoma patients.
What is breast cancer?

According to the World Health Organization, breast cancer is one of the most common types of cancer among women across the world.

Symptoms of breast cancer include unusual nipple discharge, which may be milky, clear, green, brown, or bloody, as well as indentation or retraction of the nipple.

Breast cancer can cause changes in the size or shape of the breast, such as noticeable breast swelling, breast redness, or bruising or wrinkled skin, similar to an orange peel, according to WebTeb, an Arab internet website that produces and publishes medical, health news and information.

WebTeb reported that only 5 to 10 percent of cancer cases could be inherited, and genetic defects can also cause cancer. 
Cancer patients waiting for treatment in Turkey 
Najah Sarhan refused to receive treatment in the Syrian regime-controlled areas because she is the wife of a former detainee, and the road is not safe enough for her; she is afraid of being arrested or sexually harassed. Therefore, she preferred to leave for treatment in Turkey. 
Syrian patients' access to cancer treatment on the other side of the border is not easy. Sarhan had to go to the Bab al-Hawa area clinics, to which the border crossing with Turkey of the same name belongs, for a whole month until she finally managed to obtain approval.
 Director of the Office of Public Relations and Information at the Bab al-Hawa Crossing, Mazen Alloush, highlighted to Enab Baladi that 283 cancer cases entered Turkey for treatment, including 102 female patients from the beginning of this year until last August.
No accurate statistics are available on the number of women with breast cancer treated in Turkey.
The mechanism for referring the patient to Turkey requires reviewing the outpatient clinics of Bab al-Hawa Hospital, then obtaining the doctor's approval after examining the patient. Then, the medical office has the option to deny a referral that it does not deem appropriate.
After obtaining the approval, patients wait on their scheduled travel time at the crossing gate with their medical and identity documents. After that, they are transferred to the General Directorate of Security on the Turkish side, and from there to the "State" Hospital in the border town of Reyhanlı. 
Amna al-Ahmad is one of the patients waiting to go to Turkey and receive cancer treatment not available in Syria. 
Importance of breast cancer early detection and awareness campaigns
Early detection is the most important key to surviving breast cancer. 
Yahya Rahal, head of the Oncology Center at the "Idlib Central Hospital," told Enab Baladi that early detection of cancer determines the type of treatment and gets rid of the disease. Rahal explained that the success rate of treatment with early detection exceeds 95 percent if the patient is in the first stage, but if she is in the last stage, the success rate does not exceed 30 percent. 
He added that a tumor might be too small in the early stage of breast cancer; it means it does not spread in the body and tissues.
The World Health Organization (WHO) has designated October as Breast Cancer Awareness Month, which is marked in countries worldwide. This month helps increase interest and provide the necessary support for awareness, early diagnosis, and treatment. 
According to the WHO figures, annually, nearly 1.38 million new breast cancer cases were diagnosed, of which 458 thousand died.
Regarding awareness campaigns in Idlib governorate, Rahal said that they focus on community health by promoting publications on social media platforms or media programs in newspapers, TV, and radio stations.
Rahal argued, however, these campaigns are not sufficient because they are supposed to develop to include home visits and a better referral system. These campaigns face logistical difficulties, represented by the lack of free physical examination and radiation therapy in addition to the high prices of medical tests for patients.
For her part, Najah Sarhan, who hopes to be cured of cancer soon, called on all women to adhere to periodic examinations and early detection. She added that people should make sure that they do not have the disease, and she also called on all the cancer female patients to show courage and patience and think positively about their ability to defeat the disease.
if you think the article contain wrong information or you have additional details Send Correction