Sign language teaching lessons and other small projects… deaf people support center in Kafr Nuran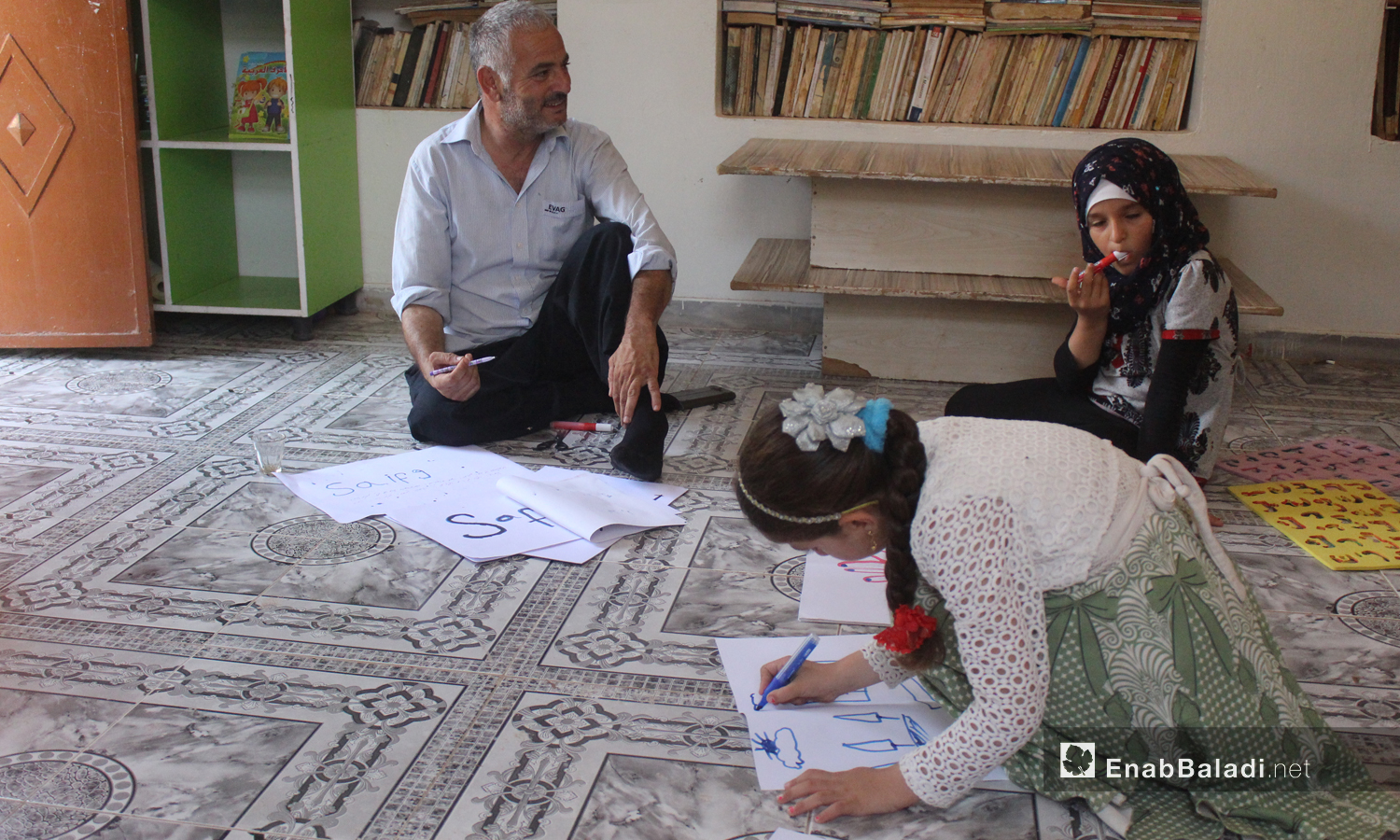 Enab Baladi – Iyad Abdel Jawad 
To communicate with his three deaf children, the English language teacher, Omar Darwish, has learned the sign language and took the initiative to teach it with his daughter to other deaf people in his village of Kafr Nuran, west of Aleppo province.
Darwish, together with his wife, Haloum al-Mustafa, and his daughter Bayan, who suffers from deafness (hearing impairment) for about ten years, have established a center for teaching sign language in their home in the village.
After mastering the sign language, Darwish began teaching it with his daughter to six students admitted to the center when it opened.
In addition to the sign language, Darwish worked with his daughter Bayan to teach students Arabic, mathematics, and geography, besides activities such as weaving wool and hairdressing for women.
Darwish and his daughter's work was completely voluntary without a financial return or support from any side.
Darwish said to Enab Baladi, "the center was my daughter's idea, and it was well-received by our community."
He added, "after some period, the center witnessed a sudden and bigger demand, and students from neighboring villages started coming to it."
However, the center's distance from some villages, the absence of transport, and the burden of traveling led to a decline in the number of beneficiaries.
On the other hand, the students' promotion of the center and its activities and the villagers' knowledge of it contributed to the increase in students' numbers. The number of students in the sign language teaching center reached 35 students before the last wave of displacement.
While introducing the center, Bayan's activeness on social media helped introduce a young lady named Razan Haidar to the sign language teaching project. It encouraged her to learn the sign language, although she is not deaf and can speak.
Haidar was motivated to learn the sign language to be close to deaf people in the surrounding community and to find a way to communicate with them, according to what she said to Enab Baladi.
Haidar learned from the sign language lessons at the center the letters, colors, days of the week, and some words used in everyday life.
She believes the center's sign language teaching project is successful and hopes that the center increases its beneficial activities in society.
The center's activities are not limited to teaching the sign language, as Darwish's three children inspired their mother, al-Mustafa, to set a department in the center to prepare long term food supplies.
This project was intended to motivate the youth to rely on themselves and make a living without others' help.
Al-Mustafa said to Enab Baladi, "society is harsh on people with disabilities, but we consider them like other enabled people and interact with them accordingly." She added, "we taught them at our center for deaf people to be active members in society."
Al-Mustafa continued saying," my son, Ali, is good at repairing electronics, and my daughter, Bayan, teaches the sign language and masters hairdressing for women, while my youngest daughter, Yafa, chose drawing."
Al-Mustafa sent a message through Enab Baladi to all families with children of disabilities not to treat them as they were "disabled" but to handle them as enabled individuals, thereby these children can be useful members in their communities.
if you think the article contain wrong information or you have additional details Send Correction