After a long interruption…water flows again in al-Bab city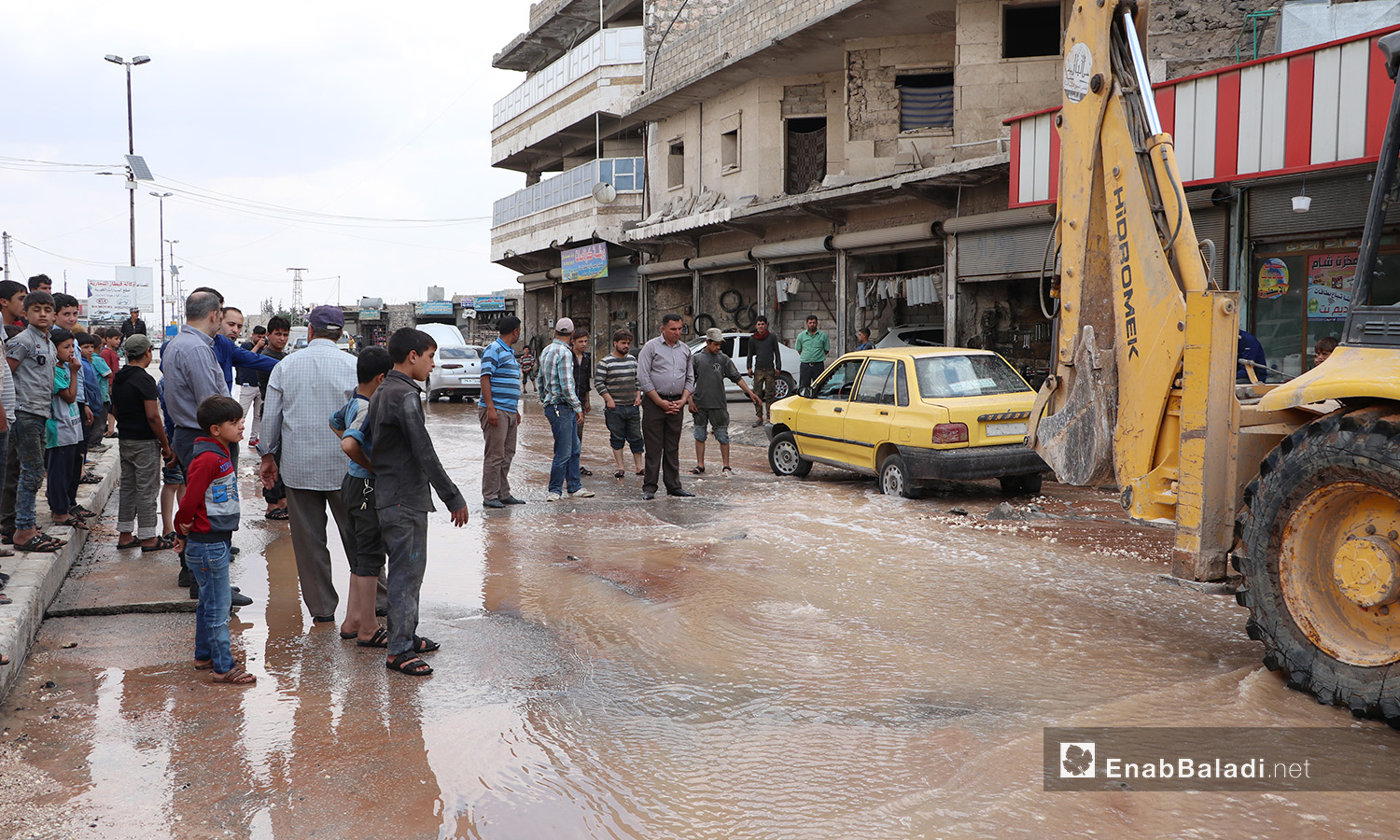 Enab Baladi – al-Bab
For several minutes only, life resumed in al-Bab city through its water pipes, in the northern countryside of Aleppo, as they were filled with water after being rusted and calcified for a long time. On 20 of last June, the city's council conducted a pilot pump test to determine damages within the water distribution system after completing the project of portable water.
Al-Bab city suffers from water interruption since opposition factions held control of it in February 2017. Presently, city's residents buy water extracted from wells of the city's villages using private or public cisterns of the local council.
This came after repairing and filling the city's main reservoir, which was funded by "Ihsan Relief and Development" organization, and extending water lines from wells in al-Rai city and Sousian and Sousnabat villages in the northern countryside of Aleppo. In addition to equipping water pumps through the Turkish government's help, according to what the head of al-Bab local council, Mustafa Othman said to Enab Baladi.
Othman attributed delaying the water project to the "huge" destruction of the city's infrastructure which amounts to more than 50 or 60 percent. Therefore, the city was divided into four different parts to facilitate maintaining the water distribution system.
Maintenance goes according to a time plan, which was not specified by the director of the local council; however, he pointed out that this plan goes in accordance with the council's capabilities. He clarified that "sooner portable water will be available for all houses in the city."
The project covers water supplies for at least 85 percent of houses within the city, where most residents will not have to buy water from cisterns anymore," as Othman put it. He added that water costs and bills will be determined by the local council taking into account the city's living conditions.
Though its official "Facebook" page, the local council asked al-Bab residents to carry out the necessary household maintenance to avoid wasting water. It also confirmed the water's unsuitability for use as drinking water for the meantime.
Fears of delay in maintaining water system amid high costs
Portable water is a persistent problem in al-Bab city, with its prices rising at times while its pollution rate goes up at others. Meantime, Enab Baladi has asked some residents about their opinions when it comes to the water supply project.
Muhammad al-Karaz, a resident of al-Bab city, depends on cisterns' water and pays about SYP 3500 (USD 1.5) for a reservoir with a capacity of five barrels, despite the fact that the local council has set a fixed price for its cisterns at SYP 3500 (USD 1.5) for reservoirs with a capacity of ten barrels, as Muhammad put it.
Muhammad added that the council has announced the project's start-up in July 2019, which was preceded by many promises since the opposition factions took control of the city in 2017. However, these promises remained unfulfilled until "Ihsan Relief and Development" organization took the initiative and funded the main reservoir's maintenance.
According to Muhammad, in case water reached houses and work continued, along with low costs, only then we can say that the problem of water has been solved.
Filling reservoirs and pumping water means water has reached houses and that the problem has been solved, according to Abed al-Mutaleb, a resident from al-Bab. He asked the council to speed up maintenance work, while taking into consideration people's financial situation and water costs in the future.
According to a report by the United Nations Office for the Coordination of Humanitarian Affairs (OCHA), issued on 12 last June, residents in northwestern Syria face difficulty in securing drinking water, where about 1.3 million of them lack access to clean water in their areas.
Asim Melhem, Enab Baladi's correspondent, contributed in the preparation of this article
if you think the article contain wrong information or you have additional details Send Correction