New mechanisms to educate 500 thousand students northern Syria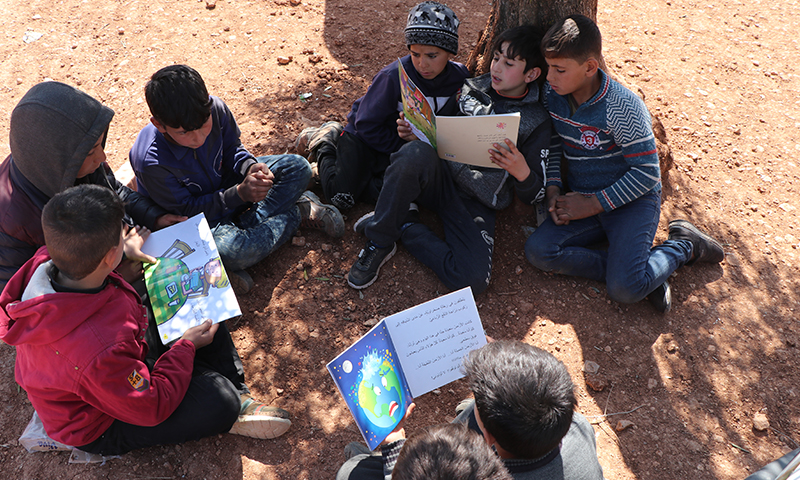 Enab Baladi- Abdullah al-Khatib 
Students in northwestern Syria suffer from many educational obstacles which have increased after school suspension due to the novel coronavirus (COVID-19) pandemic. Their suffering become more apparent after educational institutions resorted to e-learning (distance learning) in a region which lacks the required capabilities to implement it.    
A month after virtual learning was activated, under the decision of the education directorate in Idlib, on 29 last April, more problems rose to the surface, especially lack of capabilities related to communications and information technologies in opposition-held areas northwestern Syria. 
According to the latest statistics obtained by the monitoring unit in the education directorate for the year of 2019, the number of students in the region which includes Idlib governorate and western countryside of Aleppo, has exceeded 513,604 students, 133 thousand of them reside in the countryside of Aleppo.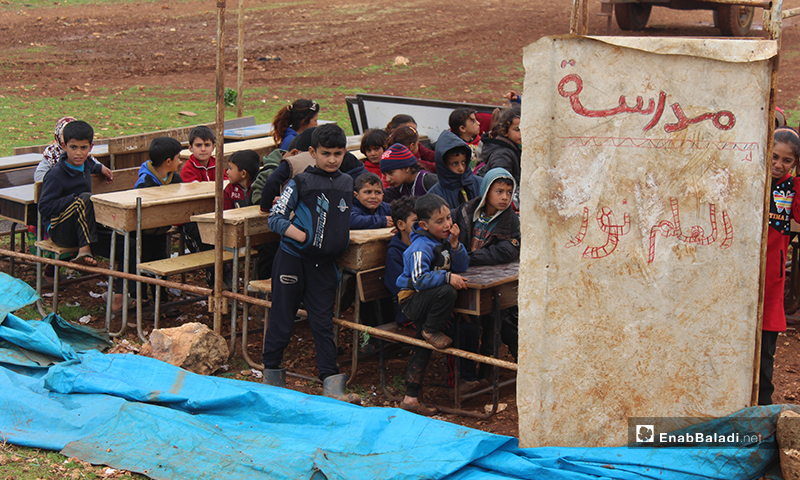 Organizations reach more than 60 percent of students… what is required of them?
Laila Hassou, head of the communication department in Hurras Network, told Enab Baladi that 20,890 children benefited from the network's e-learning project while aiming to include the rest.   
She added that their partners in the same project reach more than 60 percent of children while the process is conducted under the supervision of the education directorate.
The United Nations' (UN) allocations to support the educational process for this year have reach six million dollars. Meanwhile, organizations try implement their own programs to receive funding and avoid losing the academic year. 
According to a statement by "Syria Response Coordinators" team on 22 last May, 81 percent of returnees from the areas of displacement to their villages and towns in the countryside of Aleppo and Idlib, whose numbers exceed 277,305 out of 1,041,233 IDPs, need education. 
To make this possible, the team has estimated the necessary fund at ten million and 200 thousand dollars. 
"WhatsApp" an alternative classroom 
Talking to Enab Baladi  about his daughters' experience with e-learning and his role in helping them, Tarek al-Abid, a father of two who resides in Idlib, said "both of my daughters take their classes via a WhatsApp group and I follow up their lessons and help them with the new way of learning."
Both daughters study in the primary stage; one of them is in her first grade while the other in her second. According to their father, they take distance learning seriously and feel enthusiastic about it, as they ask for his help to learn new courses even on holidays.
Director of programs in "Hurras Network", Majdi Bash Imam, told Enab Baladi that the study materials sent via "WhatsApp" groups, being virtual classrooms for students, include mathematics, Arabic, Science and English. 
In addition to WhatsApp groups, the Network has developed a platform to provide educational material (online) for those who do not have access to these groups or have poor connectivity, so they can access them later at any point of time. 
Endeavors to overcome the challenges… would they succeed?
Talking to Enab Baladi, Majdi Bash Imam explained that first challenge they faced during the educational process in northwestern Syria was linked to infrastructure which do not allow internet access to all groups and entities. What makes the situation even worse is the latest waves of displacement resulting from military operations. 
To overcome this hurdle, the Network has distributed bags of self-learning, as well as relying on parents' role in this process. In addition to passing information through "protection committees" in these areas and through media publishing groups.  
The second challenge is related to study materials for children with disabilities or those having learning difficulties. According to Imam Bash, these categories need special study materials and assignments because the ones published are less beneficial for them. 
Teams within "Hurras Network" follow up on these categories through online sessions usually with the presence of a moderator to help the student and a phycologist. They also provide the moderator with a "special learning" bag with tools to help them deal with the student disabilities. 
The third and last challenge are students with special needs who cannot be reached via the internet. The Network has external teams, similar to those of health care, which conduct periodic sessions and visit inhabitants to provide educational services, psychological support or even to provide the needed follow-up services for these kids periodically. 
Self-learning bags…"offline"
Saud al-Issa, a student in her fourth grade in Idlib, faces great difficulties in receiving study materials because of the poor internet connection, while other students lack mobile phones.  Suleiman al-Hammadi, a third-grade student, who said that he receives his courses through his father's phone and benefits from the latter being at home before taking his phone with him when heading to work.     
Suleiman added that the teacher explains courses for him and his classmates well as if they were in class, yet he prefers going to school instead. 
Director of programs in "Hurras Network", Majdi Bash Imam, explained to Enab Baladi that students with no internet access, the network has set standards to monitor this category. Meantime, the Network provides them with "self-learning" bags that include sometimes internet cards to reached them directly via the internet.  
In some cases, where children live in bad conditions, these bags include paper material, such as assignments, books, and a special guidebook for self-learning to facilitate for parents carrying out activities with their children with less follow-up from the course instructor, as Bash Imam put it. 
In this case, parents may contact teachers once a week to receive the new paper materials and give them updates about the conducted activities but this time less frequent than the daily communication.
if you think the article contain wrong information or you have additional details Send Correction