"E-leaning" platform in Syrian North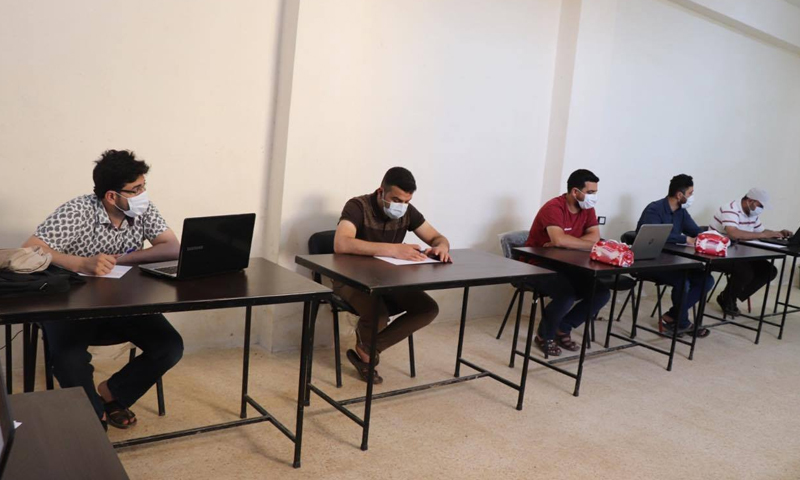 Enab Baladi- Idlib
Students of different educational levels have been affected by the imposed precautionary measures to curb the spread of the novel Coronavirus (COVID-19).  As part of these measures, all classes have been suspended preventing students from pursuing their education in the conventional ways.
In the face of the challenges posed by adopting alternative teaching methods, many parties in opposition held-areas northern Syria have launched initiatives to help students pursue their "distance learning" through the establishments of platforms or website using the available resources and means like "Zoom" or any other application.
"Ataa Platform" is one of these initiatives, which "Ataa Association for Humanitarian Relief" is preparing to launch this June in cooperation with a software company. The aim of this platform is to facilitate the process of learning for students who attend schools supported by the association and Turkey in "liberated areas".
"Ataa Platrform"
Malek al-Taleb, an Ataa official responsible for education in Idlib, told Enab Baladi that the number of students who will benefit from the platform will reach 13 thousand from 23 different schools in northwestern Syria and Turkey.
Al-Taleb explained that work is underway to launch the platform on 20 of this month, meantime the platform is used to train 6 teachers and 26 supervisors, who in their return will train 500 teachers to start "distance learning".
According to the Ataa official, the platform will play a significant educational role through encouraging participatory learning to overcome social isolation caused by the absence of traditional education.
Platform allows all students in schools affiliated to Ataa association, who wish to pursue their education, to access information anytime and anywhere. In addition, the association provides training on how to deal with the new methods of e-learning.
Easy Access
The platform will also provide educational materials through links, pictures and videos easy to use and access. These teaching methods are supposed to contribute in the overcoming the technical problems posed by cell phones, according to Rami al-Qatini, an administrator at "Ataa Residential Compound".
Many problems have raised to the surface in the first experiences of "distance learning" right after classes suspension such as downloading videos with a limited storage capacity cell phones, while using poor internet connection. Back then, schools relied heavily on "WhatsApp" groups.
In his talk to Enab Baladi, al-Qatin confirmed that the platform will provide a solution for overcrowded classrooms and will enable students abroad to access the Syrian curriculum.
Ataa platform will enable parents from following up their children and assess their performance as well as take part in their educational process through direct communication with their children's teachers.
Deviating from conventional learning 
Haya Zaydan, a teacher in one of schools of "Ataa Association", thinks that the platform will help deviate from the conventional forms of education. Moreover, it will help and assist teachers to conduct classes remotely when it comes to questions and electronic correction of examinations.
Haya received a training during the first stage of launching the platform which made her familiar with the newly adopted learning mechanisms. She pointed out that communication between teachers and parents through the platform will help obtaining high-quality education outcomes.
Meantime, she considered that focused discussion sessions will promote the spirit of cooperation and teamwork among students. Haya also noted that e-learning is more enjoyable for students, since it relies on pictures and videos.
According to the lasted statistics conducted by the monitoring department in the Directorate of Education for the year 2019, these statistics showed that the number of students in the Idlib governorate and areas in the countryside west of Aleppo, has reached 513 thousand and 604 students from both genders.
Unsatisfactory experiences 
On 29 last April, the Directorate of Education in Idlib governorate resumed e-learning using the available means. Back then, the directorate depended on a weekly plan set by teachers, the protection officer, and the librarian under the supervision of an instructor, the school's principal, and the main teacher.
The plan also included some educational materials teachers share with their students in form of pictures, videos, audio recordings and written texts sent to their parents through "WhatsApp".  This led to many problems related to technicality and poor communication, as it was monitored by Enab Baladi in a former report.
After the directorates of education decision to promote students in primary and secondary schools to next class or section without exams and use first semester's evaluations to assess their performance in the second one, there is an urgent need to fill the educational gap left by the pandemic through preparing for a more beneficial academic year.
if you think the article contain wrong information or you have additional details Send Correction