Damascus Governorate denies news of registering residents of Yarmouk Camp to return home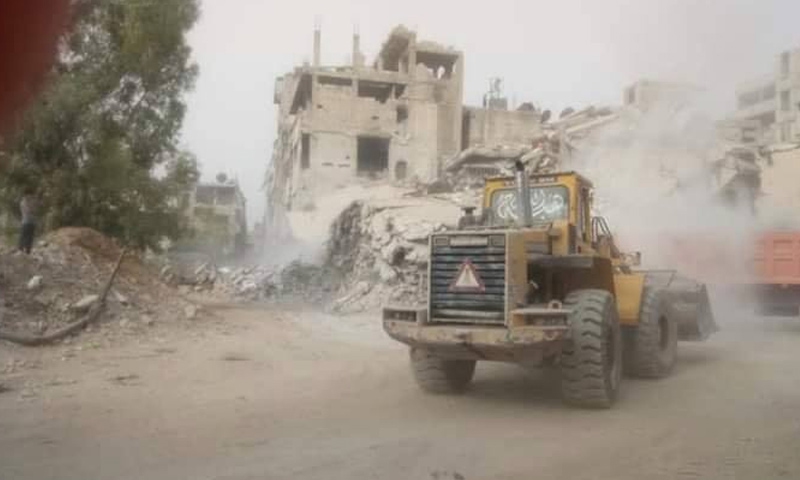 Damascus Governorate has denied news about opening registration for the residents of the Yarmouk Camp in Damascus in preparation for their return, according to member of the governorate's Executive Office and Head of the camp's Service Committee, Samir Jazairli.
In an interview with the pro-government local news website, al-Watan Online, on Monday, 1 June, Jazairli said that there is no truth to the reports about authorities calling citizens wishing to return to the Yarmouk Camp to register their names in "al-Waseem Mosque."
He added that the governorate is working on securing the camp from explosives, ensuring that residents' houses are safe, and providing essential services for the area, before the return of all of its citizens.
Jazairli also pointed out that the date of the beginning of citizens' return to the Yarmouk Camp will be officially announced through the Damascus Governorate's website.
This came after a meeting of the Palestine Liberation Organization's (PLO) factions in Damascus during the last week to discuss the situation of Palestinians in Syria and the issue of the Yarmouk Camp.
Amr Murad, the representative of the Popular Front for the Liberation of Palestine (PFLP), said that there are positive signals for the return of the Yarmouk Camp's residents, "even though it will be a slow return," according to what was mentioned by the Action Group for the Palestinians of Syria (AGPS).
Murad added that the assembling members of the PFLP asserted the need for continued efforts with the Syrian regime's government to accelerate the return of the camp's residents.
The Yarmouk Camp had witnessed battles between the former "Free Syrian Army" (FSA) factions and the regime's forces, amid the division of Palestinian factions between the two sides, before the so-called Islamic State (IS) took control of two-thirds of the camp in 2015.
Nevertheless, the regime's forces regained full control of al-Hajar al-Aswad and the Yarmouk Camp area in May 2018.
The regime's control came after a month-long military operation, which led to the expelling of IS from the camp, following an informal evacuation agreement, that forced the transfer of IS militants to the Badia east of As-Suwayda.
Two years have passed since the regime regained control over the Yarmouk Camp; still, the residents were not allowed to return under the pretext that the rubble removal is not finished yet.
In November 2019, Jazairli confirmed that the Yarmouk Camp became organizationally added to Damascus Governorate.
Jazayerli pointed out to the al-Iqtisadi website that the decision to incorporate the Yarmouk Camp into Damascus Governorate followed a decision from the Syrian Prime Minister, Imad Khamis.
Jazairli added that the "General Company for Engineering Studies" had proposed three organizational solutions to select the optimal one, but none have been chosen for implementation.
if you think the article contain wrong information or you have additional details Send Correction