Coronavirus imposes procedures on organizations' work  in Idlib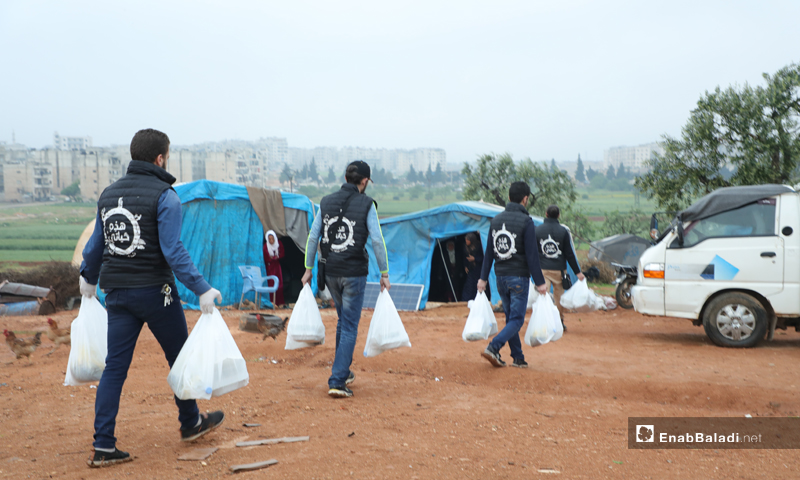 Enab Baladi – Idlib
The novel "coronavirus" (COVID-19) imposed a new method of work on most organizations operating in northern Syria, especially during the current month of Ramadan, due to the increase of aid and Ramadan baskets to support Internally Displaced Persons (IDPs) and the needy ones during Ramadan.
So far, there have been no officially registered infections of the virus in Idlib; however, the implemented measures weeks ago out of fear of the virus' spread among citizens, affected humanitarian organizations' work and led to the cancellation of Ramadan's traditional gatherings and tents this year.
Ramadan arrives this year in Idlib amid large-scale human and economic suffering reflected in the existence of about one million IDPs according to statistics by the "Syrian Response Coordinators Group" (SRCG). The SRCG conducted a questionnaire on 20 April, aiming to monitor the economic situation in northwestern Syria in the first quarter of the current year. 
Nearly 3,3688 people participated in this questionnaire from different age groups capable of work, where the results concluded that 90 percent of those who participated cannot cover their basic living expenses. In contrast, 81 percent of them receive a monthly salary of less than 50 USD. 
Drastic measures 
The current economic reality collided with the novel "coronavirus" pandemic led to an increase in humanitarian organizations' work and pushed these charitable institutions to take precautionary measures, according to the director of "The merciful are shown mercy by Ar-Rahman" team, Youssef Shaaban, in Idlib. 
Shaaban confirmed to Enab Baladi that "coronavirus" emergence pushed most organizations to take precautions, such as cancellation of gatherings, especially Ramadan tents. The organizations also ensured the absence of group gatherings and the implementation of a social distancing policy during the distribution of meals and Ramadan baskets. 
Shaaban added that they also stress the use of gloves, masks, and workers' hygiene.
Meantime "Shafak" organization, for its part, took certain precautionary measures. The beneficiaries were to use hands sterilizers, sanitize pens they use, and keep a social distance between them. The workers of the organization, on the other hand, wore medical masks and gloves. Additionally, "Shafak" also held quick awareness sessions during beneficiaries' line-up to receive their monthly baskets, and limited the number of people allowed in the organization for this purpose to one. The organization increased the number of distribution points to prevent crowding, based on what has been said to Enab Baladi by one of its workers. 
Support provided to those in need during Ramadan varies from one organization to another; while some charitable organizations offer monthly baskets based on fixed lists, others distribute small daily Ramadan baskets, along with small amounts of Zakat funds allocated for patients and those in need, according to Shaaban.
Shaaban confirmed that these baskets usually contain food items for both the pre-dawn meal (Suhur) and fast-breaking meal (Iftar), which consist of cheese, jam, and Halawa and sugar. He pointed out that one basket costs about ten USD (approximately 12,500 SYP).    
As for Sariya Bitar, head of the Idlib office for "This Is My Life" group, he told Enab Baladi that the group produces about 400 meals on a daily basis and distributes them to IDPs during Ramadan. Additionally, the group provides food baskets sufficient for the whole month for a family of five members. These monthly baskets cost approximately 30 USD (40 thousand SYP), along with Ramadan bags for the benefit of martyrs' families, which include Quran books, prayer mats, rosaries, and siwak (is a teeth cleaning twig). 
if you think the article contain wrong information or you have additional details Send Correction