NGOs in northern Syria on new mission to fight Coronavirus pandemic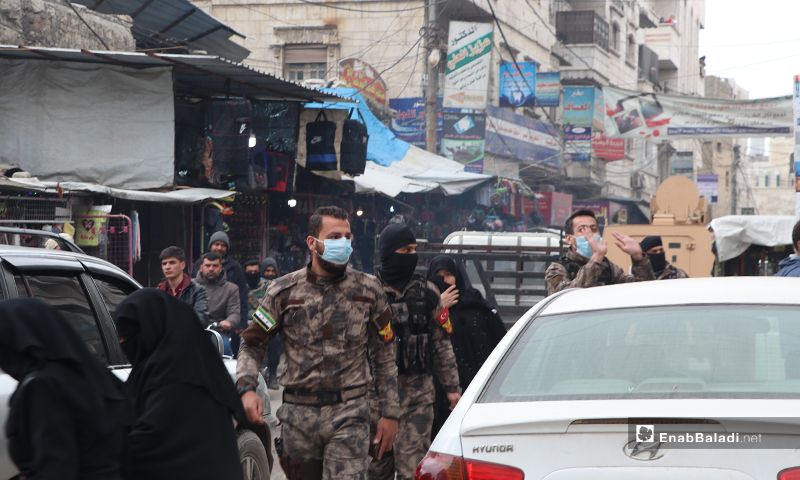 Several non-governmental organizations (NGOs) operating in north-western Syria have scrambled to launch community awareness campaigns against COVID-19, an emerging coronavirus infection. It is worth mentioning that both big international NGOs—with their strong capabilities and large numbers of volunteers  in the various opposition-controlled areas—and small local NGOs with their modest capacities have contributed to these awareness-raising campaigns and measures advocating for combating COVID-19 and preventing its spread in northern Syria.
Even though northern Syria has not contained the coronavirus yet—according to official statements, local authorities, and NGOs are taking proactive control measures to avoid coronavirus infections in the area. Still, these measures appeared to be insufficient from the point of view of the population. 
Enab Baladi contacted many NGOs, to find out the coronavirus's impact on their work and whether the virus made an urgent change in the work of their programs. Enab Baladi also asked about the NGOs' COVID-19 response and preparedness efforts made in north-eastern Syria.  
Coronavirus made no effect on NGOs' programs and projects
Speaking to Enab Baladi, Fouad Sayed Issa, a member of Violet Syria's leadership stressed that the projects of the Violet NGO have not been affected adversely by the coronavirus pandemic, because the current projects were planned a long time ago. 
Violet continues implementing all its projects, such as relief projects, educational projects, employment, and livelihood projects (workforce training programs), in addition to distributing financial grants to displaced families and serving collective IDP centers.
However, some particular activities were affected in terms of access to training programs; conducting vocational training in one hall for large numbers is no longer possible anymore, and the strategy of distribution projects changed as well by relying on separate and individual groups.
With the growing need for the work of  NGOs in the healthcare sector, NGOs have ramped up their medical activities in northern Syria to cover the essentials of people, according to Dr. Oqba al-Dagheem, director of health programs at the Syria Relief and Development Organization (SRD). 
Divison and distribution of  administrative tasks 
NGOs have pursued a new strategy to continue their services and not be affected by the virus, to maintain their employees' health and safety, and to respond to new emerging needs over the coronavirus crisis.
Ziad Hatem, director of media and advocacy department at Watan organization, confirmed to Enab Baladi that due to the coronavirus, the organization had asked its relief employees to work from home. The employees have to communicate with each other through electronic applications to hold meetings, distribute and update tasks, and share files between them and with the management.
At the headquarters of the Watan organization, only essential workers, including workers at financial and logistical management, can go to work for only four hours a day to draw up the paperwork.
As for field workers, they cannot work from home, and their work includes high contact with people; therefore, all necessary safety precautions are taken as far as possible to maintain their health and safety; they are provided with disinfectants, protective face masks, and medical gloves. Their work has been doubled amid the coronavirus pandemic; they have to help the affected and displaced people more than before.
Hatem added that Watan organization created special coronavirus crisis management teams, from all its programs and departments. These teams are meant to focus on four key points. First, supporting advocacy campaigns with donors and United Nations organizations, to scale up the support of the healthcare sector, provide beneficiaries with necessary preventive equipment while delivering the hospitals and medical centers with the medical supplies required to treat and contain the infectious patients. 
Furthermore, Watan's special coronavirus crisis management teams are to increase awareness campaigns in the camp of internally displaced persons (IDPs) on the COVID-19 inside Syria and the countries of asylum, offer proposals to get the distance learning into effect for children who have dropped out due to the coronavirus pandemic and spray the establishments, health facilities, IDP camps, and reception centers with disinfectant regularly, according to Hatem. 
Field-based medical equipment and supplies 
Fouad Sayed Issa, a member of Violet's board of directors, emphasized that Violet fully equipped 110 paramedics to deal with the coronavirus pandemic, and provided them with all safety and health care equipment to be prepared and ready to respond to the COVID-19 if it strikes north-western Syria.
 Violet also set up 150 triage and isolation tents, where health workers examine patients before entering the hospital to ensure that they do not have symptoms of COVID-19, and if there are potential COVID-19 patients, they are triaged to an isolation tent.
Violet's goal is to cooperate with the directorates of health to reduce the risk of contracting the virus via hospitals and protect hospital staff from coronavirus contamination.
Issa said that the organization offered baskets of "personal protective equipment" to all hospitals and medical centers in the province of Idlib and its surroundings. The organization also distributed many protective gears ( a surgical gown, gloves, respiratory protection, eye protection or a face shield) to some medics and hospitals in addition to sanitizing health facilities and hospitals every day. 
Violet has also started working on distributing 5,000 personal hygiene baskets that include some types of disinfectants, face masks, and personal hygiene products as part of the coronavirus awareness campaigns. 
The most costly project is currently underway for building community isolation centers, which are the most important in the next stage, according to Issa.
Field exercises
The SRD has aimed to train about 560 health care professionals, from various health facilities spreading in the opposition-controlled areas, then exchange their experiences with their colleagues in other health facilities. The training program introduced the trainees with the infection prevention procedures to apply them in the health care facilities as well as the patient triage and label system.
The SRD increased the number of medical personnel in its health facilities to treat patients. It is also working to develop a referral system in the event of confirmed coronavirus cases in order to respond to them, according to doctor Oqba al-Dagheem.
Watan organization developed a full study to establish a field hospital equipped with beds and isolation rooms. However, it was not able to implement it because it remains unclear if the current cease-fire agreement in northern Syria will still be into force and because of the increasing violations. In other words, such a large health care facility is likely to be targeted, putting the lives of health workers and patients at significant risk, according to Watan's director of media and advocacy department, Ziad Hatem.
Citizens are dissatisfied with NGOs' actions to prevent COVID-19 dissemination
A questionnaire conducted by the "Syrian Response Coordinators Group (SRCG) showed that 77 percent of civilians in north-western Syria do not think that the organizations are thoroughly undertaking the necessary protection measures to comply with appropriate standards of public hygiene and to ensure the provision of the basic hygiene requirements with the spread of the coronavirus in the surrounding areas.  
The questionnaire demonstrates that 77 percent of people believe that toilets and bathrooms are insufficient, while 88 percent of people do not get water allocations periodically for them and their families. 
As for hygiene aids, 59 percent of people did not receive any of them at all, 20 percent have not received hygiene aids for a long time, 12 percent of people sometimes receive some aids, and 9 percent of people get hygiene aids on a regular basis. This questionnaire covered about 13,800 civilians, among them; 67 percent of the displaced—the questionnaire focused on random camps spread in the region, and the middle age group.
Limited donor response
Ziad Hatem, director of media and advocacy department at Watan organization, pointed out that the response of the donors, NGOs, and the United Nations organizations needed to confront coronavirus is still minimal. Hatem stressed that there would be a disaster many times greater than the capacities of the organizations operating in northern Syria to contain the virus if it broke out and if the medical centers and hospitals were not well equipped, and if there were not enough hospital beds for all potential patients.
The SRCG, in a report published on 27 Marche, assessed the capacity of the health sector in north-western Syria to cope with the spread of COVID-19, via documenting the ability of hospitals and medical points to manage the Coronavirus response. 
Hospitals in north-western Syria are equipped with 1,689 beds, 243 intensive care units, 107 ventilators, 32 health isolation units, while the region's population reached about four million and 17 thousand.
Thus, nearly 2,378 people in north-western Syria have one bed, 15,534 people have one intensive care unit, as well as one ventilator, is allocated for 37,549 people, and one health isolation room is to house  125,554 people.
if you think the article contain wrong information or you have additional details Send Correction