Data illustrates preparedness of Idlib hospitals for Coronavirus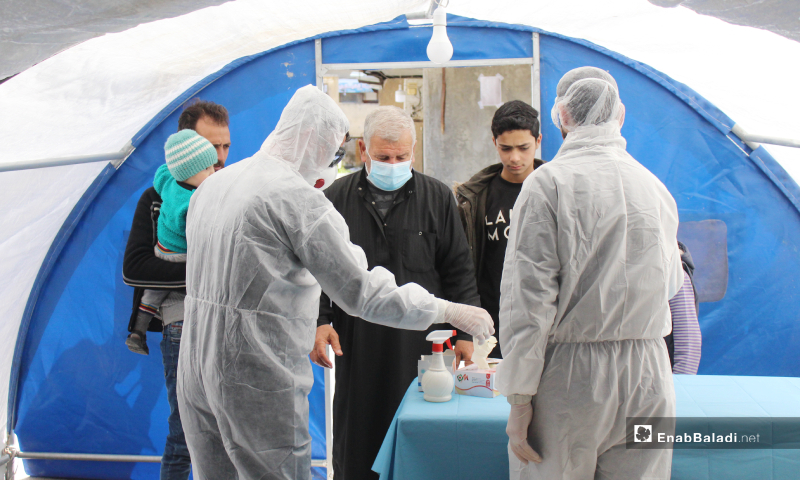 The Syrian Response Coordinators Group (SRCG) has assessed the capacity of the health sector in north-western Syria to cope with the spread of  Coronavirus (COVID-19), via documenting the ability of hospitals and medical points to manage the Coronavirus response. 
Hospitals in north-western Syria are equipped with 1,689 beds, 243 intensive care units, 107 ventilators, 32 health isolation units, as documented by the SRCG on 27 March. 
However, the region's population reached about four million and 17 thousand.
Thus, nearly 2,378 people in north-western Syria have one bed, 15,534 people have one intensive care unit, as well as one ventilator, is allocated for 37,549 people, and one health isolation room is to house  125,554 people.
North-western Syria is experiencing a high population density. The military campaigns carried out by the Syrian regime and its Russian ally on civilians and vital installations triggered massive waves of forced displacement from most Syrian provinces and north-western Syria itself, mainly from the rural areas in Homs, Aleppo, Idlib, and Hama, to relatively safe areas in north-western Syria.
From November 2019 until the signing of the Russian-Turkish agreement on 5 March, the Syrian regime targeted 32 health facilities, eight ambulances, and nine "Syrian Civil Defense" centers.
The Minister of Health in the Syrian opposition's Interim Government (SIG), Doctor Maram al-Sheikh, confirmed to Enab Baladi last Tuesday, that no Coronavirus infections have been recorded yet, and all examined cases were seasonal flu.
The ministry of health warned of a significant impending health crisis if the international organizations did not implement its pledges to support the health sector in areas of northern Syria to confront the COVID-19.
Al-Sheikh stressed that the United Nations officials are reporting that northern Syria is a very dangerous hotspot for spreading Coronavirus; it will be very difficult to curb it if it proliferates.
if you think the article contain wrong information or you have additional details Send Correction