Opposition-held al-Bab experiences remote learning for first time due to worries about Coronavirus spread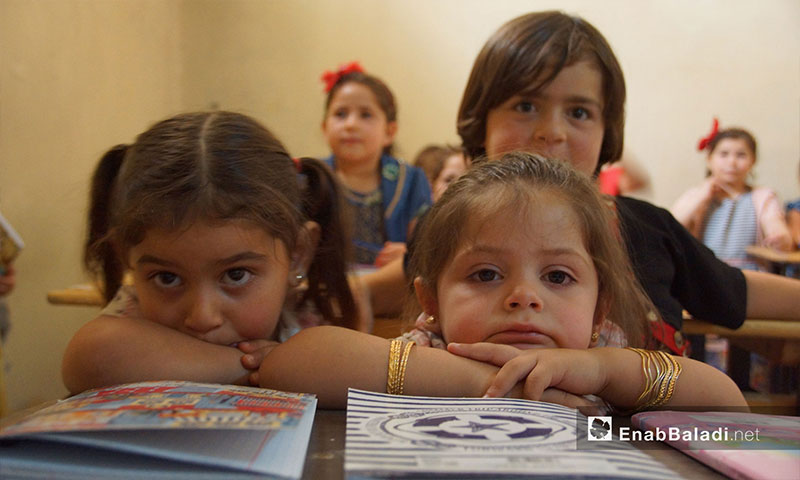 Some private schools in the opposition-held city of al-Bab in rural Aleppo have switched to remote-learning, in accordance with the current reality in the city and areas of northern Syria, which are experiencing precautionary measures against the novel Coronavirus (Covid-19).
The local council of al-Bab issued a decision to close all educational institutions to provide additional disinfection of its buildings as a precautionary measure to contain Covid-19, the global pandemic.
Therefore, now e-learning is set to take the lead in the city of al-Bab; students and teachers started relying on the e-learning WhatsApp group during local council-ordered school closure.
Batoul al-Shami, a primary class teacher in "the Seraj Educational Institution" (SEI), told Enab Baladi that teachers started to record videos based on the assigned topics in which they explain by appropriate teaching methods or on the blackboard. Then, they send them to the e-learning WhatsApp group, which consists of all students' parents.
For her part, the SEI principal, Layali al-Khalaf indicated that distance learning is taking place in the elementary/primary education, and secondary education ( up to the eighth grade) with different levels of implementation readiness among schools.
Remote learning is insufficient
"Distance learning is not enough, but it is better than nothing," this is how physics and chemistry teacher Ammar al-Khalaf, described the emergency method for teaching students in al-Bab.
He added to Enab Baladi that some subjects, such as physics, chemistry, and biology, need concrete experiments and a clear explanation, which cannot be achieved through e-learning.
Al-Shami was happy with the way the first week of e-learning went, and the students were actively engaged in the online classes.
However, she added, "distance learning could be better if the appropriate electronic devices and learning software programs were available, as students also face a problem in getting access to the Internet. Not all students have their own devices in order to keep up with lessons constantly."
The SEI principal, al-Khalaf, highlighted that the students' parents have a fear of e-learning as a new method that was applied unexpectedly, especially amid a lack of academic methods for e-learning implementations. Al-Khalaf pointed out that the effectiveness of e-learning is proven when the necessary tools are provided.
The superintendent of the al-Qalam private school, Nour al-Jandali, believes that it is not possible to evaluate the e-learning in the experiment phase, but "the students' interaction has been great so far, and the parents have a big role in that for sure."
Can e-learning replace classroom learning?
Al-Shami believes that educational institutions would remain suspended if the virus spread in northern Syria and if the world failed to bring the Coronavirus under control. Al-Shami indicated that e-learning came as a stop-gap solution, and could not be adopted for a long time due to the lack of necessary tools.
Al-Shami emphasized that it is challenging to develop e-learning experiment because of the worsening situation in the area, pointing out that distance learning could be successful and productive if specific requirements were met such as helping the students' parents adjust to learning at home, training teaching staff for teaching online, offering Internet access, electronic devices, and useful software. It is worth mentioning that all the requirements mentioned above are hard to obtain in the region.
The teacher, al-Khalaf, agreed with the teacher, al-Shami, that the tools of distance learning should be developed in the area because distance learning is the most adequate option in emergencies.
As for al-Jandali, she indicated that it is possible to promote the e-learning approach by teaching students how to access an e-learning platform in addition to other essential factors such as providing them with the Internet and the type of electronic devices used.
Parents' perceptions of e-learning
Enab Baladi communicated with a group of students' families and confirmed that their children took a "significant" advantage from online classes, noting that e-learning facilitates the continuity of learning, with direct follow-up from the teacher.
Some students spend their free time studying, Mahmoud Zaidia, a father of two students, said.
Zaidia believes that even though students have not experienced education disruption yet, replacing e-learning with classroom learning is a serious threat to children's academic progress.
Zaidia stressed the necessity for organizing techniques that will be used in the delivery of online exams as well as finding e-learning software programs to save students' efforts. These programs should also be suitable for completing the academic curriculum if the preventive measures continued.
Umm Munaf, who asked not to be fully named, is the mother of a student in the primary stage described the e-learning experience as "excellent" for shy students, noting that e-learning encouraged students' participation and built their self-confidence.
Remote learning promotes active learning; the teacher has the chance to listen to every student's ideas and respond to them. Umm Munaf, therefore, has allocated her phone to her daughter to continue taking lessons.
Mohammad Rajab, a father of three students, said that learning in a traditional classroom setting is far better than e-learning. According to Rajab, "there is nothing wrong with e-learning at the moment," despite the need for continuous programming and follow-up by the parents and teachers.
Education directorate also has distance learning plans
In this context, the director of education in the city of al-Bab, Jumaa Kezkaz, said in an interview with Enab Baladi that the education directorate has not yet implemented e-learning in public schools. Kezkaz pointed out that e-learning was rated as unsatisfactory, stressing the idea that "e-learning is better than nothing."
Kezkaz mentioned that the education directorate is studying the establishment of a virtual educational platform that includes the entire curriculum, which will serve as a reserved content "shelter" in emergency cases. Most qualified teachers will be selected to create video lessons for all the materials and upload them to the platform.
The implementation of e-learning in public schools needs "significant potentials and efforts," such as the following:
1-Parents should have socio-cultural awareness.
2-Students should have motivations to learn and avoid distractions.
3- Students, teachers, and parents should overcome physical and technological obstacles; however, most people cannot eliminate this type of barrier.
If the suspension of schools continues for a more extended period, Kezkas expected to start implementing the e-learning approach with the available capabilities, but conducting exams online "will be difficult at present."
if you think the article contain wrong information or you have additional details Send Correction