Moscow ceasefire deal for Syria's Idlib clashes with military and civilian refusal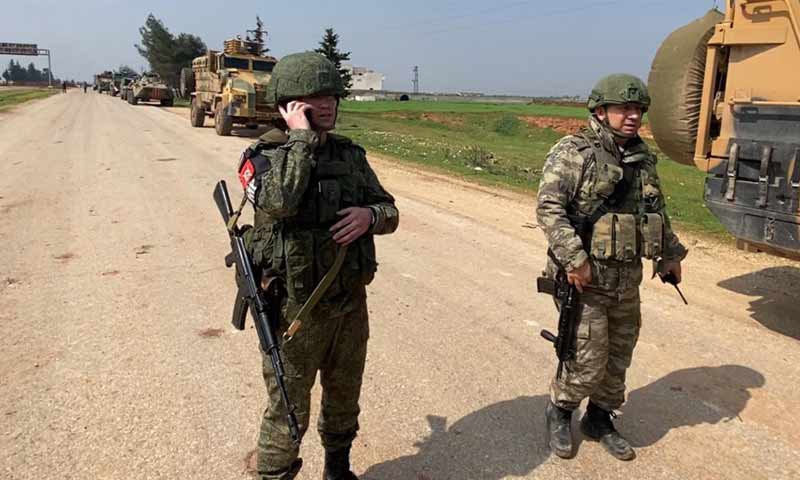 The Russian Armed Forces and their Turkish counterparts tried to implement one of the Moscow deal's provisions: conducting joint patrols on the M4 international highway, in the part that is under the control of the opposition factions in Idlib countryside.  However, their first joint patrol was shortened due to protests organized by the civilian population
Sit-in protest on the strategic M4 highway
In the last two days, scores of Syrians staged a sit-in in the demonstration of conducting Russian patrols on the M4 road as agreed with Turkey.
The correspondent of Enab Baladi in the province of Idlib reported that a group of young people started a sit-in on the critical M4 highway, north of Ariha town, burning tires in protest against the Russians patrolling along the M4 highway.
Russia and Turkey were forced to cut short their first joint patrol in Idlib on Sunday, 15 March, after the protesters cut off the main roadway to block its path.
The Russian Defense Ministry said that the patrol track on the M4 highway was diminished based on a joint decision taken with the Turkish Armed Forces.
The ministry claimed that the patrol was short cut due to provocations orchestrated by what it called "terrorist groups," which used civilians as "human shields."
The Russian Defense Ministry said that it gave Turkey additional time to "neutralize the terrorists and ensure the security of troops taking part in joint patrols along the m4 highway", which is connecting the government-held provinces of Aleppo and Latakia.
Military refusal
The public refusal was reinforced by a statement by "jihadist" factions, which announced their rejection of all Turkish-Russian agreements on a cessation of hostilities and fighting in Idlib.
Meanwhile, videos were circulated on social media platforms, showing an unknown group of fighters threatening to attack Russian Armed Forces if they tried to conduct patrols on the M4 road,
The Russian Foreign Ministry assured on Monday, 16 March, that "terrorist organizations" had rearmed themselves and launched counterattacks against the Syrian regime forces.
On 15 March, the Rouse the Believers Operations Room issued a statement, renouncing the Moscow agreement reached by the Russian President Vladimir Putin and his Turkish counterpart Recep Tayyip Erdogan in Moscow on 5 March.
The Rouse the Believers Operations Room, include "Jabhat Ansar al-Din," "Ansar al Tawheed," "Jabhat Ansar al-Islam," and "the Guardians of Religion Organization."
All these factions are considered to be "jihadist" in Syria, where their work is concentrated in the northern countryside of Latakia and the countryside of Hama.
Under the Moscow deal, which halted an escalation of violence in Idlib, a ceasefire will be held in Syria's ravaged Idlib province on the demarcation line that was established within the "de-escalation" areas.
The agreement stated that Russian and Turkish forces are to establish a "security corridor on either side of the M4 and conduct joint patrols along the M4 international highway between Trinbeh area, west of Saraqib city, and Ain al-Hawr village in western rural Idlib.  The security corridor will run 6km (four miles) north and 6 Km south from Idlib's major M4 highway.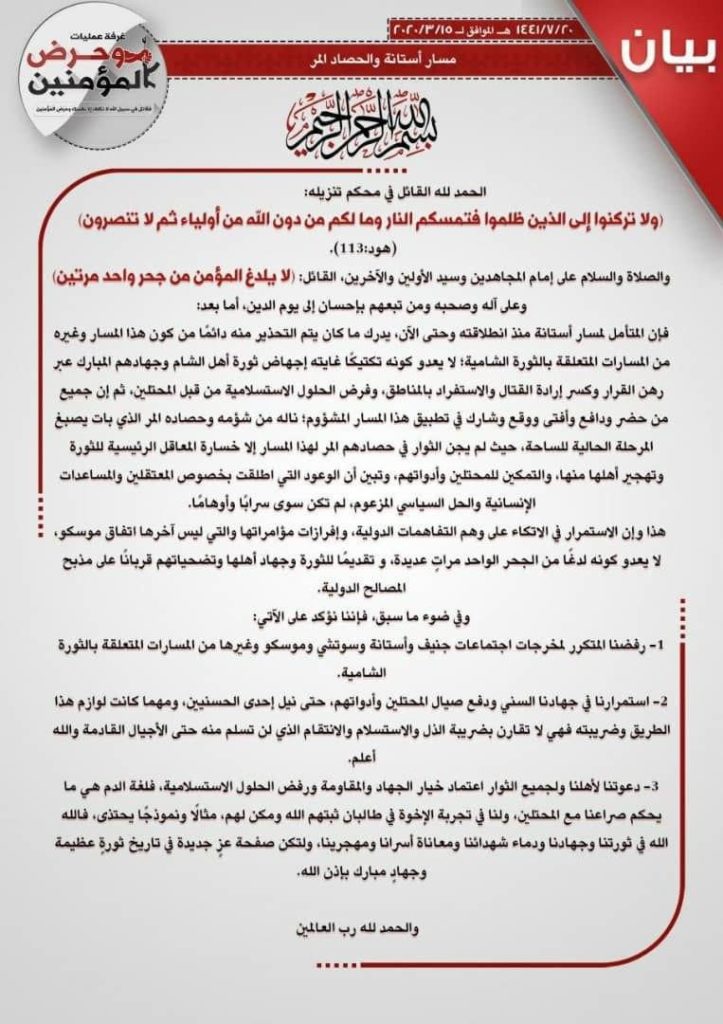 if you think the article contain wrong information or you have additional details Send Correction