Turkey-backed rebel city of al-Bab is first struck since Operation Euphrates Shield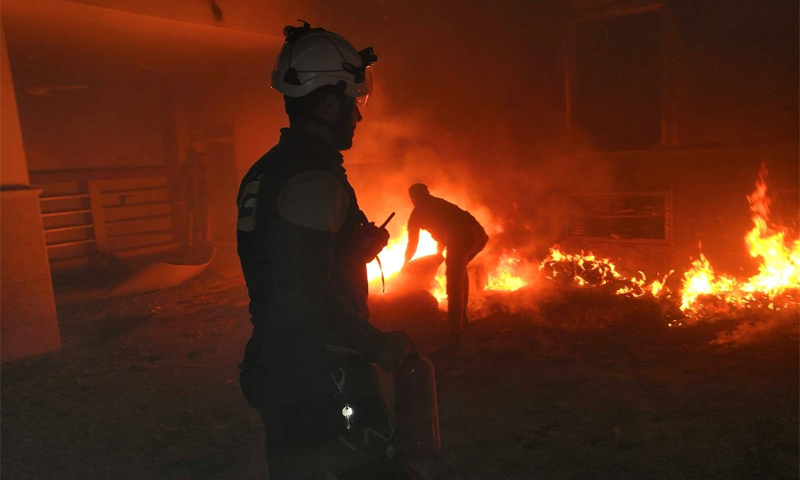 Five airstrikes have targeted the Turkish-backed city of al-Bab in the province of Aleppo, for the first time since Turkey's Operation Euphrates Shield, which ended in March 2017, resulting in minor injuries among civilians and fires in the city.
Osama al-Hajjar, an official at the center of the Syrian Civil Defence (SCD) in the city of al-Bab, told Enab Baladi today, 2 February, that three people were wounded by various shrapnel. Besides, counted by the SCD, five aerial attacks on the city burned down the Sheikh Dushel mosque and destroyed three houses.
According to al-Hajjar, these aerial attacks are the first of their kind in the city after capturing it in the Operation Euphrates Shield in 2017, which was carried out by the Syrian National Army (SNA) with Turkish support, against the so-called "Islamic State."
Al-Hajjar pointed out that some mortar and artillery shells had landed before from the areas controlled by the "Syrian Democratic Forces" and the Syrian regime.
The SCD, through its Facebook page, Saturday, 1 February, that one person was killed, and 16 others were wounded by artillery shelling that targeted the outskirts of the al-Bab city.
Moreover, al-Huda hospital in the vicinity of Hoor village in the western countryside of Aleppo was subjected to deliberate airstrikes. The airstrikes caused no injuries but rendered the hospital out of service.
The SNA announced the launch of a military operation against the Syrian regime forces in the eastern countryside of Aleppo hours after the Turkish President warned of conducting a military offensive in the region. However, the SNA halted its operation after hours of its launch.
Enab Baladi's correspondent in rural Aleppo reported that clashes are taking place between the Turkish-backed SNA and the Syrian regime forces in the fronts of al-Dighilbash and Abu al-Zendin in the al-Bab city in the eastern countryside of Aleppo.
Last Thursday, Erdogan accused Russia of not implementing the Sochi Agreement in September 2018.  He said that there are some agreements between Turkey and Russia in the "Astana" and "Sochi" track. Still, "unfortunately, the Russians did not abide by them."
Erdogan also threatened Moscow "to take measures in Idlib from now on," but he did not specify the next steps of Turkey. He stressed that he "informed Russia that Ankara is losing patience with the continued military operations in Syria's Idlib region."
if you think the article contain wrong information or you have additional details Send Correction