Who was behind two car bomb attacks that killed Turkish and Syrian soldiers?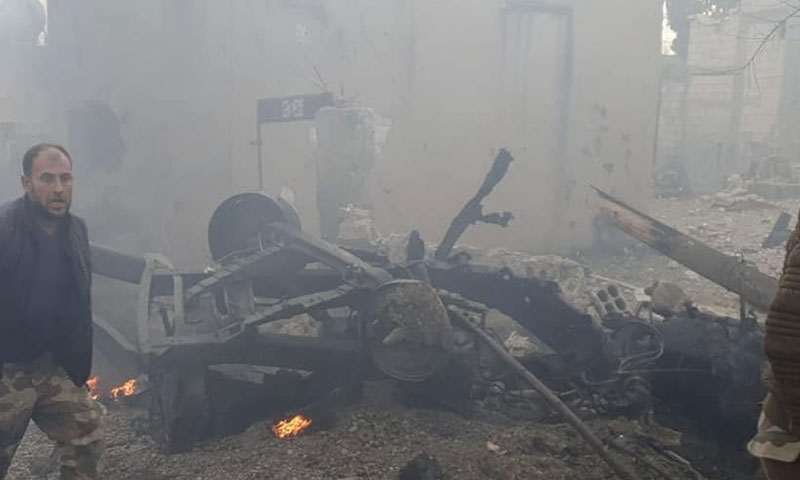 Two factions of the Syrian National Army (SNA) exchanged accusations over responsibility for entering two car bombs into the town of Suluk in rural Raqqa. The two-car bomb attacks resulted in the death of several Turkish army soldiers in the area, a leader and elements of the SNA.
Division 20 released on Friday, 17 January, a statement, in which it denied the involvement of its elements in the two-car bomb attacks and leveled the accusation against the faction of Ahrar al-Sharqiya for those attacks.
The statement stressed that the "Kurdish People's Protection Units (YPG)", which forms the backbone of the "Syrian Democratic Forces" (SDF), is the one that sent the two cars from Raqqa.
#الجيش_الوطني_السوري#الفيلق_الأول#الفرقة_20 #اللواء_144
تبياناً للخلاف الحاصل مع تجمع احرار الشرقية وجب التوضيح: pic.twitter.com/atVaJYP0Zb

— الفرقة 20 (@The20thesquad) January 17, 2020
The statement of Division 20 pointed out that a car bomb along with a military car belonging to "Ahrar al-Sharqiya entered through the checkpoints of Ahrar al-Sharqiya.
The statement requested the intervention of the SNA's leadership to avoid bloodshed after members of "Ahrar al-Sharqiya" stormed the headquarters of "Division 20" in several areas in Aleppo countryside.
 The explosion of the two car bombs in the town of Suluk in the countryside of Raqqa in north-eastern Syria killed three Turkish soldiers and five members of the SNA.
The Turkish Ministry of National Defence said in a statement on Thursday, 16 January, three Turkish soldiers were killed in a car bomb, while they were conducting a combing operation on the side of a road in the area of "Turkey's Operation Peace Spring."
For his part, al-Harith Rabah, the director of the media office of Ahrar al-Sharqiya, told Enab Baladi on Friday,17 January, that two cars arrived on Thursday, 16 January, from Raqqa at the al-Tafahiyya checkpoint set up by Ahrar al-Sharqiya at the entrance of Suluk town.
 Rabah indicated that the checkpoint personnel complained about the two cars and asked their drivers to accompany them to the headquarters of the town, where the two cars exploded upon their arrival at the headquarters.
Rabah explained that the Ahrar al-Sharqiya faction will issue a statement about the car bomb explosion when the investigation is over, noting that "Abu al-Ghayirah" and "Abu Muhammad" managed to escape when the explosion occurred, while one of the car's escorts was killed.
The opposition-controlled areas, backed by Turkey in north and north-eastern Syria have experienced a series of bombings, in addition to the recent car bomb attack of Suluk town. The car bombings have escalated since the start of the Turkish military operation in mid-October 2019.
Turkey and the SDF, which controlled the region usually, trade accusations of launching the car bomb attacks.
if you think the article contain wrong information or you have additional details Send Correction