Residents of al-Arouba camp in northern countryside of Idlib face harsh winter conditions without heating supplies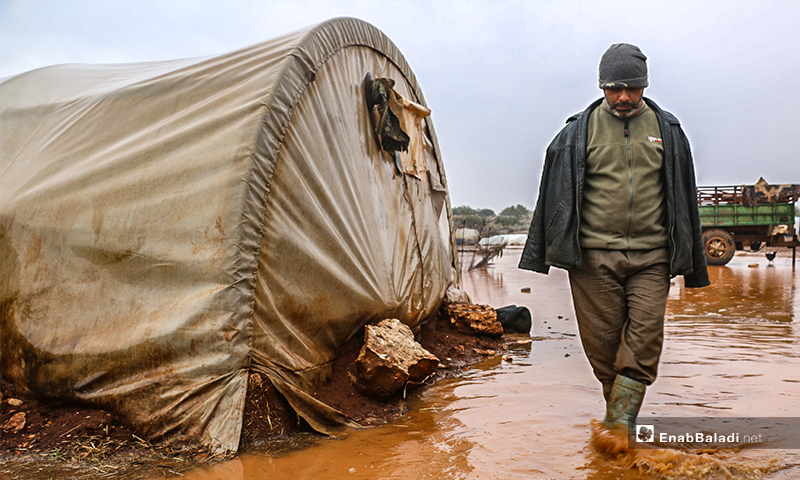 Syrian internally displaced persons (IDPs) in the northern Syrian camps are being forced to burn plastics, torn-out clothes, shoes, nylon and pieces of iron to survive harsh winter conditions and feel a little warm.
Several humanitarian relief organizations intervened to alleviate the suffering of IDPs through the provision of humanitarian life-saving assistance.
However, dozens of IDPs in al-Arouba camp in the Idlib countryside have been suffering for five months a shortage of support although an organization inspected the conditions of the IDPs in the camp and made promises to provide them with humanitarian assistance.
According to a survey conducted by Enab Baladi through its program "what is your problem? —the program is broadcast on Enab Baladi's social media platforms, the IDPs in al-Arouba camp have been experiencing for five months a severe shortage of heating and food supplies.
Moreover, the IDPs suffer from a lack of job opportunities within and outside the camp that could help them with making a living and meet their families' needs.
Unable to afford fuel or wood, the IDPs relied on blankets and plastic sheets to protect themselves and their children from the cold and stay warm.
Even though the IDPs are overwhelmed with harsh winter challenges, they did not forget to talk about a tragedy accompanying their children, which is the lack of educational opportunities in the camp.
According to the survey, some people living in the villages near the camp donated some pieces of firewood due to lack of fuel because of its high prices.
IDPs depend primarily on firewood for their daily cooking.
The Director of the camp, Ali Ahmad al-Pasha, who is an IDP, told Enab Baladi that 129 families live in the al-Arouba camp.
Al-Pasha pointed out that most organizations prefer to deliver humanitarian assistance to the newly IDPs at the expense of the IDPs who have been in the camp for years.
Besides, al-Pasha stressed that the camps lack many basic services and facilities including heating materials proper toilets and bathrooms. Nevertheless, the residents of the camp have no other choice.
According to figures issued by the Syrian Response Coordinators Group (SRCG) at the beginning of 2020, there are 1153 camps in northwestern Syria, including 242 random camps and nearly a million people live in these camps.
The SRCG stated on 10 December 2019 that the heavy rainfall this winter caused damage to the camps, which led to the re-displacement of dozens of families.
The SRCG called on humanitarian organizations and agencies operating in the area to provide immediate assistance to the displaced people living in the camps and informal settlements in Idlib.
if you think the article contain wrong information or you have additional details Send Correction