Interesting story of yerba mate tea in Syria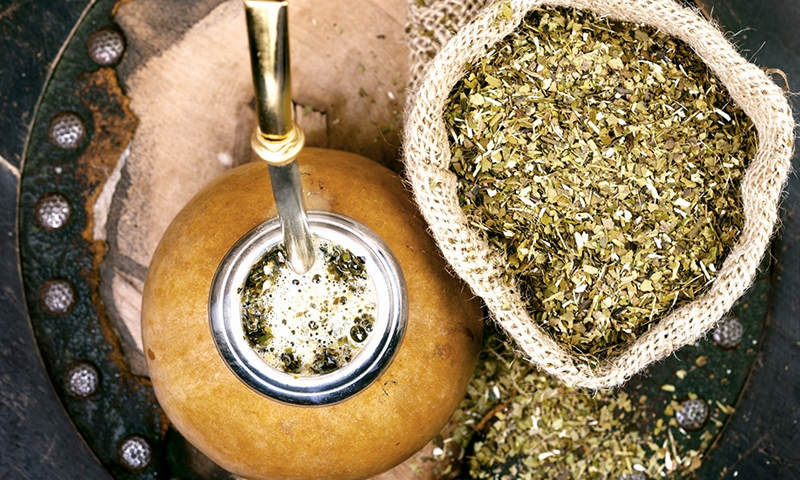 The people of Syria have experienced the bitter taste of the devastating war over the past nine years, yet, they did not forget their love for Argentina's famous green bitter tea called yerba mate. This beverage accompanies the Syrian nationals in both countries of asylum and their homeland despite the successive economic crises.
Yerba mate becomes a major import commodity
On 8 December 2019, the Central Bank of Syria included mate in the list of basic commodities supported for import. This underlines its significance in Syria as Syria is considered the world's largest mate importer.
Syria received 34.5 thousand tons of mate from Argentina in 2018, according to the National Institution of Argentine Yerba Mate (INYM), from which Syria imports 99.7 percent of its mate annually.
Those figures were "historical" in Argentina, according to the Buenos Aires Times, Argentina's only English-language newspaper.
"The rise in exports was a surprise because we were averaging 30 million kilos and we jumped unexpectantly to 43 kilos," INYM President Alberto Rey explained to radio station FM Vos.
This rise in imports of mate was preceded by a mate crisis in 2017. The crisis occurred as a result of a confrontation between the Ministry of Internal Trade in Syria and the merchants, which led to the loss of mate in the market. The ministry set the price of a mate packet between 250 Syrian pounds (SYP- 0.25 USD) and 300 SYP (0.30 USD) after it was sold at 500 SYP (0.50 USD). As a result, the merchants resorted to monopolize and store the mate packets which provoked a wave of anger in the Syrian street.
The battles taking place in Syria since 2011, have inflicted damage on the mate production sector. In 2014, the difficulty of access to mate packing facilities in the city of Yabroud in the western Qalamoun region was reflected in its low levels of consumption.
In an interview with Enab Baladi, a former worker at a mate packaging company in Yabourd, Ayman Hammoud said that the Syrians "cannot stop drinking mate," no matter what the cost of one mate packet is or if the mate goes fall in the market.
Hammoud pointed out that people started to store the mate packets or buy a big package of mate during the periods of mate crisis, "in order not to be cut off from mate.
In a poll conducted by Enab Baladi through its account on Facebook on 19 December, 35 percent of the total number of participants, two thousand and 400 users, described themselves as "mate addicts."
Love from the first sip
The indigenous people of Latin America believed that the banyan evergreen tree of mate was a "gift from the gods," and they used it for worship and trade. Moreover, they used to carry its leaves on their long journey for chewing and drinking, according to the INYM.
European invaders, later, learned to drink mate when they arrived on the American continent in the 16 the century, and so did immigrants.
According to the website of the INYM, several Syrian people arrived in Argentina between 1850 and 1860 "and fell in love with mate." Then, on their return to their homeland, they brought the magic of infusion with them to their countries, considered mate tea as a special drink, and merged it with their traditions. Drinking mate became deeply engrained in Syrian culture that "many believe it is a Middle Eastern tradition and originates there."
Syrian immigrants reached the border of South America between 1860 and 1912, with the decline of the Ottoman Empire, and amid successive economic crises, drought, and poverty in the Qalamoun and Syrian coastal areas. Migrations progressed after World War I and II.
In the mid-19th century, Syrian started sharing this cultural habit of drinking yerba mate.
The first recordkeeping of Argentine yerba mate exports began in 1936, in a large amount. Since that time, Syria has been a big consumer of yerba mate, with 39.6 tons of imports, the second-largest importer of yerba mate (second only to Bolivia).
Mate importers tried to grow mate in Syria to reduce the cost, but they failed due to the different agriculture's environment, according to Hammoud.
The twigs and leaves of mate are delivered to the mate packaging facilities, then they are mixed and prepared with different flavors according to each area in Syria. Hammoud added that the residents of the three most-consuming regions of mate in Syria, the coastal areas, Qalamun and Suwaida. People there have different tastes preferences and ways of drinking mate.
Drinking yerba mate is a communal rite in Qalamoun where thousands of its aficionados share their passion for a pungent yerba mate tea brewed from the leaves of a tree during their social visits.
Traditionally, yerba mate is served in a thin cup with a metal straw equipped with a bulbous filter and then passed from guest to guest. Syrians clean the straw between drinkers with a lemon slice.
In the coastal areas, the tradition of sipping yerba mate is different; everyone enjoys drinking a cup of yerba mate on his own with a silver tube. The leaves of yerba mate are steeped in cold water and then hot water is added to brew it. In Sweida, drinkers use the "gourd" and it is typically drunk in the morning.
The brewed yerba mate can be sweetened with sugar or honey or even can be infused with additional herbs like cardamom or mint. Some like to dilute it with milk.
In some regions, the bride's trousseau includes yerba mate kit set.
What is the ritual of drinking mate in Argentina?
The habit of drinking mate differs between Syria and Argentina. According to the INYM, it is uncommon to flavor components, immerse all mate leaves in water or to soak them in advance with cold water.
A series of tips are provided by the INYM to enjoy drinking yerba mate and make use of its leaves for the longest possible period.
Yerba mate is steeped in hot water, not boiling, at a temperature of up to 75 degrees, because boiling water produces an unpleasant biting flavor.
Do not immerse all the yerba mate leaves at once. The leaves will quickly absorb the cool water and become prepared for infusion. Insert your metal straw into the empty space at this time, and once the cool water is absorbed, fill the remaining space with hot. Yerba mate can typically be infused multiple times. Each infusion reveals more layers of the flavor of the herb.
The temperature of the mate water should not decrease, in order not to lose its flavor. Therefore, you should keep heating it over low heat.
It is recommended not to move the straw when it goes in the mate cup; it is never moved again until the mate round is completely over. Do not enter the straw very deeply or immediately.
The shape of a yerba mate glass is a glass with a narrow base and a wide opening so that the largest number of mate leaves can float over the water.
 Health benefits of yerba mate
Yerba mate contains caffeine and other nutrients; the caffeine content varies from 0.3 percent to 1.7 percent on a dry weight basis.
Mate contains several beneficial plant nutrients including theophylline, theobromine, potassium, magnesium, manganese, sodium, phosphorus, calcium, vitamins B1 and B2, vitamin W, niacin, carotene, amino acids, antioxidants, tannins, and others.
All these components can strengthen the immune system and promote health.
Yerba mate is also known to improve muscle contractions, protect against heart diseases and tone the nervous system.
In addition, mate reduces fatigue and appetite and boost metabolism, which can help with weight loss.
Mate is also used to relieve headaches and joint pains; mate is a natural diuretic, used to treat urinary tract infections (UTIs), bladder and kidney stones.
Furthermore, yerba mate provides small amounts of vitamin C, which help fighting both cold and influenza viruses. Mate is recommended for cleansing the blood, easing period symptoms and treating painful menstrual cramps.
Yerba mate reduces the appearance of stretch marks; it is used to reduce cellulite and helps with obtaining flawless, glowing and smooth skin naturally.
Additionally, mate can restore healthy hair growth and reduce hair loss and enhance the hair. Plus, the caffeine in mate helps to color the hair and gives it a natural look.
if you think the article contain wrong information or you have additional details Send Correction