Various Syrian Products brought into neighboring and European countries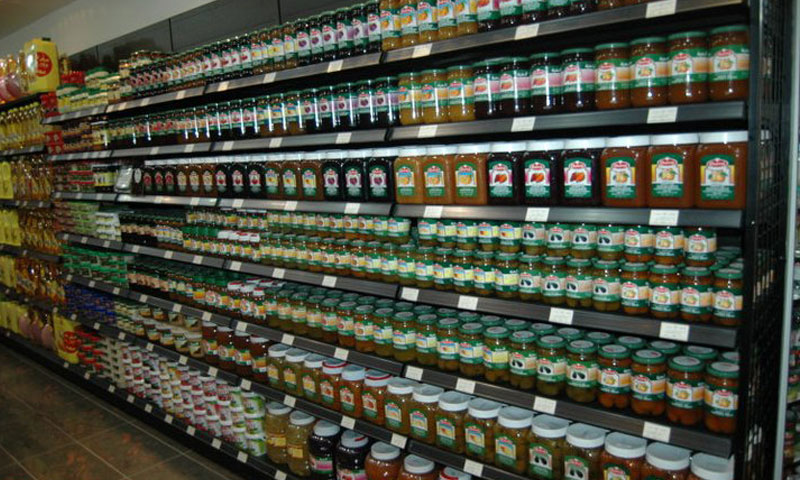 Omar Halabi – Enab Baladi
During the past five years, the number of Syrian refugees has reached around 4 million in neighboring countries, and half a million in Europe. Despite their resettlement, these Syrian refugees have not forgotten about the goods and products they used to enjoy in Syria before the revolution started, especially in regard to local brands of food and drinks.
These products have come from Syria to host countries such as Europe, Turkey, Lebanon, and Jordan, where they are put on display and sold in shops and markets. These products include Yerba Mate, local cigarettes, Syrian bread, canned meat, canned food, olive oil, and thyme.
Maher Kadour, a young man who received asylum in Germany last March, has had no problem obtaining Syrian products, especially food products such as hummus, fool (broad beans), and canned Mosabaha. He claims that the food comes from Syria through the aid of dealers, traders, as well as relatives. Kadour believes that traders have taken advantage of the opportunity of the increase of Arab and Syrian refugees in the region.
He said that they quickly opened up import lines in Arab countries that are adjacent to Syria in order to ship the goods into local markets.
The one-way flow of products continues at a high rate, and is influenced by the size and movements of refugees. Despite the fact that there are no trade relations between the European countries (where a majority of the refugees are) and Syria (who controls the production factories is), the flow of goods continues. The question remains: how have these European and neighboring countries' markets gained access to Syrian products?
Samer Khaled, who owns a shop in Istanbul that sells Syrian products, shared his insights with Enab Baladi. "During the first years of the revolution," he said, "we received various products through the north of Syria, and they were distributed according to the cities of a concentrated numbers of Syrian refugees, especially in cities south of Turkey and Istanbul. Sales rates were high since Syrians were attached to these products."
According to Khaled, "A psychological factor played a role behind the increased demand for Syrian products," since these products relate to the Syrian identity and the daily habits. He expressed that "Syrians do not want to feel alienated. Therefore they are seeking to get anything that comes from Syria, like olive oil, thyme, cheese, and other products."
Syrian "Shops" in Turkey
In Turkey, the trade of Syrian food and products is very active. So much that almost every neighborhood in the cities throughout Turkey has a "shop" selling Syrian products. These products go are brought into Turkey via different methods, which may be legal or not.
Khaled asserts that the combination of the continuous flow of Syrian refugees into Turkey and the refugees' demand for products (such as varieties of Syrian bread) created an urgent need to open Syrian factories within Turkey. Owners of these factories have made a great profit, so much in fact that they are now competing with Turkish bakeries.
As a result, they have lowered the prices in order to sell more products. For example, a group of Syrian bakeries in Istanbul set the weight and price of one bag of bread at 2 Turkish liras, after the number of bakeries in Istanbul alone have reached 30 bakeries.
Before the factories were established, many of the imported products were brought in as personal products of migrating Syrians. However, this has been limited by the political situation in Syria, Turkey's requirement of visas for visiting Syrians, and tightening security across both borders in an attempt to stop smuggling and traffic. These limitations have encouraged the opening of Syrian factories to address the shortage in local supply, and to export these products as Turkish ones manufactured by Syrian expertise. Not only has this process added more value to the Turkish economy, but it has also contributed to the employment opportunities for Syrians
In Europe, "Make Yourself at Home"
Ahmad Al Khalidi is a young Syrian living in Holland, who took refuge there with his family after fleeing the city of Idlib. He expressed to Enab Baladi that asylum in a foreign country may have completely different traditions and living environment, but does not necessarily mean a feeling of alienation. All of his family members, especially his mother, are able to get ahold of well-known Syrian products in the city center, where he lives.
According to Khalidi, the Al Durra Food Industries has opened retail shops, where they supply products from their factories that were established in Jordan after the outbreak of the Syrian revolution. He adds that the "Al Durra" brand has become one of the most important providers of basic Syrian products in European markets such as canned food, jams, pickles, and other foods.
Khalidi explained that during the month of Ramadan, Syrians were able to get familiar Ramadan drinks such as Liquorice, Amardeen (a sweet apricot drink), Jallab (a type of fruit syrup), and tamarind. These goods were brought via "fast shipping" from Syria or through neighboring countries, after they were either smuggled or carried as travelers' personal luggage into those neighboring countries. Shops in Germany and some other European countries have started selling these products at reasonable prices, after they began to manufacture them locally.
According to Khalidi, the demand for these products is "very high" due to their reasonable selling price, which suits the monthly income of the refugees (300 euros per person). These products compete with European products; the price of canned cheese (800 grams) is 3 euros, a pack of Yerba Mate is around 2 to 3 euros, and a bag of bread (1 kg) is 1 euro. The Mu'assel (shisha tobacco), whether it is "Tufahten", "Nakhla" or "Fakher" brands, is around 55 euros per kilo, and 4 euros for the 200 grams.
Why are not the products legally transferred from Syria?
Before the revolution, Syrian products were legally entering Europe and neighboring countries through importing and exporting. The trade agreements between Syria and these countries promoted the facilitation of delivering these products to global markets. Vegetables and fruit were exported from Syrian ports through the Italian, Greek, and Romanian ports (like the Romanian "Constanta" port), to get to the European markets, like Austria, Serbia and Slovenia.
With the outbreak of the revolution and imposed economic sanctions on the Syrian regime, the equation changed and commercial trading became very limited, largely depending on the private sector. Syrian official authorities soon banned exports to Europe and many Arab countries, which led to the collapse of trade.
Economic analyst Ehab Abu Waleed informed Enab Baladi that most of the Syrian products that are available in the neighboring countries, especially food products, have found their way to consumers through "personal efforts." They were not exported by Syrian companies or associations for many reasons, such as the regime's export restrictions in an attempt to achieve self-sufficiency, the loss of relations between Syrian manufacturers and their peers in the world because of the sanctions, and the desire to end deals with the Syrian side out of fear of European and American sanctions. Another reason, he added, was that local Syrian products have lost their competitive value in the global market following the migration of local expertise and workers out of Syria, as well as international workers.
An economic expert, who requested anonymity, verifies that products are indeed being smuggled illegally into neighboring countries and Europe. This is proven by the packaging method of food products that have locally made. The print used on the product is Arabic, which means it has not yet been prepared for export. This is due to a main condition for any exported product to have any print on it translated into the language of the country it will be imported to, along with print on the package translated into the language of the consumer. The Syrian products currently available to refugees in host countries have not met these conditions (with the exception of "Al Durra" products and a few others), proving that smuggling is occurring. It is uncertain how much longer the smuggling will continue or how vast it will grow, but for now it is bringing familiar comforts of home to Syrian refugees abroad.
if you think the article contain wrong information or you have additional details Send Correction