Russia, Iran, Turkey set out to shape agenda of Syrian Constitutional Committee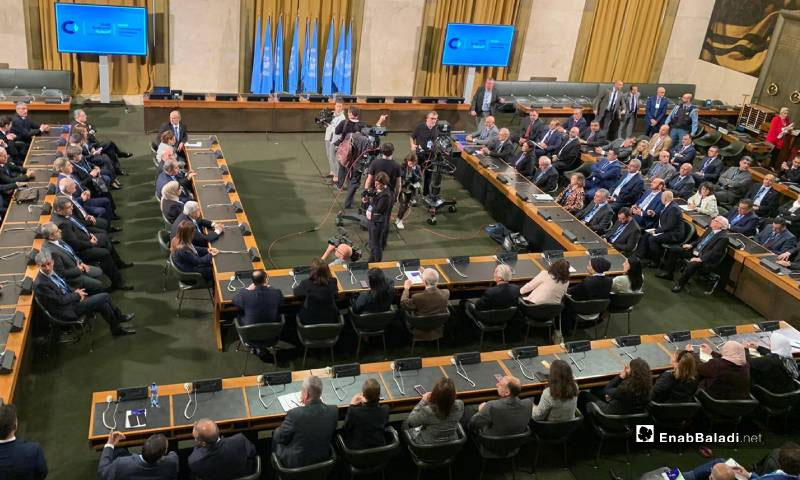 The three self-appointed guarantors of the Syrian political process – Russia, Turkey and Iran – agreed to help convene the next session of meeting of the small group of the Syrian Constitutional Committee (SCC), because the members of the SCC failed to reach an agreement over a common agenda for amending Syria's constitution.
Enab Baladi's correspondent in Geneva, reported on Friday, 29 November that the UN special envoy for Syria Geir Pedersen will meet with Iranian, Russian and Turkish officials to define the agenda of the meetings of the mini-group of the SCC before setting the date for the next round.
The second round of the SCC meetings, which began on 25 November, failed due to disagreement between the regime and opposition delegations over agenda on constitutional talks.
Enab Baladi's journalist said that Pederson met with the delegation of civil society on 29 November. Pederson did not schedule the second round of the SCC meetings, pointing out that Pederson will not invite delegations to the next round of the SCC before setting the agenda with the guarantor countries.
The co-chair of the SCC, Ahmad Kuzbari, representative of the Syrian government, confirmed that the next round of the SCC meetings has not been scheduled yet.
Kuzbari added that, "we were not able to hold any sessions, because we did not reach an agreement with the other party.  The delegation of the Turkish regime (the opposition delegation) refused to enter the hall to discuss the agenda."
The source, speaking on condition of anonymity for security reasons, indicated that this round of the SCC negotiations served as a foreboding message to the UN special envoy for Syria Geir Pedersen for speaking to the UN Security Council about a consensus in the commission, which is "outside his mandate."
The Russian, as Enab Baladi has learned from the source, asked to discuss general principles, "relating to the sovereignty of Syria as unifying messages for all Syrians." At the same time, common themes should be discussed including "social contract" and "sufferings of Syrian citizens," according to the source.
However, the opposition delegation regarded these messages and principles as a circumventive of the SCC's work as well as attempts to discuss issues which are not related to the constitution, according to the source.
if you think the article contain wrong information or you have additional details Send Correction