Car bomb targets Turkish convoy in northern Syria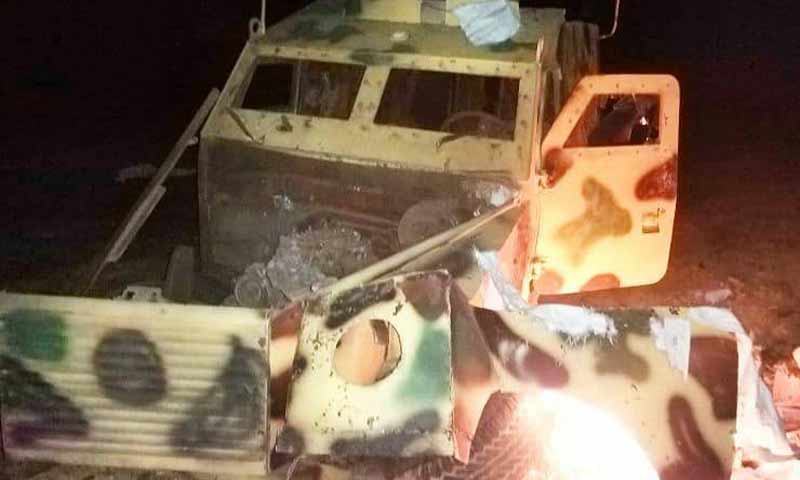 A convoy of Turkish troops was targeted by a car bomb in the city of Jarabulus in eastern Aleppo countryside , in which an increasing number of bombings is taking place in areas under control of Syrian National Army (SNA) and Turkish forces.
Enab Baladi's correspondent in Aleppo countryside said, on Thursday 5 December, that the blast took place at the al-Baldaq junction in Jarabulus, with no information about casualties.
SNA spokesperson, Youssef Hamoud told Enab Baladi, that a vehicle parked near the al-Baldaq junction blasted when the Turkish convoy was en route to a Turkish-run base on the outskirts of the city.
According to Hamoud, some cells affiliated to People's Protection Units (YPG) are accused of being responsible for the  incident, due to the fact that it is very similar to a series of blasts targeting markets, neighborhoods and military vehicles.
The Turkish Ministry of National Defense did not mention anything regarding the incident until the moment. To date, no party has claimed responsibility for the blast.
A series of explosions are taking place in the areas controlled by the Turkish-backed SNA, frequently targeting markets, security headquarters and military figures.
Following the Turkish Operation Peace Spring in eastern Syria, which started on 9 October 2019, such blasts were intensified in the opposition-held areas in Aleppo countryside, amid mutual accusations between Turkish Ministry of National Defense and YPG about responsibility for the blasts.
The Turkish Ministry of National Defense accused the YPG of being responsible for the blasts and said on its Tweeter account that "inhuman terrorists of the PKK and YPG continued to pursue ISIS practices."
The Afrin Liberation Forces (HRE) calling itself the "resistance movement" in Aleppo countryside, claimed responsibility for most of these attacks targeting military headquarters and troops in the area. The HRE fighters have been carrying out retaliation actions, the latest of which was on 4 December. This attack, for which HRE claimed responsibility in a statement, killed seven Turkish and SNA soldiers, "in response to the Tel Rifa'at massacre in Aleppo countryside", according to HRE.
The explosions coincided with clashes and mutual shelling between Turkish-backed SNA and YPG in al-Hasakah and Raqqa countryside in which the clashes are concentrated in Tel Abyad and Ain Issa.
Two soldiers were killed, on Wednesday 4 December, in an artillery shelling by the YPG on a military location near the Turkish borders, according to Turkish National Ministry of Defense.
Ankara warned that the military operation will be resumed in eastern Syria if the YPG does not withdraw from the areas covered by an agreement made between Russia and Turkey, on 22 October 2019, amid mutual accusations of breaching the agreement, according to daily statements from both sides.
if you think the article contain wrong information or you have additional details Send Correction