Ali Mamlouk calls on the Jazira tribes to defect from SDF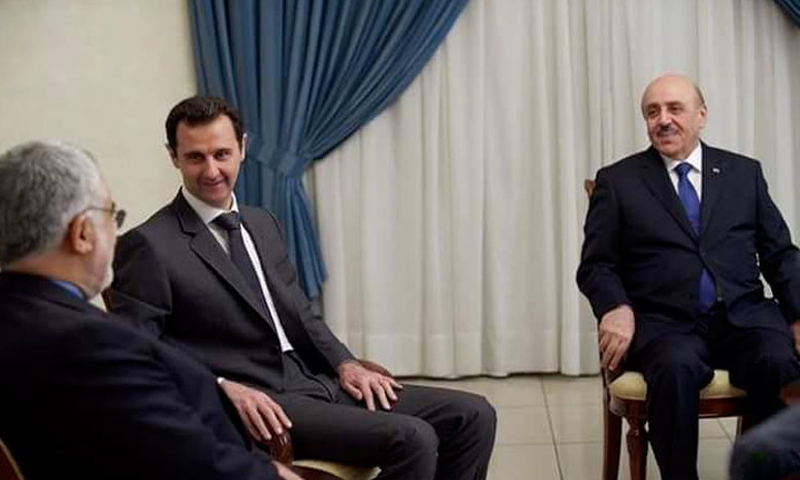 During a visit to Qamishli province, Ali Mamlouk, head of the Syrian National Security Bureau, called on the Syrian tribal figures of eastern Euphrates to pull their sons out of the Syrian Democratic Forces (SDF).
The Autonomous Administration-affiliated news agency Hawar said, on Friday 6 December, that Mamlouk met with the Security Committee in al-Hasakah province, tribal figures and commanders of the US-backed SDF.
The meetings took place in Qamishli air base, and lasted for four hours, with the aim of convincing the tribal figures to pull their sons out of the SDF ranks. Mamlouk reached Syrian regime-run Qamishli airport in the SDF-controlled areas, on Thursday 5 December, to meet with 20 tribal figures in Jazira region in order to "activate the role of tribes and to alert them not to support the different armed groups" according to Rudaw news agency.
Rudaw news agency quoted one of the figures who attended the meeting (and spoke on condition of anonymity) saying that the meeting took place in the "Honor Hall" of Qamishli airport, and lasted for an hour and half. During which Mamlouk listened to the demands of the tribal figures who asked for a general amnesty and a settlement for the wanted.
Neither the Syrian regime nor the Autonomous Administration made a comment on  Mamlouk's visit to Qamishli until the moment.
The unofficial visit coincided with the military and political developments taking place in the areas held by the Autonomous Administration of North and East Syria (NES) as well as the latest negotiations that allowed the Syrian regime forces to enter the area for the first time since 2012 following the Turkish military operation. The Syrian Ministry of Defense called on the SDF fighters to join its ranks, back in October, which was rejected by the SDF.
The commander of the SDF, Mazloum Kubani Abdi, called for the Ministry to address the SDF leadership instead of its fighters, amid assurances from the Kurdish forces to join the Syrian army once a political solution is reached in Syria.
In an interview with Rudaw, Abdi, said that there are two principle conditions under which an agreement with the Syrian regime can be reached. First of all, the NES should be a part of the Syrian general administration under the constitution.
The second condition, according to Abdi, is that the SDF is an institution, should be considered independent and should have its own specificity within Syria's public protection system.
Abdi pointed out that "we are not against being a part of Syria's public protection system, but the SDF should maintain its components, and indeed, the Kurdish matter is a crucial matter, in which all the Kurdish people's rights should be protected within the Syrian constitution."
if you think the article contain wrong information or you have additional details Send Correction