Autonomous Administration repeals fuel price increase decision in northeastern Syria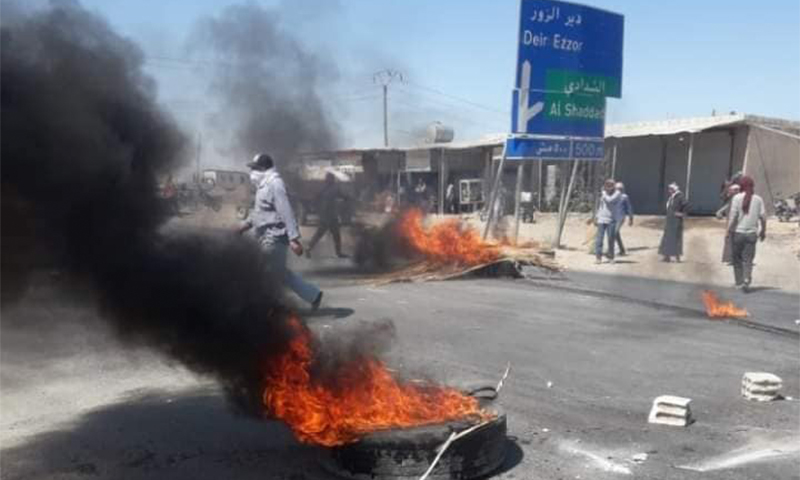 The Autonomous Administration of North and East Syria (AANES) repealed the decision it passed on Monday, 17 May, which provided for doubling the prices of fuel.
The AANES yesterday, on 19 May, made a statement restoring prices to the pre-increase status.
The day before, residents in northeastern Syria took to the streets to decry the price hike. Consequently, the AANES held an urgent meeting to assess the price increase decision.
Enab Baladi correspondent for the region reported that people protested in al-Hasakah city, Ma'abada, Qamishli, Shadadi, and the 47 district. The correspondent added that residents in al-Malikiyah and Amuda also organized a strike and closed major stores.
The correspondent said that protestors were tackled violently in al-Hasakah and al-Shadadi. The Internal Security Forces (Asayish) shot and killed five protestors.
On 18 May, the Executive Council of the al-Jazira Region made a statement addressing the protests and casualties. The council said that the protests "were exploited by opportunists and those who disrupt general security. These sought to hit security and stability through attacking military posts and centers, as well as civil directorates, using weapons against security and military forces among civilians. This has caused deaths and several injuries."
The protests corresponded to a visit by a U.S. delegation, concerned with the situation in northeastern Syria. The delegation held meetings with high-ranking officials of the Syrian Democratic Forces (SDF), the Syrian Democratic Council (SDC), key council members, and tribal leaders from Raqqa, as well as humanitarian actors in the region.
Prices of fuel in al-Jazira region remain a contentious issue. In a former extensive article, Enab Baladi covered how the AANES has been deliberately providing little to no information regarding its oil resources' policies, production, and clients, particularly since it has established primitive refineries and locally manufactured processing installations to refine oil from several wells controlled by the SDF.
The AANES and its U.S.-backed military group the SDF promote themselves as the agents preserving the area's security and stability by combating the Islamic State (IS).
if you think the article contain wrong information or you have additional details Send Correction