Syrian Civil Defense find three charred bodies in oil facilities in rural Aleppo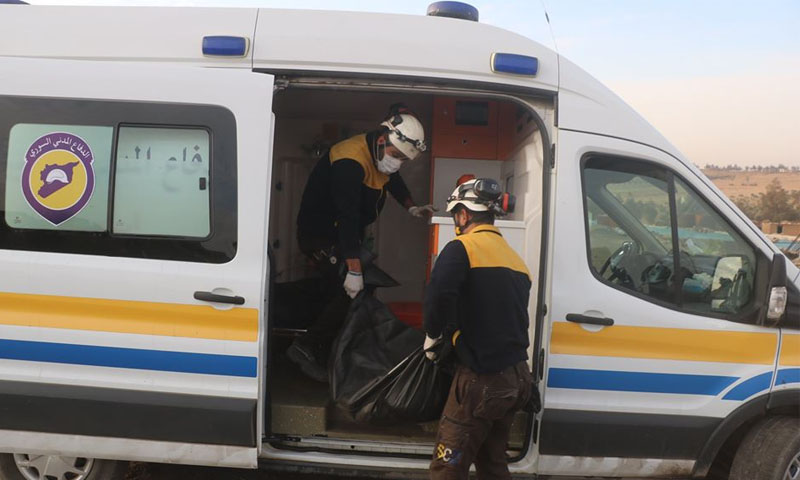 The Syrian Civil Defense team found on Tuesday, 26 November, the bodies of three people, who were killed as a result of the bombing of oil refining facilities, in the village of Tarhin in northern region of al-Bab.
The Syrian Civil Defense shared photos of the charred bodies on its Facebook page.
Enab Baladi's correspondent in rural Aleppo reported that unidentified warplanes bombed oil refining facilities in the villages of Tarhin, Bir al-Kousa and Tel Shair in rural Aleppo, rendering a large part of the facilities out of service. Moreover, other parts of the oil refining facilities were damaged, while others were not affected by the shelling.
The head of Syrian Civil Defense in the eastern countryside of Aleppo, Hassan Mohammad, told Enab Baladi that the shelling caused significant material damage. In the village of Tarhin, seven oil refining facilities and eight oil tanks were severely damaged. In addition, the ignition of fuel oil caused a powerful explosion in the area.
The village of al-Kousa also underwent aerial bombardments. As a result, three refining facilities went out of service. Syrian Civil Defense teams headed to the targeted areas and managed to extinguish the fires.
Oil refining facilities were widely distributed in the towns of northern and eastern countryside of Aleppo and mainly located on key roads connecting the cities and villages of Azaz, al-Bab, and Jarabulus.
The primitive facilities were later turned into major fuel stations. They are considered as the only source of fuel in opposition-held areas. The fuel stations were provided with modern devices for refining oil as well as counters to facilitate the process of selling fuel.
The northern and eastern countryside of Aleppo is under the control of opposition factions currently represented by the Syrian National Army (SNA). The SNA with the support of the Turkish army eliminated the so-called Islamic State (ISIS) during Operation Euphrates Shield in February 2017.
if you think the article contain wrong information or you have additional details Send Correction