Aleppo Countryside: makeshift oil refineries bombed repeatedly; perpetrators still unknown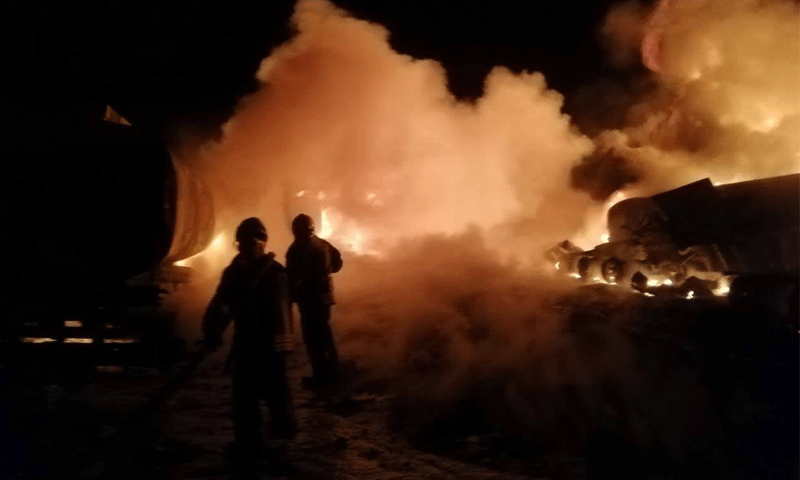 On Saturday, 9 January 2020, huge fires were reported in the makeshift oil refineries area, north of Idlib city, caused by bombing the perpetrators of which remain unknown.
A blast in one refinery resulted in a series of explosions in adjacent refineries. As a result, a massive fire broke out, Ibrahim Abu Laith, official of Civil Defense in Aleppo, told Enab Baladi.
The Civil Defense managed to control the fire after hours of extensive work, Abu Laith added. However, over 10 oil refineries were destroyed.
The refineries areas and the fuel market were a site for several bombings in previous months. The Syrian regime forces and Russian allies are suspected of perpetrating these attacks. But neither has claimed responsibility for the shelling of the areas in question so far.
One civilian died and six others were injured in a similar incident. The fuel market in Dabis was targeted on 23 October 2020, but perpetrators remain unidentified. The market is located south of Jarabulus city in northeastern rural Aleppo.
In November 2019, the Civil Defense recovered the bodies of three persons, who reportedly died in a similar attack on the oil refineries in Tarhin.
Back then unidentified aircraft bombed the refineries in Tarhin, in addition to those in al-Koussa and  Tal Sh'eer in Jarabulus. The attack caused damage to seven refineries, eight oil tankers and resulted in a massive fire in Tarhin. In al-Koussa, the reported attack rendered three refineries out of service.
Makeshift oil refineries, assembled based on the primitive means familiar to the area's people, are widespread in the northern and eastern parts of rural Aleppo. Most of these are set up on the main roads between the cities of Azaz, al-Bab, Jarabulus, and their suburban areas. Fuel markets are also founded in various areas across the territories controlled by the armed opposition groups in northern Syria.
In time, small fuel retail shops turned into gas stations, which are considered the major source of fuel supplies in opposition-held areas. Today, these stations have developed equipment, such as better-manufactured refineries and counters to regulate the sales. The stations obtain fuel from the makeshift refiners mentioned above, in addition to quantities regularly brought from the areas east of the Euphrates river.
The area is chiefly controlled by the factions of the opposition-affiliated Syrian National Army (SNA), which took the area from the Islamic State (IS) through the Turkey-backed Operation Euphrates Shield in February 2017.
if you think the article contain wrong information or you have additional details Send Correction