Switzerland denies SANA's reports of a grant for reconstruction in Syria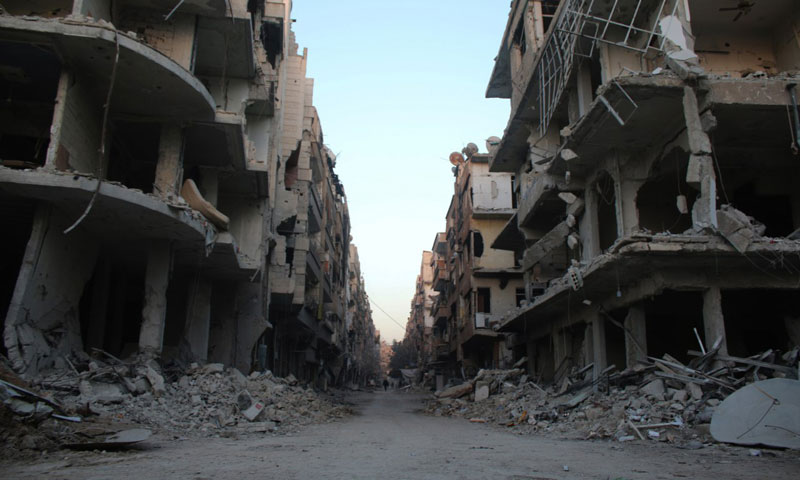 Switzerland's Federal Department of Foreign Affairs denied reports by news agencies affiliated to the Assad regime about a reconstruction grant offered by Switzerland to Syria.
The Syrian official news agency, SANA, quoted Frank Pasemann, a German member of parliament for the far-right Alternative für Deutschland (AfD) party, during his visit to Syria on 22 November 2019, that Switzerland has offered a grant of 450 million euros for reconstruction in Syria. The report was denied by the spokesperson for the Swiss Department of Foreign Affairs , Pierre-Alain Eltschinger, in a statement to Enab Baladi on Tuesday 26 November.
Eltschinger pointed out that "Switzerland has been responding actively to the Syrian crisis since 2011. It has allocated CHF 438 million [438 million USD] in funding to helping the affected population in the region since 2011".
"Switzerland has pledged to make CHF 61 million available in 2019 to support the people of Syria and other countries in the region (Lebanon, Jordan and Turkey). This is Switzerland's largest humanitarian commitment to date," according to Eltschinger.
He also confirmed that "Switzerland's efforts extend throughout the whole of Syria, regardless of conflict lines, and it acts in accordance with humanitarian principles and based on needs."
Switzerland also supports humanitarian projects inside Syria providing emergency assistance and protecting civilian population, in addition to longer-term resilience projects (such as access to basic services).
"Violations of international humanitarian law and human rights abuses are still a daily occurrence in Syria," Eltschinger noted, "a political solution to the causes of the conflict is needed in order to create long-term prospects for the people of Syria".
The AfD announced on 15 November 2019, that their delegation spent one-week in a visit to Damascus and met with representatives from the the Syrian regime, according to a report by Deutsche Welle, citing two local news networks.
Other German political parties condemned the far-right delegation's visit to Damascus. The co-chairman of the German Greens party, Robert Habeck, said on 19 November 2019, that "attempting to show Syria as a safe country in this way goes beyond treachery and perversity. Moreover, the parts of the country in which there are no battles are dominated by oppression." The Assad government is "the opposite of a constitutional state," said Habeck.
According to a statement by the AfD, quoted on Der Spiegel Online, the goal of their visit was to prove that Syria is a "safe country of origin" for migrants to be sent back to. And to "assess concretely the situation in Syria in person as well as to have a dialogue over the situation surrounding the Syrian people and the current state of the peace process".
This wasn't the party's first visit to Syria, as they announced a visit back in 2018, in which they met the Grand Mufti of Syria, Ahmad Badreddin Hassoun, to check "whether there is war everywhere, or if there are safe areas as well" according to Helmut Seifen, the deputy leader of the AfD.
if you think the article contain wrong information or you have additional details Send Correction