Syrian regime playing refugee return card to escape economic gridlock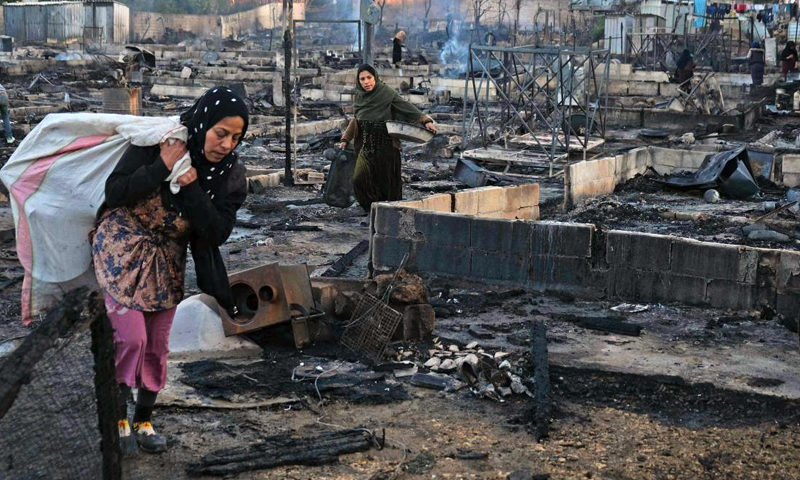 Enab Baladi – Zeinab Masri
Five months after holding a Russian-backed conference on refugee returns in Damascus, the Syrian regime continues to seek cooperation with Arab countries to support its attempts in promoting refugees' return to Syria. However, the regime's hopeful endeavors fall short against the grim economic crisis in Syria, which assigned officials handled by imposing a set of security measures and decisions violating constitutional rights at times.     
Busy agenda for Syrian regime's officials
On 13 April, Russia's Sputnik News Agency reported a meeting between the Lebanese Foreign Minister Charbel Wahbe and the Syrian Ambassador to Lebanon, Ali Abdul Karim, who discussed several files, most notably Syrian refugees in Lebanon.
Sputnik cited Abdul Karim as saying, "The Syrian refugees file is a burden beyond the capacity of Lebanon," noting that Syria has provided everything possible to facilitate refugees' return which requires further coordination between the Lebanese and the Syrian governments.
The recent meeting was not the first of its kind to discuss the Syrian refugees' issue in Lebanon between Syrian and Lebanese officials. Last March and during a visit to Damascus, Lebanon's Minister of Social Affairs and Tourism, Ramzi Moucharafieh, and the Minister of Local Administration and Environment of the regime's government, Hussein Makhlouf, talked about strengthening joint cooperation for the return of "all" Syrian refugees from Lebanon to Syria.
Moucharafieh mentioned that official visits between the two countries will continue until the return of Syrian refugees to their homeland, particularly within Lebanon's difficult economic conditions.
Makhlouf, on the other hand, said that the past few months had seen an "organized" return of refugees, despite the challenging conditions caused by the novel coronavirus (COVID-19) pandemic and the sanctions imposed on the Syrian government that have "negatively" impacted the refugees' issue.
The Lebanese-Syrian borders witnessed the deaths of many Syrian refugees attempting to cross from Lebanon to Syria through smuggling routes. On 26 March, Lebanese media outlets reported that four Syrian _two women and two children_ were found frozen to death while trying to cross the mountainous area of Ainata-Oyoun Orghosh in Lebanon.
Lebanese newspaper An-Nahar said that the phenomenon of illegal crossing from Lebanon to Syria had increased lately due to the polymerase chain reaction (PCR) test for (COVID-19) imposed by the Lebanese General Security on Syrians at their own expense upon leaving Lebanon.
The Syrian government's decision requiring each Syrian national entering Syria to exchange 100 USD for Syrian pounds to secure the State treasury with foreign currencies has also contributed to the phenomenon, according to the newspaper.
The regime's government increased the US dollar exchange rate to 2500 Syrian pounds at the border entry points to those forced to convert 100 USD to Syrian currency to be allowed entrance to Syria.
Syria's Foreign and Expatriates Minister, Faisal Mikdad, discussed on 1 April with the Iraqi Minister for Immigration and Displacement Ivan Faeq Jabro means of enhancing joint cooperation to facilitate the return of Syrian refugees from Iraq to Syria.
For Her part, Jabro expressed her country's willingness to cooperate with the Syrian government to facilitate the voluntary return for Iraqis in Syria and Syrians in Iraq and put in place all procedures related to this issue.
Apart from the meetings between Syrian regime officials and those of neighboring countries to discuss ways to facilitate the return of Syrian refugees, the regime has passed several decisions to presumably "ease financial burdens on Syrians inside and outside the country."
Ten months after the Syrian Cabinet's decision forcing Syrian nationals to convert 100 USD or its equivalent in foreign currencies to the Syrian pound to enter Syria, the Cabinet has exempted certain categories, including refugees wishing to return to Syria, delegates on official assignments, and minors under 10 years of age.
The head of the Syrian regime, Bashar al-Assad, issued on 11 April Legislative Decree No. 7 of 2021, exempting Syrian citizens inside Syria and abroad and those of equivalent status of all fines incurred for delayed registration of civil status or obtaining of personal ID card and family booklet.
The decree aims to alleviate financial burdens of Syrian citizens, facilitate Syrian expatriates' affairs and transactions in Syria and ease their return to their homeland, the state-run Syrian Arab News Agency (SANA) reported.
On 8 November 2020, al-Assad issued a decree amending some articles of the Military Service Law in Syria. New provisions were designated to increase foreign exchange reserves through military service exemption fees. The amendment did not target Syrians inside, but Syrians living abroad for more than a year to encourage them to return.
Why does the Syrian regime insist on refugees' return?
Economic analyst and researcher Khaled Turkawi told Enab Baladi that the Syrian regime disclosed its objectives in the refugee return conference. The regime demonstrated that it will take back Syrians from host countries burdened with refugee problems under two conditions.   
According to Turkawi, the first condition is that these countries revitalize cooperation with the regime; that is, they politically relegitimize al-Assad's regime and help lift the sanctions on it.
The second condition is that refugee-hosting countries grant the regime donations to finance the reconstruction process.
In the same context, the Senior Assistant to the Iranian Foreign Minister, Ali Akbar Khaji, channeled Iran's proposal to create a reconstruction fund for Syria and called on the international community to provide assistance and cooperate in the reconstruction process by facilitating the return of refugees to their country.
Damascus' refugee return conference was organized and run by Russia on 11-12 November 2020. Several of the invited refugee-hosting countries did not attend the conference except for Lebanon and Iraq, while key players to the Syrian conflict refrained from attending. 
When asked about the usefulness of the regime officials' meetings with officials from Syrian refugees hosting countries, Turkawi said that such meetings aim to pressure refugees and convince them to return amid the absence of international consent on returning refugees to their homeland.
Turkawi added that Syrian refugees lie under tremendous pressure, political and social, as well as relating to security and living conditions, especially refugees in Lebanon, who, according to Turkawi, are experiencing the "most dire" situation among refugee communities worldwide.
The majority of Syrian refugees in Lebanon suffer from "complex " problems. They are denied official legal documents and access to jobs, besides being affected by the economic crisis in Lebanon, Turkawi said.
In conjunction with the Syrian regime's attempts to attract refugees back to Syria, 1.3 million persons in the country are severely food insecure and cannot survive without food assistance, recording an increase of 4.5 million in the last year alone, according to a World Food Programme (WFP) report.
According to the report, "about 60% of the population does not know where their next meal is," in reference to deteriorating humanitarian conditions and a 22.2 percent rise in food prices over the past year.
The Syrian regime-controlled areas are struggling on many levels; they suffer from a continued electricity, fuel, transport, and flour crises, the collapse of the Syrian pound, which resulted in increased prices and decreased purchasing power of citizens, not to mention the economic repercussions of the coronavirus pandemic.
if you think the article contain wrong information or you have additional details Send Correction