Livestock lack veterinary care in northwestern Syria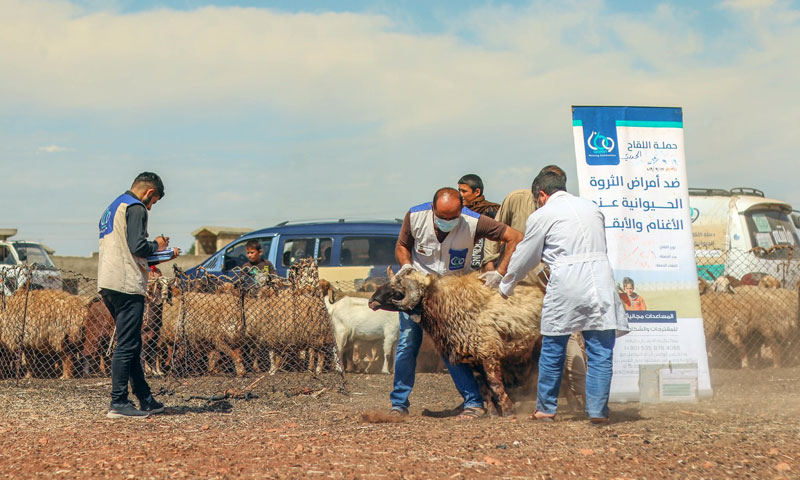 The livestock sector in Syria has been negatively impacted by the nine-year ongoing conflict. Livestock production has declined by 40 per-cent due to the rising prices of fodder and a lack of vaccines. Nevertheless, several relief organizations are carrying out livestock projects in north-western Syria to support the needs of the sector.
The fall semester is considered the breeding season for sheep. In this period, they are more likely to have venereal and respiratory diseases requiring vaccines. However, the sheep breeders cannot afford the high cost of vaccination, according to Rifaat Abd Rabbo, a local veterinarian.
Therefore, civil society organizations have undertaken continuous campaigns to support livestock. The most notable of these campaigns are organized by the Watan Foundation in rural Aleppo and Idlib. The foundation has already provided care for 550,000 sheep. Its activities included training programs for veterinarians and livestock breeders in the feed industry, as well as distribution of feed machineries.
According to Muayed al-Hawas, a project consultant for the foundation, they have set up four mobile clinics in the provinces of Idlib and Aleppo, aimed at providing healthcare services for animals with mastitis and venereal diseases. The foundation also provided vaccinations against brucella, and foot-and-mouth diseases and delivered treatment to animals with parasitic diseases, and enterotoxaemia. Wassem Suwaid, an officer at Violet Organization, told Enab Baladi that they have announced a future project that will deliver smallpox vaccines to 100,000 sheep in the western countryside of Aleppo, and in the towns of Atarib and al-Zirbah.
However, these campaigns are still limited in numbers and to certain areas, leaving thousands of herds without proper treatment, leading to significant economic losses, according to Abd Rabbo.
Abd Rabbo highlighted that large numbers of livestock are vaccinated against pasteurellosis mastitis, a respiratory and venereal disease, other viral diseases such as enterotoxemia and against the bacterial diseases such as anthrax. The biggest challenge facing sheep breeders in northwestern Syria is the high cost of feed and vaccines which can reach 50 USD per sheep, according to Abd Rabbo.
Problems with estimates
The Food and Agriculture Organization of the United Nations (FAO),submitted a detailed report on agriculture and livestock breeding in Syria on 5 September 2019, after a mission to the country's 14 provinces.
FAO noted that the task of counting livestock population is difficult in normal circumstances, but it is even more complicated during conflicts and wars. However, FAO estimated that over the first three years of the conflict, the number of sheep fell by 45%, before stabilizing in 2016 and 2017, and then saw a slight decline in 2018.
While the prevalence of common epizootic diseases remained relatively stable, the incidence of lumpy-skin disease increased in some locations, possibly due to high temperatures and high humidity which favoured the proliferation of the insect vectors. Artificial insemination, although widespread, often has low success rates, possibly due to poor timing and lack of breeder awareness of oestrus, according to the FAO report.
Prior to the conflict, the value of livestock production was between 35 to 40 percent of Syria's total agricultural production. 35 percent of rural households depended on livestock for their livelihoods. According to the latest official statistics published in Syria in 2010, the numbers of sheep reached 18 million.
In Idlib, the number of sheep decreased by 22 percent. In 2010, the number of sheep was around 726,000 while in 2017 and 2018, it declined to about 568,000. The decline in numbers of sheep in Aleppo was up to 40 percent; from 2 million heads in 2010 to around 1,250,000 in 2018.
FAO still requires 114.4 million USD to assist Syrian families and fund their agricultural activities and livestock.
if you think the article contain wrong information or you have additional details Send Correction