Exhibition for handicrafts made by blind people in Idlib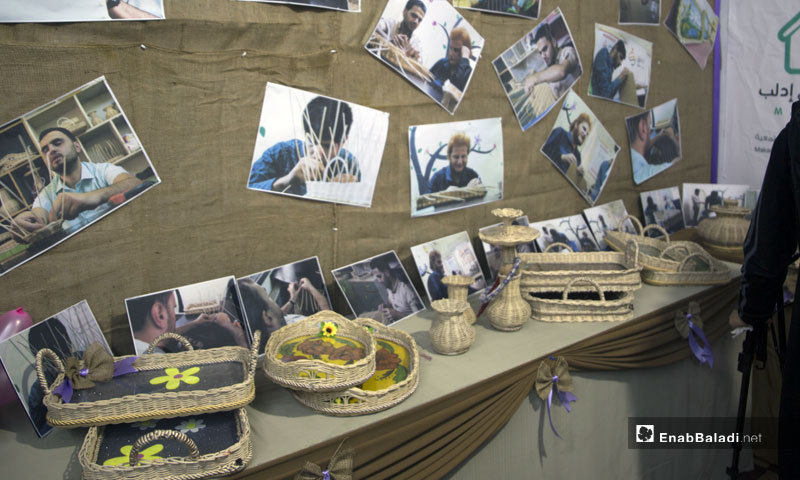 Makani Center, a part of Shafak Organization, organized an exhibition for straw handicraft made by blind people. The exhibition, held on 23 October, is the first of its kind in Idlib.
Ibrahim al-Dabel, 24 years-old, lost his eyesight when he was seven. Despite this loss, al-Dabel has continued to develop his skills in making handicrafts since childhood. Moreover, he passed on his skill to his fellow young participants in the exhibition.
Al-Dabel trained eight youngsters on making straw handicraft. He said that "they have mastered this skill" in his opinion. Nevertheless, some of them could not participate in the exhibition owing to their particular circumstances.
The exhibition consisted of two rooms. The first part exhibited handicrafts and the walls carried pictures of young people making them. The second room had participants producing baskets, utensils and various artifacts of straw on-site.
Morale booster for visitors and participants
The director of Makani Center, Waseem Asaad, told Enab Baladi, that the goal of the exhibition was "to convey the message of these people (the blind) to the whole world, that they are still present and able to be productive if provided with the opportunity." He added that the exhibition is a sort of morale booster and psychological support for the participants and visitors who live in the current difficult circumstances due to the Syrian conflict which enters its ninth year.
Moreover, the exhibition, in the words of Asaad, offers hope and a positive outlook toward the future especially for people experiencing loss and sufferings, affirming that even after facing a loss, people can keep giving and being productive with their lives.
Asaad said that people were positively surprised with the work, "they had mixed feelings and praised this wonderful work very much."
Al-Dabel described the exhibition as a means for directing the attention of people to the importance of the provision of facilities and care for the blind to enable them to overcome their disability and lead a better life. He said that his motivation to teach his friends was to meet the challenges of the current situation which "kept us away from our activities and desires. So, we decided to develop ourselves."
Lack of opportunities
Al-Dabel grew up in Aleppo and developed his skills in making straw crafts at a private primary school. However, he returned to his city due to the conflict.
According to al-Dabel, blind people suffer from a lack of interest in Idlib in comparison with Aleppo. Aleppo is well-prepared for the disabled. Blind people walk safely in its streets. Moreover, Aleppo has special schools for the blind, and associations that provide them with services and assistance to overcome the challenges of their daily lives.
Al-Dabel added that the blind face multiple difficulties including in terms of public perception, and difficulty in finding a job that allows them to earn a living. Many calls have been made for attention to be turned to them professionally so that they can become "economically self-reliant."
At the end of last year, Makani Center in cooperation with Omaya Sports Club organized special sports events, dedicated for the blind and amputees in Idlib. It included a three-months training program for the participants.
According to World Health Organization (WHO) estimates, rates of disability have reached 30% of the population–double the global average–in some parts of Syria due to the ongoing Syrian conflict. At least 45% of those injured as a result of the conflict are expected to sustain permanent disabilities which require long-term rehabilitative care.
if you think the article contain wrong information or you have additional details Send Correction