Raqqa Women Leave Their Mark on Handicrafts Exhibition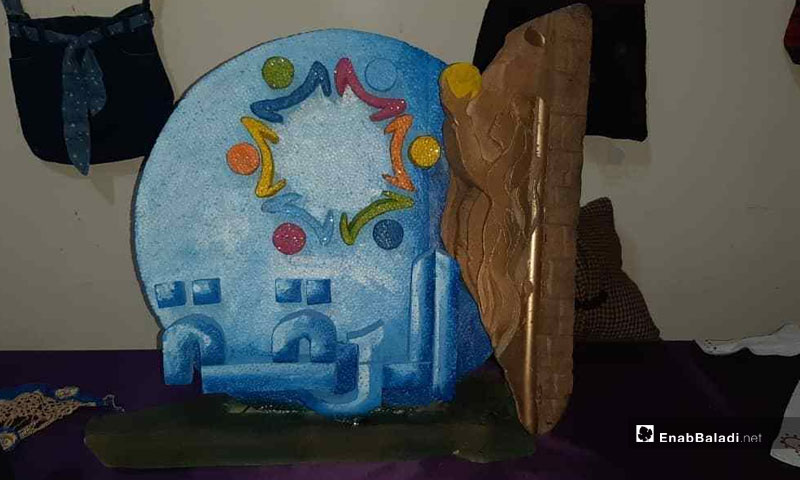 Enab Baladi – Exclusive
A women's handicraft exhibition titled Mubdia (Creative Woman) was held in the city of Raqqa, with the participation of a number of girls with disabilities.
The exhibition, organized by House of Citizenship in coordination with the Women's Committee in the Raqqa Civil Council, included handmade products and artwork by girls of all ages.
The exhibition was well received by its many visitors, who were impressed with the outstanding works on display.
Hala al-Ali, the Coordinator of Women's Activities at the House of Citizenship, spoke to Enab Baladi about the details of the exhibition and its activities.
Al-Ali explained that the exhibition included several handicrafts, from sewing and embroidery to knitting and weaving, as well as other art forms such as sketching and painting.
She added that 16 women and girls, of different backgrounds and ages, participated in the exhibition, as well as girls with disabilities who clearly left their mark on the works presented.
Al-Ali pointed out that the participants were also involved in selecting the winners of the first three art prizes – through a vote. Consolation prizes were also awarded to all participants in the exhibition.
During the exhibition, Zahra Al-Badawi and Manat Darwish were honored in the disability category, for their outstanding work in plastic art, and were awarded financial prizes.
Al-Ali pointed out that the exhibition aims to support and empower women, provide psychological and moral support to them, and discover their new talents.
House of Citizenship has many activities in the areas of services, health and development, as well as supporting small enterprises in the city of Raqqa and its countryside.
Handicrafts can help women invest their time and practice their hobbies, in addition to achieving financial returns and giving them a sense of joy and achievement. These works are also integral to the preservation of local arts from extinction.
if you think the article contain wrong information or you have additional details Send Correction