Despite UN condemnation Russia targets medical facilities in Idlib with precision missiles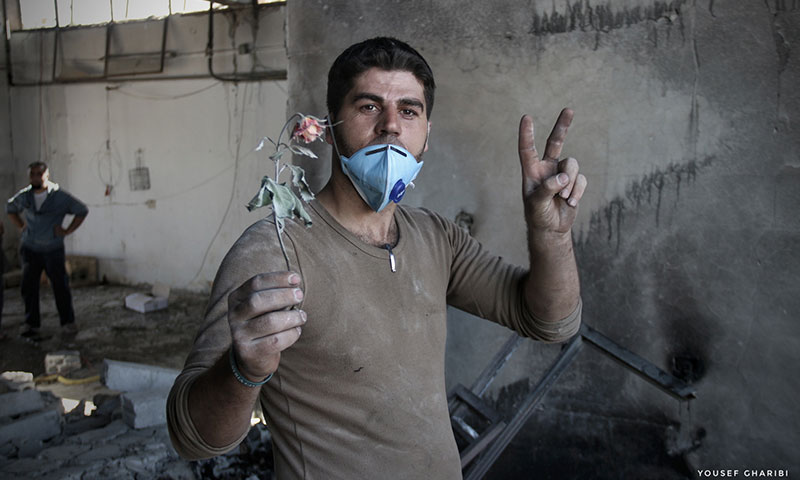 Since its first direct intervention on the side of the Assad regime, in September 2015, Russian warplanes have been ceaseless in their bombing campaigns against vital facilities (medical, educational, civil defense centers) in opposition-held areas. Despite the ceasefire that has come into force on 30 August 2019, the Russian planes routinely bomb hospitals in the province of Idlib.
Four medical facilities out of service
Muhammed Hallaj, head of the "Response Coordination Group", told Enab Baladi, on 9 November, that their team reported Russian airstrikes, in the past 72 hours, targeting more than 14 vital facilities, of which four were medical facilities.
The Russian Air Force began its intensified assault by targeting "al-Ikhlas" maternity hospital, in the village of Shannan in the al-Zawiya Mountain in rural Idlib, with two strikes. The bombardment burnt down the whole building and wounded three members of the medical staff.
Kafr Nabl Surgical Hospital, and the medical center of Jisr al-Shughur, were two other facilities targeted by Russian airstrikes. A center form women's civil defense in Jisr al-Shughur also went out of service, after being hit by a missile, according to Ahmed Yazjy, the head of the civil defense in Jisr al-Shughur.
Hallaj believes that the aim behind Russian assaults on Idlib's vital facilities and infrastructure is to deprive citizens from their daily needs, and to suppress the last pockets of citizens' resistance to the Syrian regime.
Hallaj confirmed that al-Ikhlas hospital was one of the very few remaining medical centers in southern rural Idlib, and its destruction means that citizens seeking tretment will be forced to head further north.
Russian denials and international condemnation
The UN condemned the Russian campaign, and raised concerns about the attacks on medical facilities and infrastructures of Idlib.
Rupert Colville, Spokesperson for the UN High Commissioner for Human Rights, said in a press conference on 8 November, that during the past six months more than 60 medical facilities were bombed, of which four were attacked this week.
"We can't determine if every single attack is deliberate but the large scale of these attacks…strongly suggests that government-affiliated forces conducting these strikes are, at least partly, if not wholly, deliberately striking health facilities" according to Colville.
The United States has also condemned the attacks by the Syrian regime and Russia against hospitals in Idlib. A US State Department spokeswoman, Morgan Ortagus, condemned the Russian and Syrian regime escalation.
"These attacks over the last 48 hours have hit a school, a maternity hospital, and homes, killing 12 and injuring nearly 40. The latest reported incidents reflect a well-documented pattern of attacks against civilians and infrastructure by Russian and Syrian forces," she said on 8 November.
Physicians for Human Rights also reported on 30 June 2019 that an estimated 566 assaults between 2011-2019 on 348 medical facilities in Syria killed 900 of the medical staff.
The New York Times had also published an investigation, on 13 October 2019, analysing Russian Air Force radio recordings during its assaults on four hospitals in opposition-held areas.
Russia has consistently denied any allegations of it targeting hospitals in northern Syria. Russian envoy to the UN, Vasily Nebenzya, pointed out on 17 September 2019, that many reports of assaults waged on hospitals in northern Syria are "fake".
Igor Konashenkov, the chief spokesperson for the Russian Ministry of Defence, believes The New York Times was tricked by, what he called, "terrorists" of Idlib, according to "RIA Novosti" news agency.
Civilians in Idlib fear that Russia's assault on the medical facilities could be followed by a large Russian operation in the area. In the past, clinics and civil defense centers were bombed before wider military operations commenced.
if you think the article contain wrong information or you have additional details Send Correction