Irrigation Canal Extending Over 4.5 km: Turkish Project In Al-Rai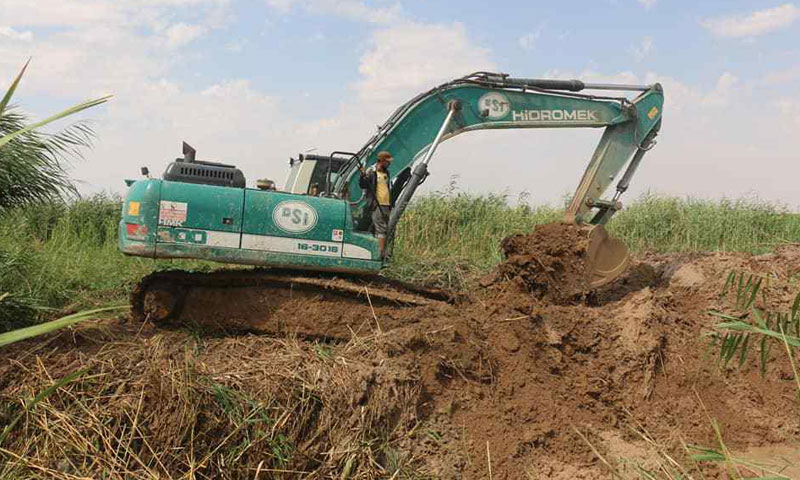 In cooperation with the Turkish Water Foundation, the local council of al-Rai town, rural Aleppo, has initiated a project for digging an irrigation canal in the area. The Director of the local council's agricultural office, Mohammad Fawzi Abdullah, announced that the construction of the irrigation canal started on August 22, and the length of the canal is 4,500 meters with a depth of three meters and a width of seven meters. 
Abdullah explained that the objective of the project is to drawdown the water, accumulating into swamps in the agricultural lands of Tell Mzab and Warda villages, and then directing it to the river course up to the Lilwa Dam.
He added that drawing down the accumulating water will revitalize the agricultural lands, control water erosion, and prevent the growth of weeds on the surface of swamps between the two villages_ Tell Mzab and Warda.
The project aims to support farmers in the area, especially amid rising fuel prices and most farmers' inability to irrigate their agricultural land, thus increasing the costs and boosting cultivation-related burdens.
The Farmer Mohammad Adel affirmed that the project may reduce expenses of the fuel needed for irrigating lands, demanding opening access to the Queiq River, which enters Syria coming from Turkey. Consequently, that would contribute significantly to the recovery of the area and lands that cover both sides of the road from the village of Tall Battall in the north, to the villages of Dabiq and Arshaf, affiliated with Azaz city in the south.
Agriculture is considered the first source of livelihood for the people of Aleppo countryside. Moreover, the area is known for growing wheat and potatoes in winter and summer and is famous for summer vegetables as well. Al-Rai is renowned for growing barley and watermelon.
The Turkish government has devoted its attention to the cities of Aleppo countryside, particularly al-Rai city. In the past year, Turkey established a hospital, called 'al-Rai Hospital' with an area of 2,000 square meters, and opened a Turkish post center (PTT), and a telecommunication center, in addition to a commercial crossing in the al-Rai city, which has the city's name while enjoying great importance.
if you think the article contain wrong information or you have additional details Send Correction