UN Delegation Visits al-Rukban Camp To Determine Fate Of Trapped Refugees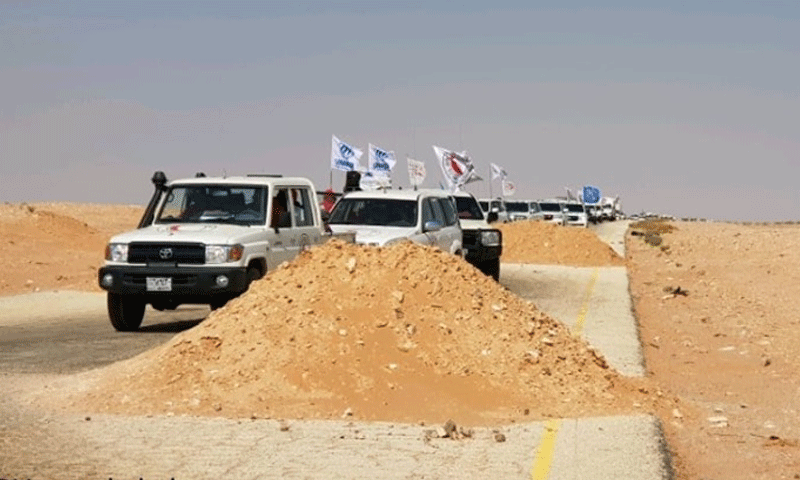 Translated by  Ruairidh  Alexander Falconer
A UN delegation recently entered the al-Rukban IDP camp on the Syrian-Jordanian border in an attempt to address the situation regarding the fate of the camp's refugees, who have been trapped there since the beginning of the year.
The camp's spokesman and head of its political relations office, Shukri al-Shahab, said on Sunday 18 August that the UN delegation had entered the area the previous day to inspect the conditions of the refugees. The delegation also gathered opinions from the camp's inhabitants as to whether they'd prefer to stay in al-Rukban or return to areas under Syrian regime control.
Al-Shahab added in an interview with Enab Baladi that the relevant offices had discussed with the UN committee a schedule for getting aid into the camp, as well as the best way to carry out the questionnaire about whether refugees wanted to leave or stay.
The meeting was hosted by al-Rukban's office for political relations and was attended by the tribal council of Tadmur (Palmyra) and the camp area's local council. The local groups reached agreement with the UN team for a delivery of aid supplies at the end of August.
According to Shukri, the UN's initiative came after the organization had been subject to accusations and criticisms regarding the inhabitants of the al-Rukban camp reportedly being trapped in the area.
The Syrian regime has imposed an effective siege upon the camp since February of this year, while the Russian government has been attempting to dismantle it and force its residents to return to regime-held areas.
Al-Shukri explained that it had been agreed that eight points would be established in the al-Rukban camp under the supervision of the UN and Syrian Red Crescent Society for the purposes of carrying out a survey among residents. The survey is expected to take three days to carry out.
The camp's general affairs office said in a statement on 18 August that the UN's committee would leave the camp upon completion of the survey. A UN team would then return at the end of the month along with the scheduled aid delivery, as well as to transport out of the camp any residents who wished.
A spokesman for the UN, Stephane Dujarric, said in July of this year that 15,600 people had left al-Rukban since March. He added that the camp still houses around 26,000 refugees, whom he described as existing in "dire" living conditions.
The Syrian regime has accused the US via its official media outlet SANA of "holding groups of terrorists in al-Rukban and al-Tanf, areas which America is occupying".
if you think the article contain wrong information or you have additional details Send Correction