In 15 Days, Healthcare Deterioration Leads to 14 Civilians' Death in al-Rukban camp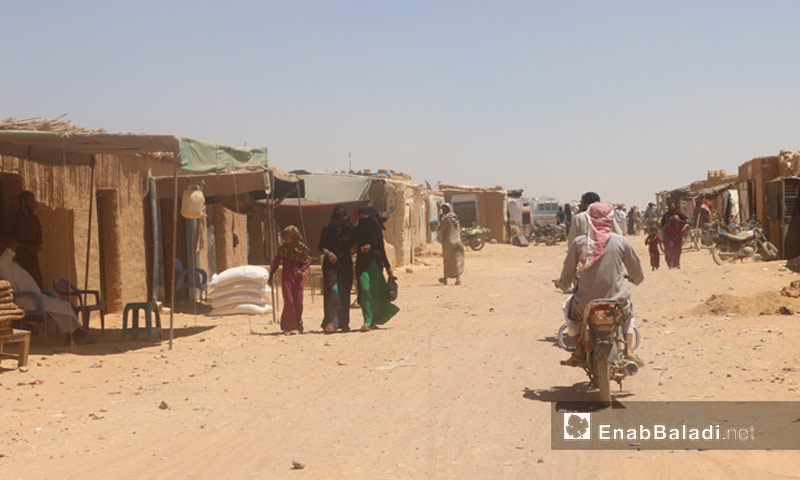 The "Response Coordination Group" has documented the death of 14 civilians, including children, in the al-Rukban camp at the Syrian-Jordanian borders, due to the worsening conditions and healthcare services.
Today, Wednesday (October 10), the Group issued a statement, saying that civilians have been dying in the past 15 days because of sever malnutrition cases and the lacking medical supplies under the complete siege imposed by the Assad's forces.
The Group demanded that active entities lobby as to force Russia and the Syrian regime to break the siege over the camp.
It also called for opening the Jordanian borders at the al-Rukban camp's side, as to allow the admission of humanitarian aid, pointing out that several organizations are willing to provide humanitarian and medical aids.
The al-Rukban Camp suffers the absence of major food and medical supplies, with the presence of cases that need for surgeries, especially midwifery, in addition to the lacking medicines, for all medicines are confiscated at the checkpoints.
The Southern tribes in the camp have last Sunday issued a statement, through which they called on Jordan and the international community to act on the spot to save the refugees from the dangers of the suffocating siege, after a week without aids.
In the statement, the tribes said that the camp's tragic status is endangering the refugees' life, especially in the desert area.
The Group has also contacted UN, UNCHER and UNICEF as to provide aids through the border, because the food supplies inside the camp will totally run out in ten days at best.
Omar al-Homsi, media official of camp's civil administration, said that the Syrian regime had tightened the siege over the camp and prevented the entry of any medical or food items, contrary to what was agreed a week ago.
Since June, the al-Rukban has been suffering a suffocating siege, after the closer of the port connecting it with Jordan under a Russian pressure and the blockage of the al- Dumayr road by Assad's forces. The Camp's dilemma was enhanced by "UNICEF" closing of the medical point a week ago, without declaring the reasons.
Yesterday, al-Homsi added telling Enab Baladi that the regime is preventing the admission of aid to the camp, through a military checkpoint in the tringle area at a distance of 70 kilometers, with strict procedures imposed on medicines and food, except for fodder-loaded cars.
The unofficial "al-Rukban" camp incubates more than 70 thousand Syrian people, the majority of whom are from the rural parts of Homs and Damascus; it is run by a civil local council, consisting of the sheikhs and the well-known figures of the tribes of the area, civil entities and people from the governorates of Deir ez-Zor, Raqqa, eastern Qalmoun and eastern rural Homs.
if you think the article contain wrong information or you have additional details Send Correction