Rural Idlib: Syrian Regime's Forces Advance Into Al-Tamanah Outskirts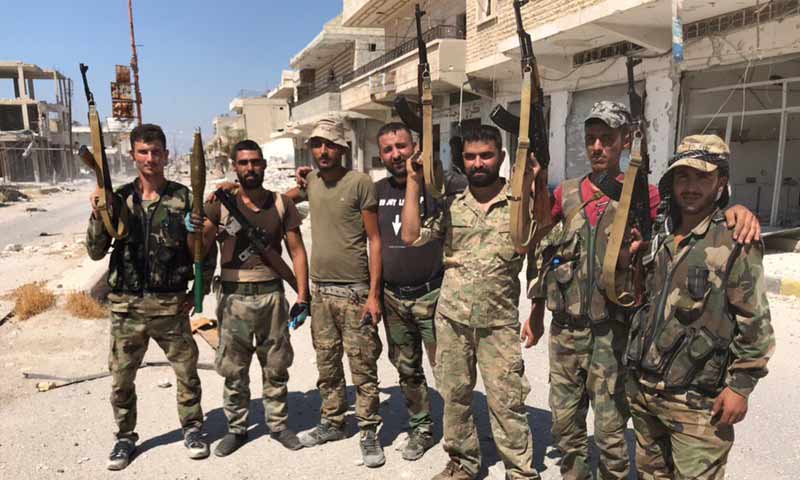 Backed by Russia, the forces of the Syrian regime advanced into new areas at the disadvantage of the Hayat Tahrir al-Sham (HTS) and a group of forces affiliated with the National Front for Liberation (NFL) in rural Idlib, arriving in the suburbs of the al-Tamanah town, east of Khan Shaykhun city.
The forces of the Syrian regime have progressed, covering large patches of Idlib's southeastern countryside in the past a few hours, cordoning the 'strategic' al-Tamanah town on the east, Enab Baladi's correspondent for rural Idlib reported today, August 29, 2019.
The regime's forces, according to the correspondent, have taken over farmlands, located between Tell Maraq and al-Khwain villages, the full range of which they controlled to turn west heading to al-Tamanah.
The correspondent explained that the progress achieved by the regime's forces focused on the same front, on which the opposition factions launched a military operation on Tuesday, from which they retreated, later on, unable to keep hold of posts.
The regime's forces have not yet officially announced taking over al-Khwain, neither their arrival on the outskirts of the al-Tamanah town.
The Syrian Arab News Agency (SANA), for its part, pointed out to the continuing aerial and artillery bombardment of areas in eastern and southern real Idlib.
According to the field control map, the regime's forces are trying to impose a siege on the full area of the al-Tamanah town, implementing the same strategy they adopted to take over Khan Shaykhun city.
Having progressed to the al-Khwain and the western parts of it, the regime's forces can monitor all the roads leading to al-Tamanah, both the Alteh and Tahtaya roads, while now trying to reach the northern part of al-Tamanah, aiming to cordon it on all sides, as to take it over.
In the past a few days, the regime's forces have advanced to 'strategic' areas in southern rural Idlib, the key of which are Khan Shaykhun city, located on the Damascus-Aleppo International Highway, and the Ltamenah city, the principal line in defense of Syria's north, which the Syrian opposition's factions are in control of.
The on-ground developments, reported here, happened two days into the summit that joined the Turkish President Recep Tayyip Erdoğan and his Russian counterpart Vladimir Putin in the Russian capital Moscow.
At the conclusion of the summit, the Turkish President Erdoğan stipulated that the Syrian regime puts an end to its attacks in Idlib, as to pursue work on implementing the Sochi deal, signed by the two states.
"Our responsibilities, stemming from the Sochi deal, cannot be fulfilled unless the regime stops its attacks," Erdoğan said, as quoted by the Anadolu Agency.
if you think the article contain wrong information or you have additional details Send Correction