Wissam Wedding Dress: Prerequisite For Marriage In Swaida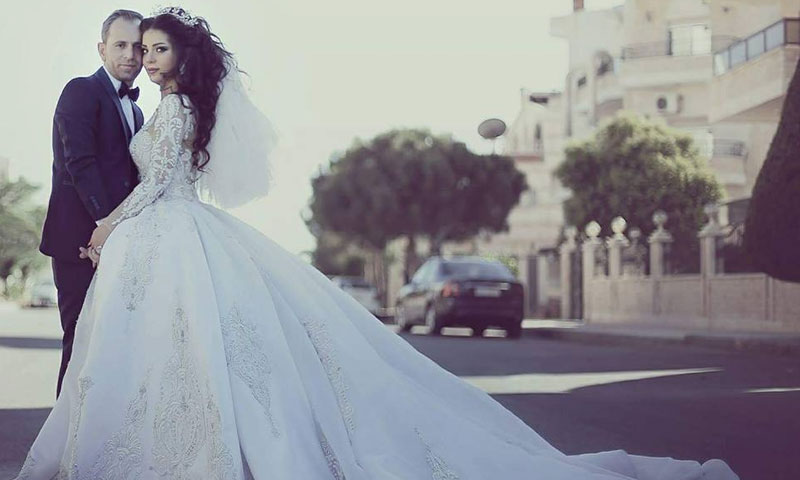 The fancy fabric and gorgeous embroidery used in the Syrian designer dresses, the son of the city of Swaida, Wissam Hassan, attract the brides of  Swaida, Southern Syria. Wearing a dress, designed by Hassan has become every girl's dream, and a condition for  marriage or a major reason for the failure of a couple's relationship.
Wissam Hassan displayed talent at the age of 14 when working in a textile shop in Swaida, carrying with him the remaining fabrics from the shearing process to make designs using his mother's old sewing machine and dress his younger nieces.
In 2001, Hassan moved to Dubai, the UAE, and worked at "Spanera  Fashion House" for three months, after which he returned to Swaida to put his designs on the runway: His first show exhibited 3 dresses and the second  25 dresses – wedding party dresses, white gowns and suits.
In an interview with Watan blog, Hassan said that "his designs were inspired by the art of Haute Couture," which refers to high dressmaking or royal sewing, using delicate fabrics such as silk. Thus, the demand for his dresses had increased especially by brides. Hassan said that he had designed 5000 bridal dresses till 2014.
Six-figure Dresses 
Hassan's designs are bizarre and his clothing line features rich embellishments, far from simplicity, depending on western cuts that are somehow unfamiliar to people. The cost of renting a dress with Hassan's signature for a single night ranges from 700 to 1.5 million Syrian Pounds.
On July 13, 2019, a US dollar was exchanged for 538 Syrian pounds, according to  Pound Currency Today (a currency converter page).
A former worker at Hassan's workshop, asked not to be named, said that the price mentioned above applies to dresses to be worn for the first time. However, the price will go down around 30% when rented for the second time. When a dress of the last year's collection is rented, the cost would be 50% only. 
 The dress is only rented for four times, the former worker told Enab Baladi, for the designer does not want to go below a certain range of prices on the market and, thus, only a certain class will be able to wear his designs.
Frugalness Or A Stand Taken?
Hassan's bridal dresses have become a dream of many brides to be in Swaida city.
A bride recounted her experience to Enab Baladi, saying that "I wanted to buy the wedding dress, but the designer refused to sell it. Wissam preferred to design a special dress in case I wanted to keep it. So, I had to agree to pay the rental price since the cost of buying a wedding gown might reach 2.5 million Syrian pounds." 
The bride, reluctant to mention her name, pointed out that one year into the marriage, the wedding dress was still the cause to disagreement with her family in law, who were not satisfied with the extravagant price of the dress. However, her insistence and her husband's love helped her to get her dream dress.
Rama, a 23-year-old university student, broke off her engagement because of her ex-fiance's refusal to rent her a Wissam bridal dress, accusing her well off ex-fiance of frugalness. By contrast, Rama's friend, Hiba, disagreed with her, saying that the matter has nothing to do with frugalness, but it is a matter of principle. Lavishness and luxury cannot be something regular.
Fadi, a young engineer in Dubai, owning several commercial projects in Swaida, refuses to get married to a girl who likes extravagance, in spite of his ability to afford that kind of requirements. To Fadi, the issue is deeper and more important than a wedding party and its related extravagance. This lavishness is growing into a dangerous phenomenon on a social level, particularly since it is the man who is to provide for the wedding party preparations and decorations in our communities.
It is worth mentioning that the controversy caused by these details can be traced back to the decline in living standards due to the war. According to the UN estimates, 83%  of Syrians are living under the poverty line, 11.7 million people are in need, and 5 million others are in an urgent need.
if you think the article contain wrong information or you have additional details Send Correction