Swaida: Women Lead Campaigns to Combat Violence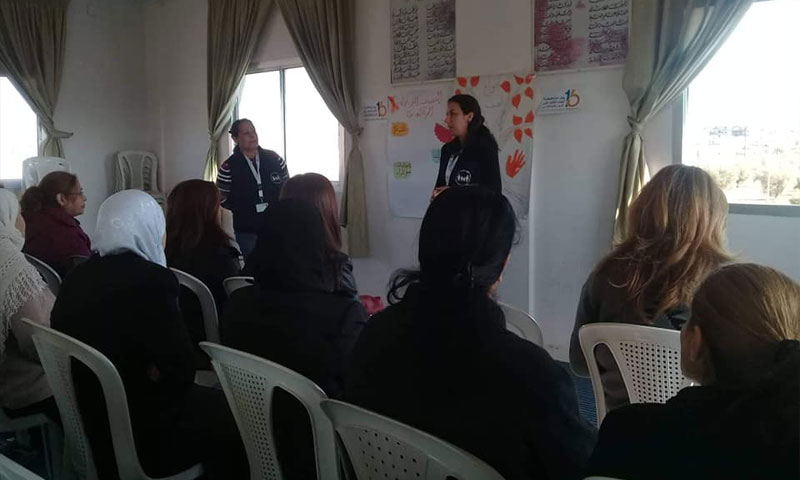 Over 16 consecutive days, civil society activists in Swaida Governorate have launched a civic campaign that has brought up awareness and educational concepts on "Combating Violence against Women," an event that the world celebrates every year.
The campaign, which ended on 10 December, had been sponsored by the Syrian Family Planning Association in several areas within the governorate. It included events, activities, discussions, and dialogues aimed at changing prevailing perceptions that violence against women is only limited to beating and rape, one of the campaign organizers stated to Enab Baladi.
The activist, who preferred not to be named, pointed out to Enab Baladi that the campaign of "16 Days of Combatting Violence against Women" had mainly tried to focus on concepts. He pointed out that many "unfair" practices against women do not fall within the concept of "violence" and they are rather considered natural practices, as he put it.
He added that the campaign had focused on other types of violence, including the injustice against women in the labor market, as well as verbal abuse, and harassment. He also pointed out that the campaign proved the awareness of Swaida women and their ability to delve into details and discussions that previous generations have not dealt with before."
"This in itself raises hopes that someday we will reach our dreams of citizenship and equal treatment of both men and women on the basis of their competence and not their gender, and ending the consideration that shame and stigma are only associated with women," says the activist.
One of the beneficiaries of the campaign of "16 Days of Combating Violence against Women" said to Enab Baladi that it is very important to organize similar campaigns in the current period, adding that the most important message that can come from these campaigns is to warn women from falling into the "trap of claiming their rights."
She considered that the campaign, in which a number of Swaida women and men participated, managed to convey the required message," convincing women that they can claim their rights in all areas, just like men."
"Orange the World "… World campaign
Since 1993, on 25 November of each year, the World Day for the Elimination of Violence against Women has been commemorated by campaigns that have started in 2009 under the title "Unite  to End Violence against Women."
The United Nations, which oversees the occasion, has chosen the orange color in its campaign this year, launching the slogan "Orange is the World… Hear Me Too."
Campaigners around the world were encouraged to wear the color orange, as it symbolizes a brighter future and a world free of violence against women and girls, according to the campaign slogan.
According to UN statistics, 52% of married or engaged women freely make decisions about sexual relations, and the use of contraceptive and health care means.
The UN statistics also added that about 750 million women and girls around the world married before the age of 18, while 200 million women and girls were subjected to female genital mutilation (female circumcision).
One in two women worldwide was killed by her husband or family in 2012, while only one in 20 men was killed in similar circumstances.
71% percent of all victims of human trafficking in the world are women and girls, and three out of four women and girls are sexually exploited, according to the same statistics.
The Declaration on the Elimination of Violence against Women was issued in 1993 by the United Nations General Assembly, which defined violence against women as "any act of gender-based violence that results in, or is likely to result in, physical, sexual or psychological harm or suffering to women."
if you think the article contain wrong information or you have additional details Send Correction