Volunteer-Based Governmental Center: Family Cards for Palestinians in Northern Syria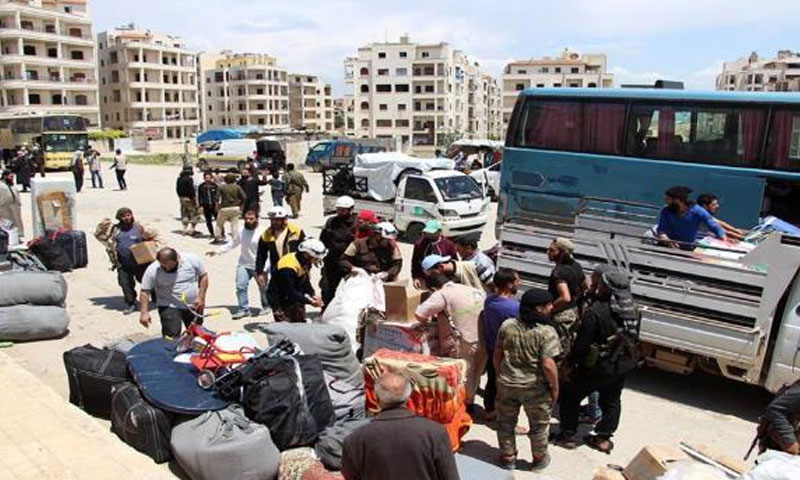 Afrin – Hundreds of Palestinian refugee families in northern Syria are waiting for their family cards to be issued by the Syrian Interim Government-affiliated Palestinian Refugee Documentation Center (PRDC).
Many Palestinians were displaced alongside Syrians from different areas in Syria to Idlib and Aleppo countryside, especially from southern Damascus (Yarmouk camp and al-Hajar al-Aswad). Lacking identity cards, and with no governmental centers concerned with their affairs in regime-controlled areas, displaced Palestinian refugees face compounded difficulties.
Director of the PRDC, Abu Muhannad, who chose not to disclose his name for security reasons, told Enab Baladi that around 1,500 Palestinian families have reached northern Syria amid a complete absence of any official or unofficial efforts to manage their affairs.
"They have been abandoned by their only legitimate representative, the Palestinian Liberation Organization (PLO). The United Nations Relief and Works Agency (UNRWA), and all other institutions that claimed to represent the Palestinian cause have also abandoned them," Abu Muhannad added.
A Voluntary Initiative Adopted by the Government
The PRDC director pointed out that the issuance of family cards came as a step after the center began issuing several identification documents for Palestinians in the north.
The center was established on February 25, 2019 by the Directorate General of Civil Affairs affiliated with the Ministry of Interior under the Interim Government.
Abu Muhannad, who is the sole staffer at the center, came up with the idea of establishing it. According to what he told Enab Baladi, after leaving Yarmouk camp to northern Syria around a year ago, he communicated with the Directorate General of Civil Affairs and brought up the Palestinian refugee issue, and discussed all of the pressures facing them.
"They were understanding and helpful; they helped us establish the PRDC, a civil registry for Palestinians in the north," Abu Muhannad said.
Abu Muhannad, who works in a volunteer capacity, secured an office for the center within the Directorate General of Civil Affairs of Rural Damascus, located in Afrin. The Interim Government also provides the center with all of the necessary stationery and cards.
40% of the Palestinian's Problems in the North Have Been Solved
According to what Abu Muhannad, his center has provided documents that have helped solve many difficulties related to the Palestinian's legal status in the north. Among these problems was acquiring identity cards issued by civil registry departments run by Turkey in the northern Aleppo countryside.
The center helped those without official documentation to acquire it. This allowed them to obtain identity cards in Turkey recognized at border crossings and universities, that permit Syrians to enroll using certificates issued in areas under the control of opposition factions.
As for marriage certificates, Abu Muhannad pointed out that individuals who wish to get married can acquire personal status records from the center before documenting their marriage at one of the local courts. They can then acquire a family card.
Providing family cards to displaced Palestinians is not limited to northern Syria, but to "all Palestinian families who have been living in al-Bab since 1948 and whose numbers reach around 100 families," according to the director of the PRDC.
"Since February and until today, 40% of the Palestinians' problems related to their legal status in northern Syria have been resolved, and at a later stage, all of them will be," Abu Muhannad said.
How are Identity Cards Issued?
The center adheres to a certain procedure in verifying the identities of those who want identification documents after having lost them during the war or displacement.
"A person who does not have any identification documents would file a report to any local police station, and that way, they are no longer responsible for the validity of the claim. In addition to the warrant, two witnesses are required to confirm their identity. Consequently, the individual opens a file at the center and is then capable of issuing a family card," Abu Muhannad explains.
Concerning the papers issued by the center, Abu Muhannad added that "an individual may receive an identity card, a family statement for those who lack identification documents, a regular family statement, and an individual status record."
Abu Muhannad does not guarantee the validity of these documents but claims that they may prove useful in many situations. For example, some Palestinians who are registered at the center and have acquired identification documents after losing their original documents then left to Turkey and acquired temporary protection cards based on documentation issued by the center.
if you think the article contain wrong information or you have additional details Send Correction