Intense Bombing Near Turkish Observation Point West of Hama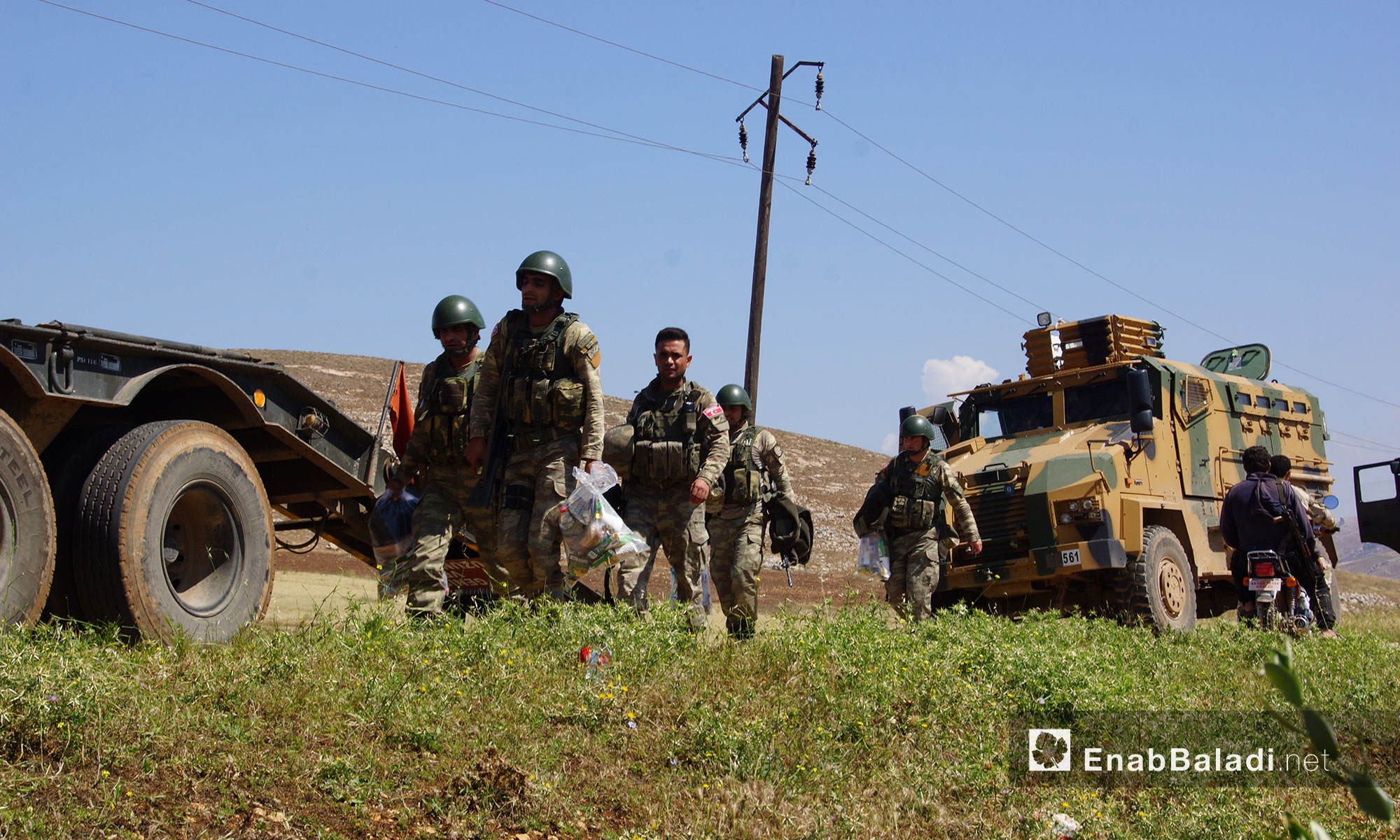 Assad forces intensified artillery and rocket fire on the perimeter of the Turkish monitoring point in the town of Sher al-Maghar in the western countryside of Hama.
According to the Enab Baladi correspondent in Hama, Assad forces targeted the perimeter of the Turkish monitoring point in the town of Sher al-Mghar on Sunday, May 12, with sustained artillery fire.
He added that the shelling forced civilians to flee the town, amid reports of an agreement to evacuate the town's population due to ongoing fighting.
This comes in light of military escalation by the Syrian regime and Russia, who are advancing towards the western and northern Hama countryside. The incursion has so far resulted in the regime's takeover of several towns west of Hama, which had previously been controlled by opposition factions.
A delegation of Turkish officers, accompanied by military armored vehicles, visited monitoring points in the villages of Hama and Idlib yesterday, in conjunction with a regime military escalation in the region, according to Al-Muharrir Media Network affiliated with the Sham Legion rebel faction.
Turkey has not yet issued an official statement regarding the incident.
Turkish points were set up to monitor the "de-escalation" in the demilitarized zone in the countryside of Idlib and Hama, as per an agreement reached between Russia and Turkey last September.
The Syrian regime began bombing the perimeter of the Turkish monitoring point on April 29 last, amid mass displacement of civilians fleeing the escalation in the area.
The battles approached the monitoring point of Sher al-Maghar, and are now about four kilometers away from the point. The recent escalation arrives after Assad forces seized control of the town of Mustariha in Jabal Shashabo.
The countryside of Hama has been witnessing a mass displacement for days, against the backdrop of continued escalation by Assad and Russian forces. Many airstrikes have been conducted in the area, which targeted civil service centers – especially hospitals.
The latest escalation began as part of a campaign launched by Russian aircraft, hours after the end of the twelfth round of Astana talks, in which the guarantors failed to reach an agreement to form a Syrian constitutional committee.
Assad forces, supported by the Russian air force, took over the towns of Kafr Nabudah, al-Madiq and villages in the Al-Ghab plain and Jabal Shashabo.
The Turkish Minister of Defense, Hulusi Akar, said on Friday that the Syrian regime was trying to expand its zone of control in southern Idlib. This was the first official Turkish comment since the start of the latest military campaign against the northwestern region.
"The Assad regime attempts to widen its control in the south of Idlib against the Astana Agreement," Akar said, according to Anadolu news agency.
He said that regime forces must "stop their attacks on the south of Idlib and immediately return to the borders set by the Astana agreement."
if you think the article contain wrong information or you have additional details Send Correction