Commander of Idlib and Hama Incursion Bashar Ratabah Killed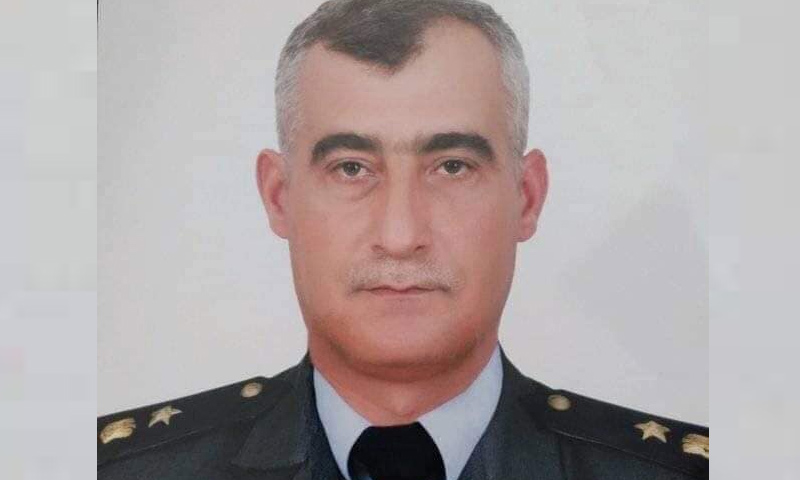 A prominent Assad forces commander was killed in the ongoing battles in the western countryside of Hama, against opposition forces.
On Friday, May 17, pro-regime Facebook networks announced the death of Colonel Bashar Ratabah. They claimed he was killed on the frontlines in Idlib, "sacrificing himself for Syria, its flag, and its beloved leader President Bashar Hafez al-Assad."
Ratabah is a colonel within the regime's Air Force Intelligence. Pro-regime networks claim he was the commander of the incursion in Hama and Idlib, and that he was killed on their front lines during military operations.
Ten days ago, Assad forces began a military campaign against opposition forces in the northern and southern countryside of Hama, during which they managed to seize several areas the most prominent being Qalaat al-Madiq and the town of Kafr Nabudah.
Despite their control over several areas, Assad forces faced "fierce" resistance by opposition factions which launched an offensive using anti-armour missiles.
Rebel factions announced in recent days the deaths of dozens of regime fighters, after targeting their vehicles during their advance in the western countryside of Hama.
According to what Enab Baladi has monitored on Facebook, pro-regime Facebook pages and groups announced the deaths of several soldiers and officers Assad's forces, claiming they were killed in battlefronts in the rural areas of Hama and Latakia.
Among those killed were: Karam Hassan from the village of Hodeidah in Homs, Ali Suleiman from Sheikh Badr in Latakia, and Lieutenant Muhannad Abdul Hamid Mahmoud from the Hama countryside.
According to the military zone of control maps, Assad forces are advancing along two axes in their operations in the Syrian north. The first is al-Ghab Plain in the western Hama countryside, and the strategic village of Kabani in the Latakia countryside.
The region is witnessing intense bombardment by Russian warplanes and regime helicopters, especially in the southern countryside of Idlib.
The Enab Baladi correspondent in the Hama countryside reported that Assad forces are attempting to infiltrate opposition-held areas in al-Ghab Plain, especially after taking over the 'strategic' town of al-Hwaiz.
if you think the article contain wrong information or you have additional details Send Correction