HTS Forms "Popular Resistance Companies" in Northern Syria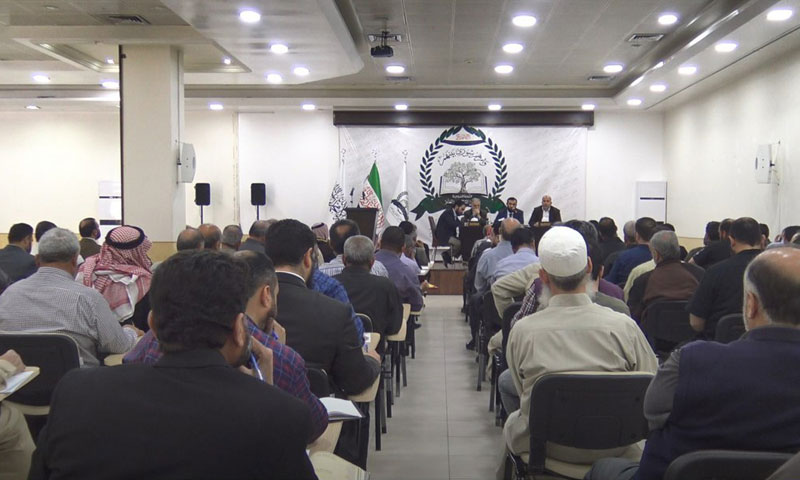 The Syrian North Shura Council, formed under the patronage of the Salvation Government (SG), announced the formation of the Popular Resistance Companies (PRC) to participate in the anticipated battles against the Syrian regime.
The HTS-affiliated news agency Ibaa reported on Sunday, May 10, that members of the Shura Council approved the project to form a "Popular Resistance Companies."
The agency said the move aimed at "allowing the people to participate in facing the Russian occupation and the regime in an organized manner."
Pictures have been circulated which showed a meeting between Hayat Tahrir al-Sham military commanders and members of the Shura Council, during their deliberations on the project to form militant companies. They also discussed the military situation of the battlefronts in the Hama countryside.
This comes in light of a military escalation by the Syrian regime, and its Russian allies, against the countrysides of Hama and Idlib. The campaign has been the most violent that the area has witnessed, and was accompanied by air support and attempts at land incursion.
Assad forces continue to target the villages of Hama with missiles, artillery and explosive barrels. Today, three civilians were killed in the village of Sher al-Maghar, west of Hama, around a Turkish monitoring point. Three children have also been injured in the town of al-Tahl, south of Idlib.
This coincides with regime attempts to advance and infiltrate on the axis of al-Kabineh in Jabal al-Akrad in the northern countryside of Latakia. Rebel factions have resisted these attempts, which were accompanied by intense aerial and artillery bombardment.
Yesterday, Assad forces took control of the town of Mustariha in Jabal Sheshabo, and attempted to advance further in the area, amid resistance by opposition factions, which announced the destruction of a ZiL armored vehicle with a TOW missile.
Aerial and artillery bombardment by Assad and Russian forces continued in southern Idlib, leading to more than 130 deaths in the region between April and 26 May 10, according to estimates by the Civil Defense in Idlib.
The military escalation has so far led to the displacement of about 100,000 people from the countryside of Idlib and Hama since April 26, raising the number of those displaced since February 2 to more than 300,000, according to the response coordinators in the north of Syria.
In February, the HTS-affiliated Salvation Government raised the idea of ​​forming the Shura Council during a general conference (General Conference of the Revolution) which was held at the Bab Al-Hawa border crossing and sponsored by the SG. The conference was attended by some of the region's political figures, and announced in late March the names of the successful nominees in the first Council elections.
if you think the article contain wrong information or you have additional details Send Correction