Rahma Complex: An Integrated Orphanage in Idlib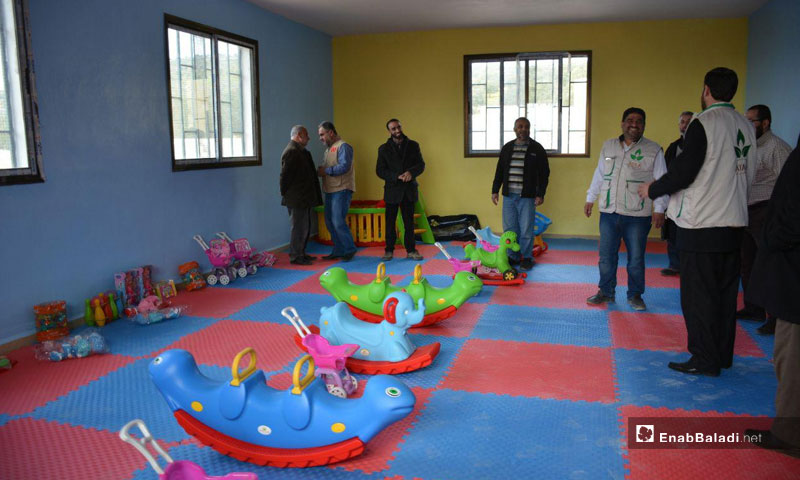 Enab Baladi – Idlib
After months of preparation, Rahma Complex opened its doors to hundreds of orphaned children from northern Syria. It is set to be a permanent orphan center providing educational, psychological and recreational services to children under the supervision of specialists and experts in several fields.
Rahma Center for the Care of Orphans was inaugurated on February 24  in the town of Qah in Idlib. It is a permanent center to receive orphans, where they would live and receive care and various services free of charge. It is supported by Rahma International Society, under the supervision of Ataa Humanitarian Relief organization.
Ahmad Hashem, the coordinator of social programs at Ataa, told Enab Baladi that the complex is now ready to begin receiving orphaned children, and that it will begin providing its services to them in the next few days. He added that the complex can accommodate about 400 orphans under the age of six.
The complex is set to provide many services to children, as well as to widowed mothers. It aims to support widows and improve their access to the labor market, enabling them to better provide for their families, Hashem said.
He added that the complex is equipped with all its needed services, including electricity, water and alternative energy sources. It was established on a lot spanning ​​5,000 square meters.
The idea for ​​this project was incepted in early 2017, a period which saw the displacement of people from East Aleppo, when it was noted that there was a large number of orphans among the displaced. The idea did not enter into the implementation stage until October 2017, after completion of its planning, land procurement and agreement with the implementing agency. The complex was set to be officially opened in February 2019.
The United Nations Children's Fund (UNICEF) estimates the number of Syrian children who have lost one or both parents at around one million children since the beginning of the Syrian revolution in 2011 until the end of 2017, describing it as "a disaster in all senses."
However, the director of the Afkar Foundation for the Care of Orphans in Idlib, Jumana Omar, said in an earlier interview with Enab Baladi that this estimated figure is less than the reality. She added that the suffering of orphans is greater than that of ordinary children, as they need more support and care than their peers.
Psychological Support is a Priority
Rahma Complex seeks to focus on forms of psychological support for its beneficiaries, according to the director of the complex, Mohammed Jumaa, to Enab Baladi. He indicated the importance of focusing on support for mentally disabled children, in accordance with specialized programs. He also emphasized children's rehabilitation, both educationally and recreationally, especially those who lived through conflict, lost one of their parents and were displaced from their areas.
Jumaa referenced several psychological problems specialists have observed in the Rahma Complex. A number of children under the age of six suffer from issues such as speech impediment, autism, isolation, aggressive behavior and stubbornness – among others.
The array of educational services include teaching children the principles of literacy, numeracy and English. The orphanage also provides children with daily meals, stationery, clothing and school bags for free.
According to the United Nations Children's Fund (UNICEF), four million Syrian children, equivalent to half of the country's children, grew up knowing only violence with the war entering its eighth year, according to a report issued by the agency last December. This has exacerbated the psychological and physical problems which these children suffer from.
if you think the article contain wrong information or you have additional details Send Correction