Idlib: Charity Shop Offers Persons with Disabilities Free Products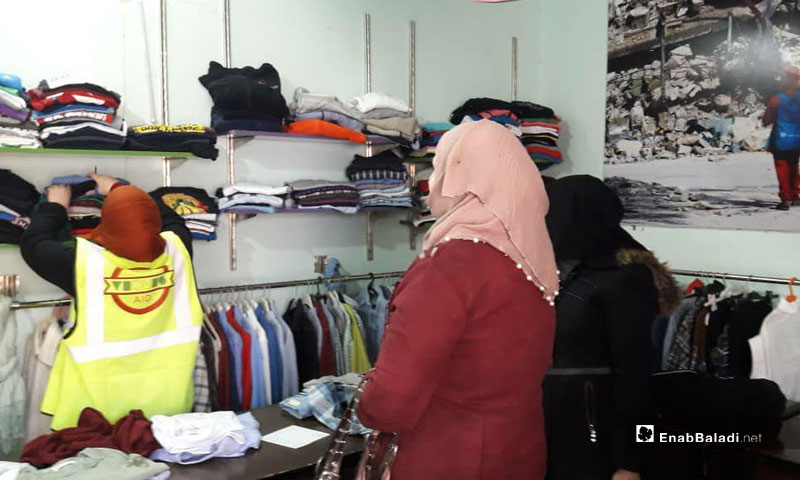 In the city of Idlib, a humanitarian organization has opened a charity shop, which offers free clothes to people with disabilities and persons who developed disabilities due to war injuries.
The project was launched by the Vomis Aid Charity, in cooperation with the Insan Organization (Human), early in March, providing its products to about 900 persons.
The shop offers European clothes for children, men and women, providing them to beneficiaries through special cards, according to Abdulrazzaq Sameeh, a member of the Insan Association.
Sameeh told Enab Baladi that the donor organizations came up with the shop's idea to meet the needs of the most vulnerable segment of people in Northern Syria.
In its first phase, the project aims to provide European clothes for war-injured people and persons with disabilities, starting with a list of about 900 persons, in addition to another segment which sought the shop after its opening, Majed Arja, a supervisor at the shop, Told Enab Baladi.
The organization also keeps in mind the differences in the financial status of the beneficiaries and their injuries upon offering them support, according to Arja.
The mother of Mohammad Kayali, a 12-year-old boy who lost his leg in the shelling, said that the new project has offered her son both material and moral value, seeing happiness over his face after he has been getting special care along with his peers.
The organization also seeks to launch a physical therapy project for the people with physical disabilities in the upcoming phase, in support of the people in urgent need, according to Sameeh.
In a statement published in December 2017, the World Health Organization (WHO) said that 1.5 million persons have developed disabilities due to hostilities and the conflict in Syria after 2011, at a rate of 30 thousand injuries per month, pointing out that 86 thousand of these people are amputees, the third of whom are children.
The report attributed the rise in the number of people with war-related injuries to the usage of new and explosive weapons, particularly barrel bombs and incendiary weapons, which have been deployed in the past eight years in Syria.
if you think the article contain wrong information or you have additional details Send Correction