E-commerce sets foot in northern regions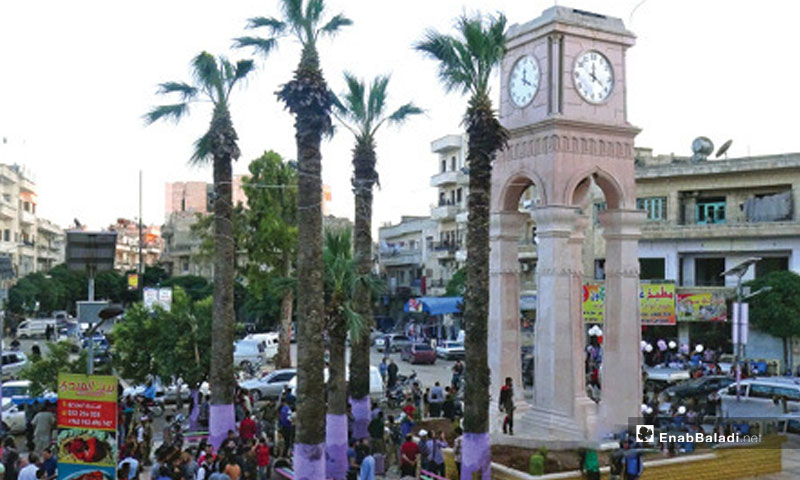 E-commerce has become an economic necessity worldwide, occupying a solid position among the rest of the commercial and traditional trade markets. Syrian youths have started to take advantage of global and regional experiences in this particular field to create alternative local electronic markets that can provide similar services as those offered by international markets which have not entered Syria yet,  and may not do so in the near future.
Shopping and e-marketing in primitive ways
Enab Baladi has observed dozens of scattered groups in the province of Idlib and the countryside of Aleppo which are specialized in selling, purchasing and marketing local products. Each group specializes in a specific range of commodities in accordance to its field of sales, including furniture, electrical appliances, phones and spare parts as well as cars; in addition to other business groups that work essentially in the services sector and real estate. This diversity opens the door to multiple opportunities and spares the Syrian citizens travel hardships in order to search back and forth among the cities and towns of the area for their desired product.
Electronic bazaar and a shop
Over the course of time, the need for e-commerce has arisen in the north and north-west of Syria. As such, social media users who work in the trade sector have resorted to a broader and more organized trade network which connects the customer to his/her desired set of goods or the seller to the buyer. Thus, a group of young people in the northern countryside of Aleppo launched the first electronic "Store" in order to promote the products of the region.
The e-commerce platform was launched in mid-January in the city of Azaz as the first project of its kind in the region, in conjunction with the increasing commercial activities in the northern and eastern towns of Aleppo with a Turkish support and coordination.
Firas Mawla, one of the platform's staff, told Enab Baladi that the idea of the "Store" is designated to support the projects implemented in liberated areas, which lack promotion, despite the availability of a diversity of products, whether agricultural, industrial or commercial. He added that such initiative aims at marketing local products, real estate projects and factories as well as commercial establishments of all kinds, i.e. restaurants, small businesses, commercial companies and shipping companies, which will result in reviving the economy.
The platform's owners have now created an official Facebook page  promoting ads to international shipping companies and local food products as well as mobile phones and accessories.
According to Mawla, the ads' prices are low and commensurate with the ability of the party wishing to display the product through the Store platform, referring to the popularity of such offer among the owners of factories and companies in the region.
In mid-February, Bazaar platform was launched through a smartphone application that enables users based in Syria to shop online.
In an interview with the data department manager at Bazaar, Hassan Zaytoun, he stated that "the recently launched e-commerce platform allows users to shop online in Azaz and the western parts of Aleppo," noting that "the platform's services will include in the coming period Idlib and northern Aleppo."
Zaytoun indicated that the platform promotes a large set of goods exceeding 3.000 items, highlighting that the project will boost competition in the market and offer a range of commodities which are unavailable in local markets.
He also said that the project is similar to large global platforms such as Amazon and Aliexpress. However, Bazaar is still a local business which commercializes a limited set of goods, of course, and provides free delivery to customers.
Customers will be able to make a purchase through prepaid cards ranging from 10 to 200 dollars. The project, which introduced an android application enabling customers to make shopping orders, is one of a kind and the first to be launched in the region, according to Zaytoun.
Alternative solution to credit cards
Making purchases online is a difficult task for the citizens of North Syria due to the absence of banks and credit cards, which forces workers in several commercial areas to opt for alternative solutions like prepaid cards, such is the case with electronic market project in Aleppo countryside.
Others are also introducing their products to online market using social media websites, said  Nael Ismail, the owner of a phone store in Idlib. He pointed out the existing demand for marketing in the region, especially Google Play based program.
Nael highlighted alternative ways to overcome the absence of e-payment, such as conducting competitions through Facebook in order to bring together citizens living in the same region, especially that only customers in Turkey  will benefit from credit cards payment because Facebook does not back up targeting Syria geographically.
Manufacturers and merchants make use of these platforms to promote their products and post advertisements, said Ali Abdul Jawad, one of the employees of a company selling electronics. Displaced from East Ghouta, Abdul Jawad pointed out that he had to pay 10 dollars for a Facebook ad to promote for his newly-created sewing workshop.
"There is a tendency towards adopting such type of advertisement, especially that Internet is now available in most regions of North of Syria. Companies are also relying on e-marketing to promote their goods.
Some companies in Aleppo countryside depend on e-marketing and social media agents, according to Abdul Jawad. He also pointed out that the customer can buy the goods from another area through contacting these companies online. He can also determine the type of goods and specifications and agree on the contract and money transaction through the Turkish Postal Corporation Posta ve Telgraf Teşkilatı (PTT), which opened several branches in the region, or transfer offices located in Idlib and the countryside of Aleppo and Hama.
The History of e-commerce
After the huge increase in the number of Internet users worldwide, e-commerce has become important because of the mutual benefit granted for both client and employer, and the huge profits it makes.

There is no agreed-upon definition for the term e-commerce, since it is a modern term in economics, but it can be said that it is the process of selling and buying products, services or information via Internet within one geographical area or between two different geographic regions.

E-commerce emerged in the 20th century, in the mid-1970s, when private US companies started using private networks to complete transactions carried out between each other, including financial transactions and other. Then, trade developed until it reached its present form, and Internet has become fully crowded with e-markets.

Amazon is well-known for being a leading e-commerce company and for its several achievements. This success and fame is the result of the way the company is dealing with its customers and the great offers it is providing.

Jeff Bezos established the company in 1994 under the name of "Cadabra." It was only a store selling e-books back then, and afterwards changed its name to Amazon. Many other similar companies were then established, such as Alibaba, OLX, Souq.com and others.
if you think the article contain wrong information or you have additional details Send Correction