Mobile Educational Staff in Northern Syria's Camps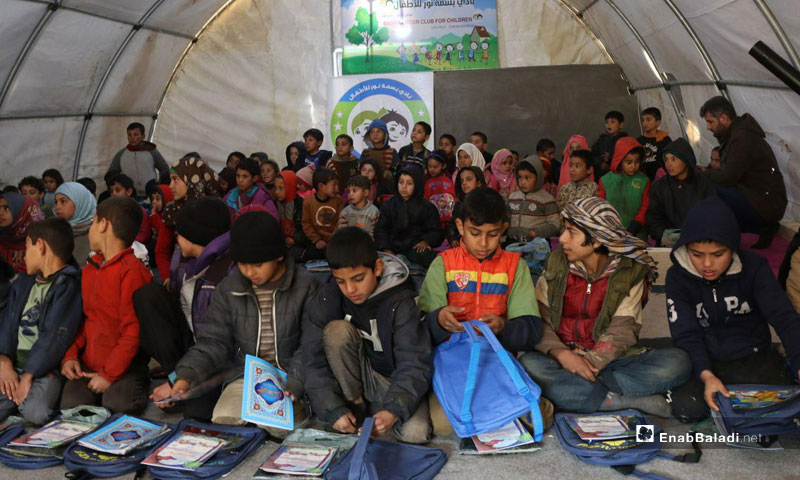 The Basmat Nour/Smile of Light Educational Team roams northern Syria's IDP camps as to offer the area's children the education they are deprived of.
The first experiment by the team was conducted early this year, targeting the al-Iman IDP camp, southern Idlib, where they constructed an education tent that accommodates 80 students, from 5 to 13-year-old.
There, the team provided literacy courses, while seeking to do the same in other camps.
The team consists of 10 volunteers, given that the unique program started in the El-Waer neighborhood, Homs, in 2015, where it founded an educational recreational foundation for the children.
The team, later, decided to offer  follow up of the children in the camps, particularly random ones.
Mohammad Mazen al-Masmoum, director of the Basmat Nour project, told Enab Baladi that the idea is based on teaching the children at camps, especially those in random ones, and constructing an educational tent in every camp as to accommodate the students.
The idea was welcomed by the camps' people, while children were encouraged to pursue their education and attended classes in the educational camp constructed by the team, al-Masmoum said.
For funding, the team depends on individual grants, from persons and friends, while there is fixed funding neither from internal nor external organizations, according to al-Masmoum.
Today, the project covers the city of Idlib and its countryside, prioritizing small and random camps, especially those distant from schools.
Abed Khlaif al-Zuhour, director of the al-Imaan Camp, southern Idlib, said that there are 50 male students and 40 female students, whose age ranges from 6 to 12 years, in the camp that incubates an estimated 120 families, 600 internally displaced persons from the rural parts of Hama and Idlib.
He, a graduate of the Teachers Qualification Institute, said that the financial conditions of the camp's people are deplorable which reflected negatively on education, given that school buildings and education's basic needs are lacking.
Al-Zuhour spoke of a change that he started to feel after the educational team visited the camp, as they encouraged the students to attend. He also pointed out to the importance of supporting the educational process targeting displaced students, through supporting teachers and students financially and relief wise, as well as providing the necessary tools for the educational staff, including books and stationery, and building facilities for the students.
if you think the article contain wrong information or you have additional details Send Correction