Assad's Forces Intensify Shelling of Rural Idlib and Hama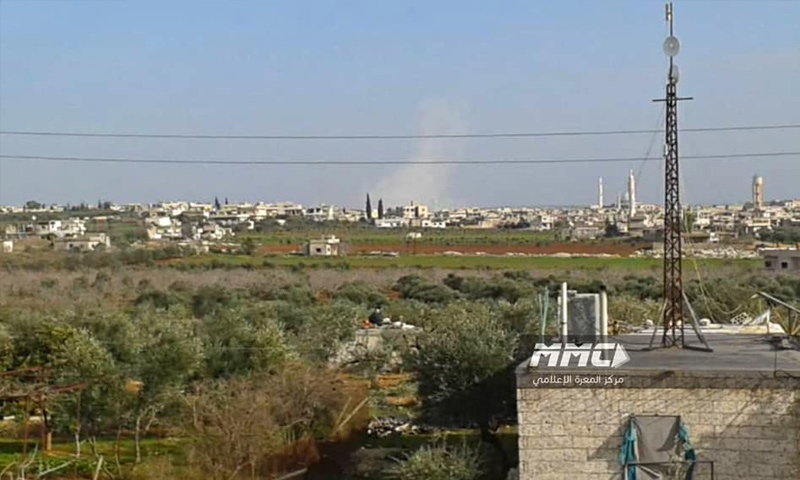 The Assad's forces and the militias backing them intensified their shelling of the rural parts of Hama and Idlib, utilizing heavy artillery and rocket launchers.
Today, on Monday (February 4), Enab Baladi's correspondent for rural Hama reported that the missile and artillery shelling has targeted the cities of Murak, Tell Bazam, and the town of Khuwayn, in addition to the town of Maardis and the outskirts of Khan Shaykhun city, southern rural Idlib.
The reporter added that no casualties have been recorded among civilians so far, while the shelling continues to focus on residential neighborhoods.
The Syrian Arab News Agency/SANA has reported, today, that the Assad's forces have indulged in confrontations with opposition factions, which violated the deal of the "de-escalation area" at the front of the al-Tah town, southern rural Idlib.
"The army units are conducting machine gun bursts on the outskirts of the al-Janabrah town and the tell Osman at the northern rural Mahardah front, after monitoring terrorists that tried to sneak in and advance to the army's posts, managing straight shots in their ranks," SANA reported.
In the past a few days, Northern Syria witnessed a massive presence of Russian reconnaissance planes and air force, in addition to military build up in rural Hama.
Enab Baladi's correspondent for rural Hama reported that the Russian reconnaissance planes and air force did not part with the area's aerial space in the past days, focusing its surveillance on monitoring the fronts at the line of contact with the Assad's forces.
In its latest statements about Idlib, the Russian Ministry of Foreign Affairs, on January 23, 2018, and through its official platforms, said that the current state that Idlib governorate has reached is a source of "grave concern."
"The situation is deteriorating rapidly in the area, and the territories are practically under the control of al-Nusra Front," the ministry added.
Last September, Turkey and Russia concluded a deal, providing for the establishment of a demilitarized zone in Idlib and the elimination of what they referred to as "radical" groups.
if you think the article contain wrong information or you have additional details Send Correction