Syrian Wrestler and His Son Rank First in the Same Championship in Germany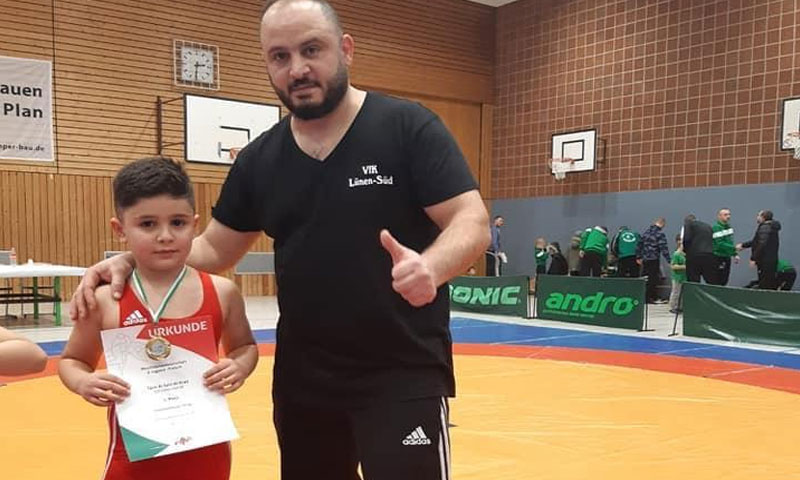 Encouraged by his father, Taim al-Krad, an 8-year-old boy, ended the last match of the Romanian Wrestling ranking first and turning into a champion under the 30KG category during the North Rhine-Westphalia championship.
Taim's father was also part of the spectacle, for he participated in the championship and ranked the second under the 86KG category.
Taim and his father Alaa are both Romanian wrestling heroes in Germany, endorsing tow forms of life, the first bonding them as a father and a son and the second as a trainer and trainee since they reunited in Germany in 2016.
Alaa traveled to Germany in 2015, after a long walk from Greece to Hungary, before he was reunited with his wife and children in 2016. Back then, Taim was six-year-old.
The father wrestler returned to the ring after a five-year-absence and started to regain shape, while he trained Syrian and German children on wrestling before he joined the German Romanian Wrestling League in 2015.
Today, he wavers between the second and the third rank as an individual and ranks fourth at the team level under the German league.
"It is friendship. Taim Loves wrestling and training. He spends his time watching his father's matches and training," Alaa described the bond he has with his son.
He added that the last championship he joined was allocated to ten-year-old children and Taim is only 8-year-old. In two matches, his opponents were 11 years old.
Alaa takes Taim to all his championships to satisfy his son's passion for wrestling, ambitions, and dreams, in addition to school, where he excels. However, he keeps asking his father for the reason that pushed him to leave Syria, a question that does not have an easy answer.
The father and the son belong to an athletic family, starting with Raafat, Mustafa, Nashaat and Ali al-Krad handball and table tennis players, and reaching Alaa's father and mother, who played handball for the Al-Shoulla/Torch Club. Alaa's cousins are Romanian wrestlers like himself.
Alaa al-Krad represented the Syrian national team and played for al-Jaysish/Army Club, he ranked first in three Arab championships and five international leagues and was awarded a silver in Asia. For ten times in a row, he ranked first in the Syrian league.
Al-Krad, like many other Syrian athletes, suffered because of the "same person, due to whom the Syrian national team is suffering today," in a reference to Muwafq Jumaa, the head of the General Sports Federation, pointing out that he is in a better state now.
if you think the article contain wrong information or you have additional details Send Correction