Germany: Assad regime benefits from passports fees in Germany, activists demand solution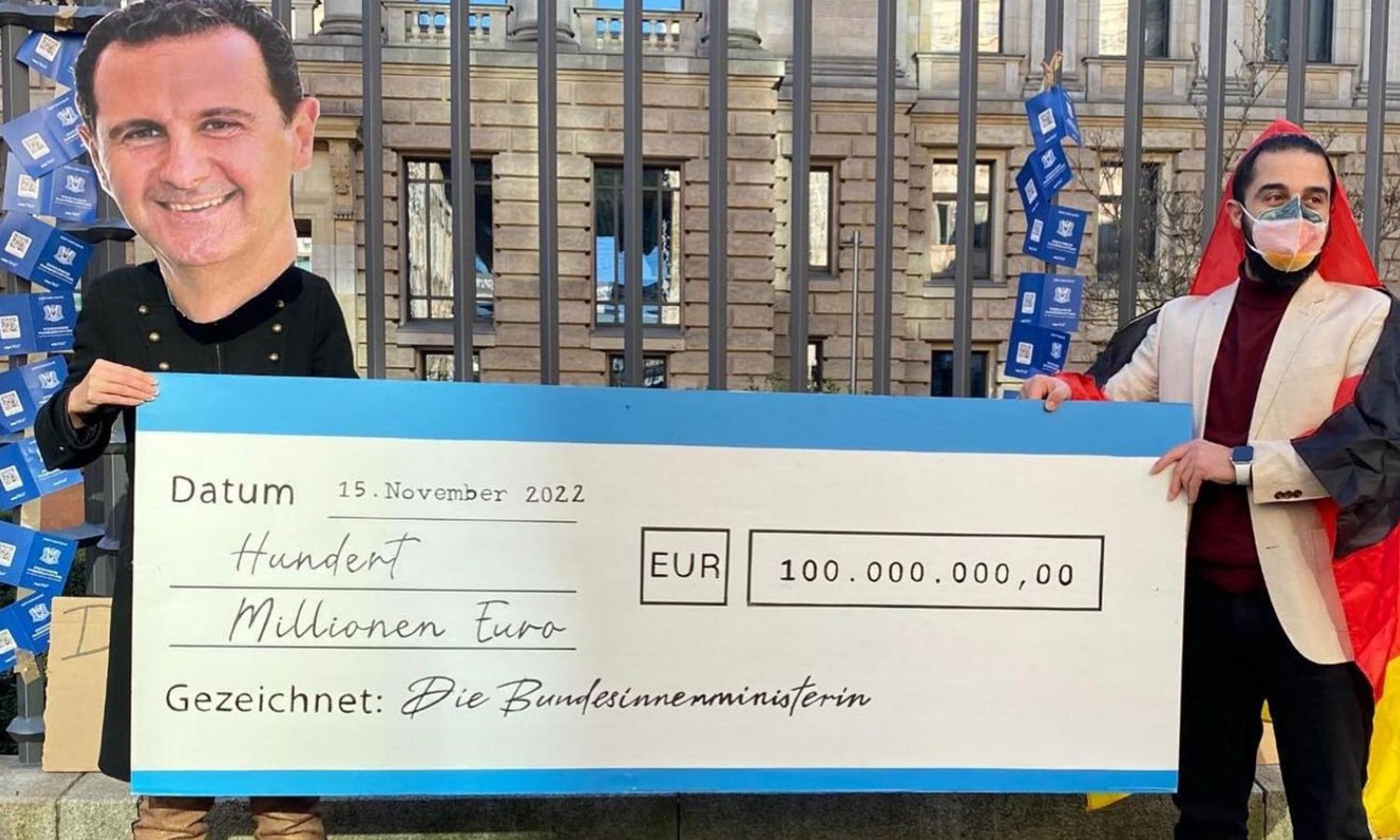 Enab Baladi – Lujain Mourad
"This money will be used by the regime to torture my father," said Syrian activist Wafa Mustafa, expressing her feelings when she was forced to renew her passport at the Syrian regime's embassy in Germany, which has been forcibly hiding her father for nine years.
Mustafa was forced to report to the embassy ​​to be one of the many Syrians who obtained temporary protection residency, who are forced by laws in Germany to review the party they sought refuge to escape from its grip, according to what she said to Enab Baladi.
Mustafa and hundreds of Syrian activists residing in Germany launched a campaign entitled "Defund Assad" in cooperation with the Adopt a Revolution organization, trying to pressure the German authorities to stop funding the Syrian regime by forcing Syrians to renew their passports.
Although the issue is not new to Syrians, since its launch about a month ago, the campaign has received wide interaction on social media.
'
We will not support the killer'
Mustafa began trying to renew her residency in Germany in October 2018, about two years after obtaining her temporary residency, but the German Foreign Affairs Department obstructed her transaction after it requested a valid Syrian passport.
The Syrian activist submitted an objection to this, in which she explained that her father had been subjected to enforced disappearance until today and that she had been arrested earlier, in addition to her years-long activity against the regime.
On the other hand, the responsible authorities considered her reasons "unconvincing," demanding that she present official papers proving her father's arrest, she told Enab Baladi.
"The request was shocking. Anyone familiar with criminality realizes the impossibility of obtaining papers proving the presence of a person in the regime's detention centers," Mustafa added.
The 31-year-old Moro al-Ali lives in a similar reality as he refused to renew his passport and review the regime from which he defected years ago, and took refuge in Germany to escape the security prosecution, and he obtained temporary protection residency in 2016.
"My relative was killed because he refused to participate in the killing of the Syrians." This is what al-Ali considered one of the hundreds of reasons why he refuses to support the "killer."
Although he submitted documents proving his defection, the reasons for refusing to renew his passport were not convincing to the German authorities.
Forms of protection in Germany

The term "refugee" is often used in everyday language as a general synonym for people who have been displaced, but the law on asylum only understands it as covering recognized refugees in accordance with the Geneva Refugee Convention, that is, individuals who are given refugee protection once their asylum proceedings have been completed. There are, however, three more forms of protection where a right to asylum can be granted if they are applicable. As the authority responsible for implementing the law on asylum, the Federal Office distinguishes more precisely, that is between the following groups of individuals:

Asylum-seekers, asylum applicants, and persons entitled to protection and persons entitled to remain.

Refugee protection in Germany

Refugee protection is more extensive than entitlement to asylum and also applies to persecution by non-state players. On the basis of the Geneva Refugee Convention, people are regarded as refugees who are outside their country of origin and nationality or as stateless individuals who are outside of their country of habitual residence and are unable or – because of a well-founded fear of being persecuted by state or non-state players – are unwilling to avail themselves of the protection of their country of origin for reasons of race (The term "race" is used in accordance with the wording of the Geneva Refugee Convention) nationality, political, opinion, religion, or membership of a particular social group (A group may also be regarded as a specific social group on the basis of the joint characteristic of sexual orientation).

A settlement permit may be issued after five years if the requisite preconditions are met. This period is reduced to three years if the applicant has a knowledge of German (level C1 of the Common European Framework of Reference for Languages) and is largely able to make a secure living.

Subsidiary protection

Subsidiary protection applies when neither refugee protection nor an entitlement to asylum can be granted, and serious harm is threatened in the country of origin.

People are entitled to subsidiary protection who put forward substantial grounds for the presumption that they are at risk of serious harm in their country of origin and that they cannot take up the protection of their country of origin or do not wish to take it up because of that threat. Serious harm can originate from both governmental and non-governmental players.

The following are regarded as constituting serious harm: the imposition or enforcement of the death penalty, torture or inhuman or degrading treatment or punishment, or a serious individual threat to the life or integrity of a civilian as a result of arbitrary force within an international or domestic armed conflict.

A residence permit may be granted for one year, and a settlement permit may be issued after five years (the duration of the asylum proceedings is included in this period) if further preconditions are met, such as being able to make a secure living and having adequate knowledge of German.

Source: BAMF
Germany "a big prison"
The non-renewal of al-Ali's passport hindered most of his legal papers, so he considers himself, according to what he told Enab Baladi, "a prisoner in a large prison called Germany."
Despite al-Ali facing many problems, such as preventing him from traveling and opening a bank account, and declining job opportunities, he still refuses to renew his passport.
While Mustafa went to renew her passport, the only feeling that controlled her was that this money would be used to torture her father and kill the Syrians.
"I tried for a year to find a replacement, but I was forced to renew my passport to meet my brothers and my mother, whom I hadn't seen for about four years," she added.
For Syrians, travel is not a luxury since our families are separated, and we have the right to meet. Restricting movement cancels out the fact that Germany is a safe destination and deprives Syrians of their sense of safety psychologically and logistically.
Wafa Mustafa, Syrian activist in Germany 
Because of a mistake in her marital status file, Wafa was forced to visit the embassy again to obtain a family statement paper, Mustafa told Enab Baladi.
"This is one of the dozens of cases in which Syrians are forced to report to the regime's embassy, which makes the laws in Germany a restriction on their lives," she added.
"Defund Assad" campaign

A campaign launched by Adopt a Revolution, a non-profit organization that has been supporting Syrian civil society in Syria and Germany for more than 11 years.

It was born as an outcome of an opinion poll, which included more than a thousand Syrians, about their experiences related to the obligation to obtain passports.

Adopt a Revolution conducted this survey, which is the first significant study on the issue of the obligation to obtain a passport for refugees in Germany.

The campaign aims to put pressure on the German authorities to stop forcing Syrians to visit the Syrian regime's embassy.
Financial and security benefits
The Syrian passport is the second most expensive passport in the world, according to a CNN report last May.
The fees for issuing or renewing a passport or travel document for Syrians and the like, who are outside Syria, are 800 US dollars for an urgent passport, and 300 US dollars within the regular round system, according to the official website of the Syrian Foreign Ministry.
In addition to these fees, which are called transaction fees, there are additional costs, such as obtaining an urgent appointment through intermediary offices.
According to the Defund Assad campaign website, Germany and many countries hosting the Syrians insist on forcing the Syrians to renew their passports; the Syrian regime benefits from about 100 million euros from the passport renewal fees in Germany alone.
"We wonder how the regime continues until this moment despite the economic sanctions while renewing passports is one of the dozens of details that support al-Assad economically," according to activist Mustafa.
"Germany claims that it does not have diplomatic relations with the regime, but what it has been doing for years is considered direct funding for an economically punished government," she added.
For his part, Ibrahim al-Qassem, a Syrian lawyer in Germany and legal advisor to the Caesar Files group, believes that forcing Syrians to renew their passports contributes to building a database by the regime, which puts them under constant surveillance.
Al-Qassem considered these steps a violation of the refugees' right to obtain protection from the party that pushed them to seek refuge and leave Syria.
According to a report by the Syria Justice and Accountability Center, the authorities in the countries hosting Syrians are making it "difficult" for them to prove their asylum requests by using documents issued by the government of the Syrian regime.
The report, which was released at the beginning of 2022, added that the government of the regime benefits financially from the crisis of expired passports, which violates the right of Syrians to freedom of movement and threatens their means of legal protection outside the country.
Legal path
Refugees enjoy inalienable human rights, and the rights are based on the fundamental principles of equality, non-discrimination, and universality, under relevant treaties and international laws.
Accordingly, lawyer Ibrahim al-Qasim says, every person who qualifies as a refugee or a stateless person in any of the states party to the 1951 Refugee Convention relating to the Status of Refugees and its 1967 Protocol has the right, which is considered the basis of the international refugee protection system, to obtain a travel document, which replaces the national passport.
With regard to passports, a distinction can be made between the two cases. The first is that the German government grants a person who has been granted asylum German travel documents, according to which the competent authorities do not have the right to force him/her to visit the Syrian regime's embassy in Berlin, the lawyer said.
While those who hold temporary residency must renew their passport issued by the Syrian government represented by its embassy in Berlin.
Al-Qassem pointed out that there are exceptional cases under German law in which holders of temporary residence are granted travel documents after evaluating each case by experts.
Every person who refuses to go to the Syrian embassy can object to the passport renewal request before the competent department itself or go to the competent judiciary to consider such cases but the assessment of these cases is based on the individual standards for each case, according to the lawyer.
Law justifies
The German government began to grant Syrians temporary protection instead of refugee status after the increasing influx of Syrian refugees, which means forcing Syrian refugees to renew their residency periodically until they obtain permanent residency.
Since the start of the Syrian protests against the problem of going to the Syrian regime's embassy to renew their passports, the German government justified this, in December 2018, by saying that "talking with the authorities of their motherland in order to obtain a passport is an issue that remains required in principle."
In 2018, the Syrian Center for Legal Studies and Research submitted an objection to the German Foreign Ministry against forcing Syrians in Germany to renew their passports.
The Ministry promised to study the case of the Syrians separately, to study the reasons for each of them objecting to renewing their passports, and to grant the travel document instead of the passport to those who deserve it.
While the German authorities did not respond to the campaign launched by the Syrians recently until now.
According to the asylum statistics of the EU Office for 2021, the number of Syrian refugees in Germany reached 674,655.
Germany's percentage of asylum applications in European Union countries was 27% in 2021, which amounted to 148,200 applications.
if you think the article contain wrong information or you have additional details Send Correction