Enab Baladi's investigation team
Ninar Khalifa – Nour Dalati
Mohammed was no more than six years old when he experienced the most severe abuse that adults experienced during war: physical torture and severe psychological distress, and a more than four-year detention by two factions in eastern Ghouta, which resulted in a traumatized child.
"He came back home with a blue and puffed face, because of the dozens of blows he was subjected to all at once. They blindfolded him and pulled him over a wall to hit him with glass bottles on his bare feet."
This is how Muhammed's mother described to Enab Baladi the methods of torture that her son was subjected to during the arrest of the entire family by the two factions of the Ajnad al-Sham Islamic Union and the al-Rahman Legion for more than four years.
With her husband and son, Umm Muhammed was arrested when she was pregnant in the first month with a twin on charges of "dealing with the regime" without signing any seizure, or being allowed to hire a lawyer to defend them, nor were they brought before any judicial authority. When they asked about the reason for their arrest, the response was incomprehensible and unconvincing: "You are for Abu Suleiman Tafur!"
The woman lost one of her unborn babies and her surviving baby was deprived of breastfeeding at the age of nine months, but even tougher was the fact that she was forced to see her son being tortured. She told Enab Baladi that "they tortured my son in brutal ways, and in order to torture me, they put me in a glass room to see him being tortured. Also, they made my son hear my voice when I was tortured."
She continued: "Once they put him in a cage of rabbits and closed the door, and another in an abandoned elevator, and they even shot him from a fake pistol. All this was done in front of Adra prisoners who are witnesses to everything that happened."
In spite of the incident brutality, the two accused factions have not invented anything new, but have added methods of torture to those of the regime against children arrested on the background of security charges against their parents.
Omar, from eastern Ghouta, was arrested with his wife and two children in Syrian prisons for one year and two months. The two children were separated from their parents. They were held in an orphanage. The eldest was one year and two months old and the youngest was a baby aged 40 days.
Omar, who asked not to be fully named, told Enab Baladi that "they took us to the regional branch of the Military Intelligence Division (section 227). They accused me of participating in the revolutionary work. My wife was detained without any charge, and they told her that they would hold her detained to rape her."
He went on saying that "they deprived my child of breastfeeding. Throughout our detention, we did not know anything about our children or what happened to them. When we asked about them, we did not receive any answer."
All parties have detained children
The Syrian Network for Human Rights documented at least 4,486 children still in detention or enforced disappearance by the main actors in Syria from March 2011 to December 31, 2018.
The regime and the "extremist" factions were not the only ones to have committed such violations against children. Several human rights organizations, including the Urnammu Organization for Justice and Human Rights, in a report entitled "Forgotten Children," and The Syrian Network for Human Rights have not excluded most of the parties to the conflict from the practice of such violations.
According to the network statistics, the Syrian regime forces are responsible for the arrest of 3,168 children, 2,747 of whom are males and 421 females, while factions in the armed opposition were responsible for the detention of 309 children, 244 males and 65 females.
The "Self-Management" forces (mainly the Democratic Union Party) are responsible for the detention of 592 children, 289 males and 303 females, while "extremist Islamic organizations" hold 417 children, including 393 males and 24 females.
Uncle burned me here!
Where young children are the most vulnerable, such practices leave them with severe health and psychological consequences, which may accompany the child to advanced stages of life.
Muhammed, who was detained in eastern Ghouta, suffers from a psychological condition, which his mother described as "severe." She told Enab Baladi that he "talks to walls," and her daughter, who was born inside the detention centre, shows an "aggressive" behavior.
The two children are currently undergoing psychological treatment at UOSSM medical organization, along with their mother, who is still suffering from mental and physical problems because of the arrest.
Dr. Muhammed Sattou, medical director of the Sarmada Psychological and Mental Disorders Unit, believes that such conditions for children may cause "Post-Traumatic Stress Disorder," which is associated with symptoms such as "anxiety, depression, anger, insomnia, and complaints that do not have medical interpretation," as among adolescents, "risk behavior prevails and alcohol and drug use problems are common."
The doctor added that "people with Post-Traumatic Stress Disorder often feel threatened, very nervous and always at risk." This is true for the case of Omar's daughter, who was taken to an orphanage following the arrest of her parents by the regime.
Omar described the psychological state of his daughter after his and his wife's release and family reunion, saying that "when my daughter came out of the orphanage, she was burned with a cigarette butt in her leg." she said "Uncle burned me here!" She was afraid of men and refused to approach me or any man for six months."
The child is still suffering from psychological effects, such as fear, loneliness, and isolation, although it has been more than four years since the incident, according to her father.
As for his infant child, Omar said that after he left prison, he knew him because he looked like him. Otherwise, he would not have been sure that he was his son, and because of his young age, when he was taken to the orphanage and when his parents were released, dealing with him was easier than dealing with his sister.
"On the Margins of Memory…"
Children are absent in branches and orphanages
Behind iron bars, the dreams of thousands of Syrian children have been buried for eight years without reasonable justification, and without taking into consideration the conditions of detention that preserve part of the child's dignity and take care of his fragile body.
However, the issue of detained children in Syria has not received much attention either on the media or human rights level. This led the Urnammu Organization for Justice and Human Rights in May last year to issue a report entitled "Forgotten Children," in which it documented that 2,443 children were detained in Syria since 2011 until the date of the report publication.
According to the report, among the detained children, 106 under the age of five, 193 between six years and 12, and 1701 between the ages of 13 and 18 years of age. The report also documented the detention of 443 children whose exact age was unknown.
The report noted that 152 children under the age of 18 died during their detention, including 138 males and 14 females, two of whom were under the age of five.
However, the Syrian Network for Human Rights, which specializes in documenting violations in Syria, has another statistic of almost double the number of arrested children documented by Urnammu.
According to the statistics obtained by Enab Baladi, at least 4,486 children are still in detention or enforced disappearance by the main actors in Syria from March 2011 until 31 December 2018.
According to Nour al-Khatib, Head of the detainees' section of the Syrian Network for Human Rights, the toll reflects "the minimum number of violations actually occurring." Al-Khatib cited difficulties in documenting detained children, "the most important of which is the inability of victims' families to report violations in a safe manner and without fear."
Al-Khatib told Enab Baladi that "the majority of the registered victims were accompanying their families during detention. There are also a few cases in which children were arrested for charges or as a way to take revenge from their families and take them as hostages."
The Syrian Network for Human Rights and Urnammu held the forces of the Syrian regime responsible for detaining the largest number of children, as well as the armed opposition factions, "hardline" organizations and Kurdish forces.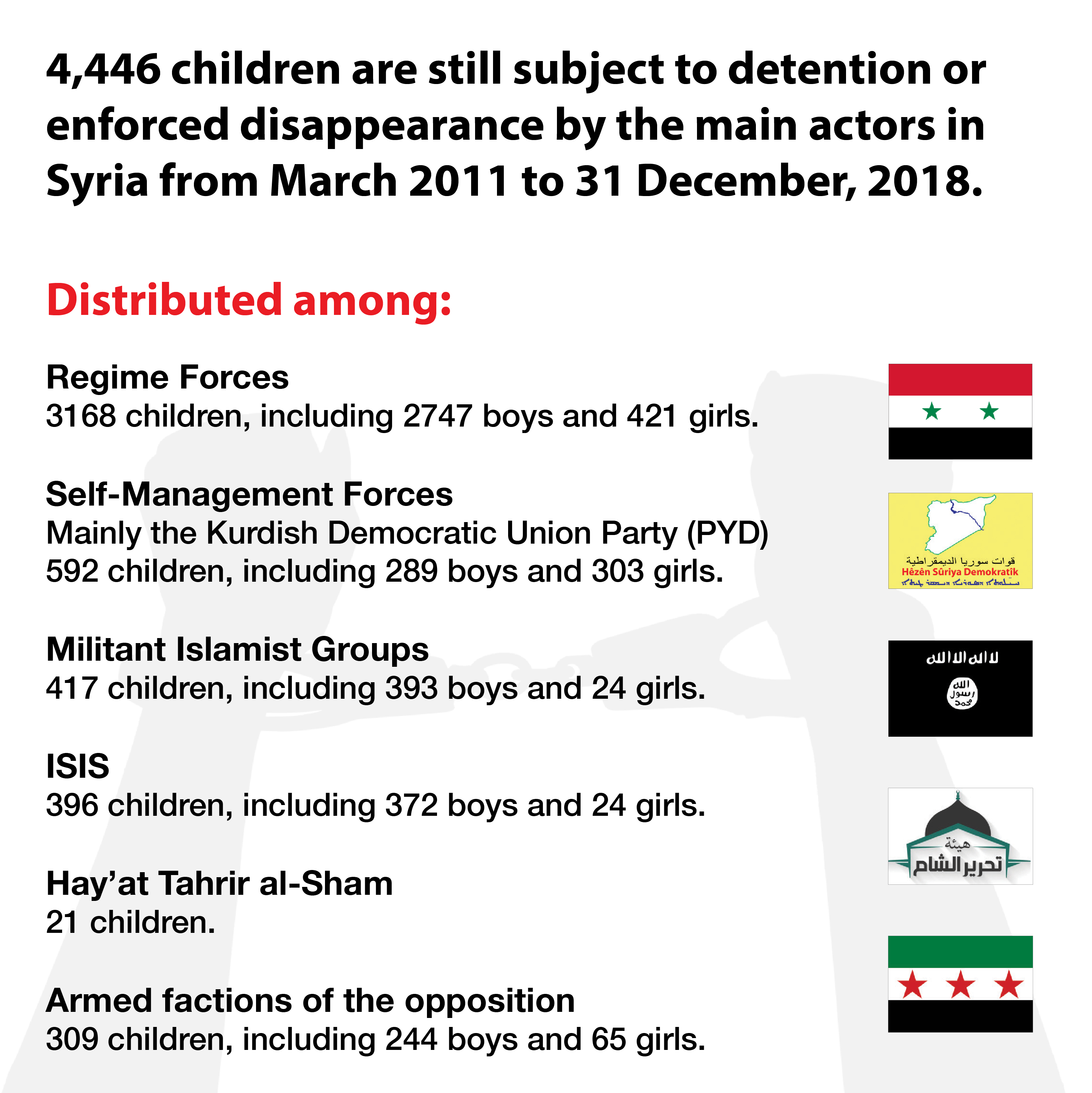 Under the auspices of the Red Crescent: Detention Criteria are not being applied
The executive director of Justice and human rights organization Urnammu, activist Syma Nassar told Enab Baladi that "since 2011, the Syrian regime delegated the Red Crescent to take care of the children who were detained with their families following specific conditions and criteria set forth in the resolution, but this remained "dead letter and has never been applied."
Nassar pointed out that the text of the resolution, which the regime refrains from publishing, conforms to international conventions and includes and imposes dealing with detained children according to their age groups. The decision also provides for the proper treatment and consideration of detained children under the age of seven as well as newly born babies and pregnant women, which should be detained in different places. The decision of the "Red Crescent" is responsible for providing babies with health commodities including milk and diapers.
Nassar pointed out that the facts indicate that there was no serious commitment to this decision. The detention conditions of newly born babies were related to the background and reasons behind the arrest of the mother herself. Most of the delivery cases are carried out in various detention centers where the level of health care and hygiene is at its worst, thus putting the lives of the mothers and their babies at risk.
Nassar added that only a certain quantity of children's milk is provided in Adra prison. In case it was not enough, the children would be given adults milk without taking into consideration the child's health specificities or whether he had enough milk or not.
Children of the "SOS" … Deemed as forcibly disappeared
Children who are detained are often transferred to a "foster home" called the SOS in the Qudsaya area in Rif-Dimashq. In case a child was born inside the security branch, he is often left with his mother for a period of time for breastfeeding.
Nassar pointed out that "in most cases, the existence of children is denied when the parents of the detainees ask about them, and even when they try to take them back, their requests are often rejected. This indicates that the way the SOS child is dealt with depends on the crime of his mother and her relationship with the regime.
Nassar explained that the SOS administration treats the children of the detainees in a discriminatory way compared to their peers, whose conditions are different. One can pay visit to those children, make donation for them, cover their expenses and fulfill their needs, but the children of detainees are deprived of all these advantages. The administration of the foster home justifies this by the pretext that these children are the "government's responsibility".
Nassar indicated that the children of the detainees are to be considered as forcibly disappeared. They are included within Urnammu database of the forcibly disappeared persons, even though their whereabouts are known.
As long as the SOS does not acknowledge their existence, they will be considered as prisoners. Nassar stressed that the situation of these children is fully synonymous with the definition of enforced disappearance, which refers to "persons held by the government, which refuses to recognize their existence and deprives them of their legal and civil rights."
Nassar pointed out that detaining the kids accompanying their parents is still ongoing. She also said that "we are still hearing about similar stories. A few months ago, a pregnant woman delivered her infant in one of the regime's interrogation rooms. She was then separated from her son, which was taken to the SOS center. So far, her parents have failed to bring the child back in order to raise him, even though she was transferred to Adra prison."
Rasha Sharabji and her children… Miraculously Saved
Rasha Sharabji and her five children were victims of detention with no charge in the regime's prisons.
Rasha, a mother who was about to give birth to a twin and coming from Darrya, was arrested with her three children and her two sisters in-law. They were all taken in when they were about to issue passports from the Immigration and Passport Department in Damascus, in order to blackmail her husband, who was wanted by the regime for trade and possession of weapons.
She spoke to Enab Baladi and described her physical and the psychological exhaustion she was subjected to during her detention with her children. After the investigation, she was placed in a solitary cell with her three children in the Air Force Intelligence Directorate at Mezzeh area.
Amid the extremely difficult conditions and despite her struggle, Rasha was trying to distract her children attention from their surroundings, so they could forget the darkness of the prison and the way prison wardens were treating them.
The most difficult moments for Rasha was giving birth and taking the babies away from her.
"I had a C-section in a hospital, which name I could not recall. I had security guards in front of the door of the room, which was not clean. After giving birth, my babies were taken in cotton and blood."
After her return to prison, the wardens told her that they would take her children to the SOS foster home. This had a major impact on her psychological well-being, for she received no news of her children after that. Then she managed to see them for only ten minutes as a result of intense pressure and escalating protests carried out by detained women who wanted to see their children, too.
Three years later, Rasha was finally set free thanks to a prisoner exchange deal. That was when she was able to meet her children again, a meeting she described as "a dream and a miracle."
Rania al-Abbasi and her six children are still missing to date
Since March 2013, the Syrian regime has arrested former chess player and champion Rania al-Abbasi along with her husband and six children, aged between 3 and 15 years. They are still detained until this moment.
Amnesty International and several other human rights organizations have carried out various campaigns in order to communicate the case of Dr. Rania. They have appealed to the Syrian regime to release her and her family, but the regime did not react and is still refusing to acknowledge their existence.
The news Rania's family received about her was very scarce, said her brothers to media outlets in different occasions. They were also blackmailed and paid huge sums without being able to obtain sufficient and adequate information about her and her children's situation.
During his last interview with Rozana Radio on March 2018, Osama al-Abbasi, Rania's brother, pointed out that the latest news he received about his sister five years after her arrest dates back to July. The news he received indicates that her and her husband are in Saidnaya prison, while the six children are held in a private apartment supervised by military security.
Osama stated that the only documented information they have indicate that Rania and her family were arrested by the military security branch, because there were eyewitnesses.
Al-Abbasi family asserted that their daughter had no political activity and had not joined any opposition party.
Psychological disorders and health problems…
Detention has a drastic impact on children
The experience of arresting children and expelling them from their families has a great impact on their personality, psychology, and future. Returning to normal life after being released constitutes an extension of their struggle characterized by unknown and unclear future visions. In addition, these children will not be able to adapt to the accelerating pace of events, which triggers their fear, anxiety, and constant tension.
On the physiological level, arrest also causes many health problems, for children are held under extremely unhealthy conditions at their age of physical growth. In addition, their psychological state may affect their body safety.
Isolation, anger, and fear: The most prominent psychological symptoms
Psychologist and social worker Samah Salameh talked to Enab Baladi about the psychological effects on children, who are subjected to a traumatic experience such as arrest or expulsion from parents and placement in foster homes. She stated that this can be described as a traumatic or a dangerous milestone in the child's life.
Salameh pointed out that studies have shown a clear correlation between the child's exposure to trauma and serious events and the development of his/her brain functions, in addition  to his/her morphological growth, his/her receptivity to violence and aggression as well as sudden anger outbursts.
According to Salameh, it is possible that "a child's tendency to experience isolation grows as he/she becomes fond of loneliness and avoids social interaction. He/she may also fear certain things that may be related to the traumatic event, such as loud voices as it may remind the toddler of past traumatic experiences in prison, such as hearing screams and intense voices."
Salameh also stated that among other important traumatic effects of the prison experience, a child might develop separation anxiety, and becomes extremely agitated out of a strong sense of fear from being distanced or separated from his/her parents. Before the incident, the child may be able to sleep alone or in a separate room from his parents. However, after being exposed to the traumatic incident, he might develop intense forms of post traumatic attachment to the mother and the father to the point of not standing staying alone even for a short period.
She noted that, in general, the psychological effects on children vary according to their age. For example, the traumatic reactions shown by a 15-year-old child differ from the ones exteriorized by a three-year-old toddler.
Detained children who do not grow in a healthy way
During his imprisonment in the Military Security Branch in Damascus in 2013, Dr. Akram Khulani, a pediatrician, has seen detained children and has examined their health problems closely.
Dr. Khulani told Enab Baladi that the detained children are exposed to two types of physical problems. The first kind of traumas is similar to the traces beating and torture for adults, which leads to fractures and bruises, as well as diarrhea due to lack of hygiene in food and water. Additionally, different types of infections are common in such places due to the proliferation of germs in these detention centers.
The second traumatic effect is mainly related to the child's morphological growth. In fact, children's bodies need a specific quality and quantity of food to boost their growth. The growth of their bones similarly requires a certain degree of exposure to the sun in order to get the necessary amount of vitamin D. However, this can be a challenging task in dark settings such as prisons."Most of the children I have seen at the detention centers have shown signs of malnutrition, ranging from being extremely skinny, to the point of seeing the structure of their bones under the skin, to hair loss," Khulani indicated.
As for the long term consequences of such unhealthy conditions, Dr. Khulani asserted: "Some of the fractures and bruises on the children bodies can be treated. However, in other cases, these injuries may get infected and lead to death. Thus, malnutrition leads to a delay in growth. If the child is freed within a short period, he/she can regain his/her health. Yet, if the child is 13 or 14 years old and has spent a long time in detention, reaching puberty will reduce the chances of treatment and the body shape will remain distorted. Unfortunately, the signs of malnutrition will not disappear."
On the other hand, children can suffer from several psychological fallouts. According to psychologist Samah Salameh, children may suffer from involuntary urination, and problems in speech such as stuttering, in addition to hyper movement due to the feeling of being unsafe.
Moreover, the child can suffer from poor concentration and inability to pay attention as well as sleep difficulties or interrupted slumber and nightmares. Thus, the child can retrieve memories about the traumatic event repeatedly, which leads him/her to develop signs of post-traumatic stress disorder (PTSD).
How can we help a child overcome the arrest trauma?
Children who have experienced detention can be assisted in order to overcome the psychological trauma they were subjected to, following several ways which the psychotherapist Samah Salameh had listed below: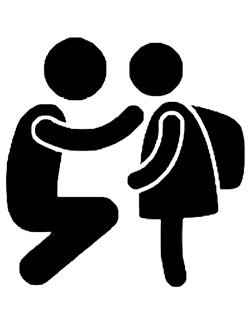 A safe environment
The child must be transferred into a safe environment where he will not feel afraid or threatened. Preserving the family daily routines helps the child overcome that experience. The child must be integrated into social and physical activities, encouraged to play, and given an opportunity to express his feelings which his surrounding should accept.
Authentic information
In case the child asked about the incident, he/she should be provided with authentic information, in a way that commensurate with his/her age and cognitive abilities.
Role of parents
The child's parents should be aware of the psychological effects the child may reveal (for example, whether he/she is suffering from poor attention or concentration or whether he/she has a disturbed state of mind. The parents should watch his sleep and nutrition as well as his relationship with strangers of the opposite sex, and then consult specialists if they notice any suspicious symptoms.
Communication
A good communication between parents and child is extremely important and necessary in such a case, for it gives children a sense of safety. The child should not be blamed or criticized when talking about his feelings towards this experience. One should not say the following for example, "You should not feel this way" or "you should not say so". Rather, the child must be given enough space to express all of his feelings.
Enforced disappearance in Syrian and international laws
There is no explicit provision in the Syrian laws that criminalizes enforced disappearances as set forth in international laws. As a matter of fact, there is no clear legal description of this crime and its elements in the event of its widespread and organized practice. There are also no specific provisions regarding the crime of enforced disappearance against children.
The legal provisions have been limited to the definition of abduction and disappearance committed in individual cases by individuals or gangs in specific cases, under a series of exceptional laws and customary provisions which have violated the Constitution and Syrian legislations and which have been explicitly or implicitly issued by the government, helping to impunity.
"Freedom is a sacred right," However
Attorney Ibrahim al-Qassim, author of "Forgotten Children" report, said in an interview with Enab Baladi that although Syria did not accede to the International Convention for the Protection of All Persons from Enforced Disappearance, the government should prohibit enforced disappearance, because this prohibition is one of the rules of the International Law and Syria is legally bound by the Charter of the United Nations and the international conventions and charters on human rights which it had ratified, particularly with regards to children's rights.
Al-Qassim added: "Although the Syrian constitution explicitly states that freedom is a sacred right, as for the Code of Criminal Procedure, in its articles 242 and 252, which states that it is not permissible for a party to detain the freedom of individuals in other than the designated places for this purpose and citizens are obliged to report this, these provisions have not been practically applied. This is of course the same case for children who also suffer from exceptional courts and laws, the continuation of the policy of arrests, enforced disappearances, and restrictions on public freedoms."
Al-Qassim drew attention to a number of laws and decrees that helped impunity and thus contributed to the increase of cases of organized and widespread enforced disappearances against children. The majority of the Syrian government's security branches and its affiliated forces and militias have committed this crime in various forms, such disappearance right after arbitrary detention or at a later stage of detention, or when the parents of detained and disappeared children resort to the Syrian government authorities to inquire about the fate of their children.
The Convention on the Rights of the Child: Ratified yet not abided to
The Head of the detainees' section at the Syrian Network for Human Rights, Nour al-Khatib, pointed out that what is happening in the regime's detention centers completely violates the text of the Convention on the Rights of the Child, which was ratified by the United Nations General Assembly in 1989, and on which the Syrian regime is a signing side.
Al-Khatib added that: "Article 37 (b) of the Convention on the Rights of the Child states that 'No child shall be deprived of his or her liberty unlawfully or arbitrarily. The arrest, detention or imprisonment of a child shall be in conformity with the law and shall be used only as a measure of last resort and for the shortest appropriate period of time'."
Article 37 (c) of the Convention on the Rights of the Child stresses on the need for the child to be treated humanely in case of arrest and detention. "Every child deprived of liberty shall be treated with humanity and respect for the inherent dignity of the human person, and in a manner which takes into account the needs of persons of his or her age. In particular every child deprived of liberty shall be separated from adults unless it is considered in the child's best interest not to do so."
According to the same Convention, "a child has the right to defend himself and to obtain legal assistance." Article 37 (d) stipulates that "Every child deprived of his or her liberty shall have the right to prompt access to legal and other appropriate assistance, as well as the right to challenge the legality of the deprivation of his or her liberty before a court or other competent, independent and impartial authority, and to a prompt decision on any such action."
Al-Khatib also pointed out that in the international humanitarian law, the four Geneva Conventions and the two Additional Protocols, "the child is among the protected categories and the international humanitarian law provides two types of child protection. The first type is the general protection that children should enjoy as civilians while the second type is a special protection that they should enjoy as children. There are more than 25 articles in the Geneva Conventions that refer to children and the need to protect them."
if you think the article contain wrong information or you have additional details Send Correction